Project Planning: The Tips That Experts Use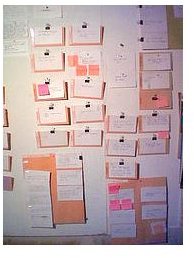 Be a Project Planning Expert
You've got to do some project planning if you want to stay on track and keep all resources working for you. The plans you make must be analyzed not just by the day, but by the week, month, and even beyond. Ineffective project planning will result in a rushed, incomplete, and even messy project, especially if you don't have time to review it.
Here are some tips to become a project planning expert:
Start planning as soon as you receive a project and choose the right persons or team to help you achieve project goals.
Hold an initial meeting to outline the project and make sure you have a good question-and-answer session.
Rely on your team's support and make them feel they are a part of the project even in the planning stages.
Give your team ample time to complete their work.
Listen and be open to ideas from your team, their ideas may be a project saver.
Hold project interim meetings to ensure everyone is on the same page.
If possible, let your team sit in on a management meeting so they can see what upper management is looking for.
If your project requires more than one team, use facilitators to represent each team and give them time to hold internal meetings.
Make your entire team accountable for the project; this ensures driven teams.
If possible, bring team members or facilitators along to meet with upper management or the client to give their input on the project.
Set timeline goals, and award people when goals are achieved. Even if this is a morning coffee break with employee recognition, this can be very effective in project planning success.
Recommend your team for future projects and use examples of past projects you and your team have completed.
Never wait until the last minute to plan how your want to complete a project.
Upon completion, whether the client was internal or external, make sure you recognize your team's accomplishments.
Project planning is strategizing efficiently. How you strategize your planning is the first step expert project planners do first before the work begins.
Project Planning Help
If you find you need help in project planning, there are ways you can find it–most likely right where you work. Approach a fellow manager who works well with his team and ask for suggestions. Find a mentor in your company that you can rely on if you are stuck on planning a project.
Never panic if you have a project and have no idea where to begin. Get help from co-workers, even if they are team members; they may be able to offer some good ideas. Be open to listening to your staff. Don't be the manager or project planner who demands your way or the doorway.
Ask upper management for direction if you need help. In most cases, they won't look at this as a failed effort on your part but more of a confidence builder by asking for and receiving direction.
Finally, once you have your project planning timeline and feel comfortable with it, stick to it and don't constantly make changes.
To be a successful project planner, do what the experts do and effectively plan projects. Your projects will land good grades every time.
Read my article Project Planning - Top Ten Tips for more useful advice on being an expert in project planning.