Sharing Your Project 2007 Project Plan

Introduction
As project managers, we're often the only ones with access to a project like Microsoft Office Project 2007. Yet, the information we're tracking within the program could be more beneficial if shared with your project team members and stakeholders. So, the question becomes:
"How can you share your Project 2007 data with others who are not running the Project 2007 program?"
Here are just a few ideas:
Use Project 2003
When Microsoft released the new series of 2007 software products, they also released a related series of document converters. This means, you can download the Project 2007 converter as part of the Microsoft Office Project 2003 Service Pack 3 (SP3).
Once the service back has been downloaded and installed, you can open any Project 2007 project plan file using Project 2003. Unfortunately, you can't "go back" to Project versions prior to 2003. Further, you always run the risk of losing some of your functionality when you take a project file from 2007 to 2003, but the bulk of the data will be available for sharing.
Copy a Picture of the Project Plan
Near the end of the Standard toolbar in Project 2007, you'll find a Copy Picture command. And, it's really quite easy to use.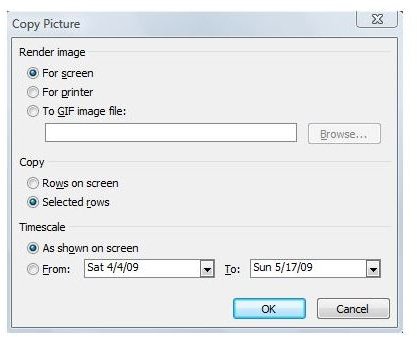 When you click the Copy Picture command, Project 2007 helps you define what you plan to do with the image so you can create just the snapshot of your overall project plan that you are looking for. The options include grabbing a picture of your project plan to print, to view in another program or to view on a web page.
All of these options work perfectly when you want to share your project data with someone who doesn't have any version of Microsoft Project available.
There aren't even a ton of steps to follow, either.
Select the data you want to include in the picture.
Click the Copy Picture command.
Define your picture settings.
Click OK.
Paste your picture in any other file or program

Send the Project Plan Data to Microsoft Excel
Microsoft Excel is one of the most popular software applications out there. As such, it's fairly safe to assume that if someone doesn't have access to Project, they probably have access to Excel.
Since Microsoft Project stores it's underlying project data in a table format, it's a quick copy and paste to get the data out of project and into Excel.
Of course, you can use the Export feature in Project to create an Excel file. This is done by following these steps:
View the table you want to export.
Choose File: Save As from the Menu bar.
Choose a file save location and enter a file name.
Under Save As Type, choose Microsoft Excel Workbook.
Click Save.
But, in all honesty, I find it just a simply to view the table, select the data, hit the copy button and paste it all in an open Excel worksheet. Click here for more ways to track your project costs and analyze data.
Use the New Visual Reports
Project 2007's new Visual Reports open up a whole world of opportunity for sharing your project plan data with others. That's because, with Visual Reports, you can create custom reports to display in either Microsoft Visio or Microsoft Excel.
To access the multiple visual reports available in Project 2007, just choose Report: Visual Reports from the Menu bar.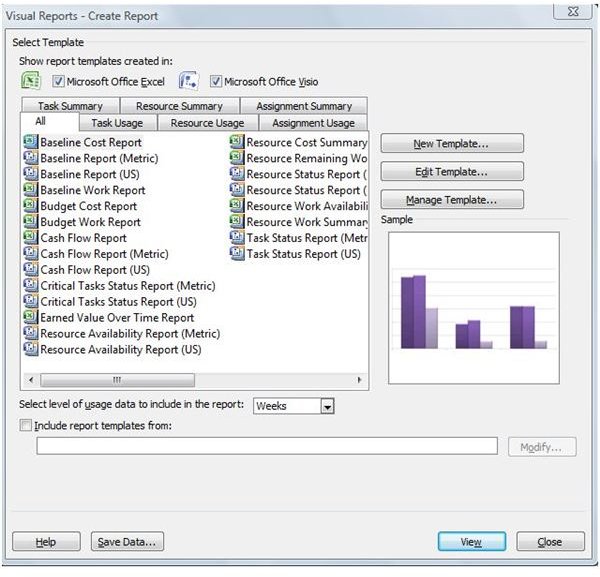 Then, all you have to do is select the report you want, create it and then send it on.