How to Identify the Critical Chain: Effective Project Resource Management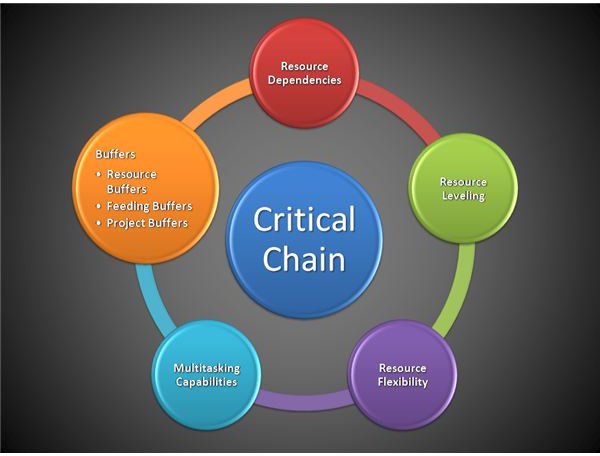 Resource Management
Critical Chain is a method of project management in which the primary emphasis is placed upon the management of the resources involved in executing these projects. This is in stark contrast to other methods such as CPM (Critical Path Method) and PERT (the Program Evaluation & Review Technique) where the emphasis is more on tasks, task orders and scheduling.
The Critical Chain method was developed by Eliyahu M. Goldratt and was first explained in his book "Critical Chain".
Requirements for a Critical Chain Approach
The following are the requirements for following a critical chain method of project management.
Resource dependency should be focused upon more than task dependency.
Resource leveling should be performed, i.e. the resources should be equally loaded.
Resources should be capable of multi-tasking and able to switch between tasks easily.
Identifying the Critical Chain
The following are the steps involved in Identifying the Critical Chain.
The task dependencies between all the tasks should be identified and the sequence of tasks determined for each project.
Time estimates must be prepared for each project by working backward from the completion date.
The time estimates are prepared on two parameters.

A ~50 percent probability of completion
A ~90 percent probability of completion

The shared resources must be taken into consideration, and resource dependence across projects needs to be identified.
Resource leveling should be performed, keeping the 50 percent probability estimates in mind.
Resource buffers need to be created in lieu of a time buffer.
Further, the resource buffer should be created for the overall project and not for individual tasks.
The longest sequence of resource-leveled tasks that lead from the beginning to the end of the project is identified as the critical chain.
Project managers need to guard against the dangers of Parkinson's Law and Student Syndrome while handling multiple projects at the same time.
Importance of Overall Project Buffers
Project managers monitor the performance of the project in a critical chain approach by monitoring the progress of the project vis-a-vis due dates and monitoring the consumption rates of the resource buffer.
The importance of an overall project buffer instead of individual task buffers is to ensure that time saved in critical path activities does not impact overall project duration. Under normal circumstances, time saved does not get reported because the team members prefer to submit tasks at due date and guard the safety buffer for future projects (avoid establishing a precedent). However, delays in critical path activities tend to delay the overall project.