The Work Breakdown Structure (WBS) and the Project Lifecycle in Plain Language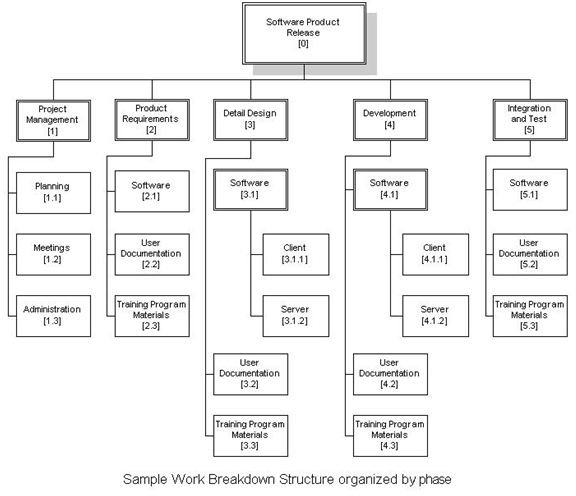 What Is It?
The WBS is the Work Breakdown Structure. It is a hierarchical representation of the elements (tasks) that comprise a project. Creating a Work Breakdown Structure does just as the name implies, breaking down the work into smaller chunks that everyone can chew. A project seems very overwhelming at first, and the WBS helps stop these feelings. A quick glance at the WBS allows everyone on the project team to see what has been done, and what needs to be done. The WBS is a very important part of project management for this very reason.
The WBS should be a "to-do" list, organized in a flowchart/family-tree-type manner, taking into consideration every aspect of the project, and what is going to take to get it completed. The tasks on the work breakdown structure should be numbered. If you are using Microsoft Project as your project management software, you will be able to automatically generate a work breakdown structure with the data you place in the Gantt Chart.
Considering the Project Lifecycle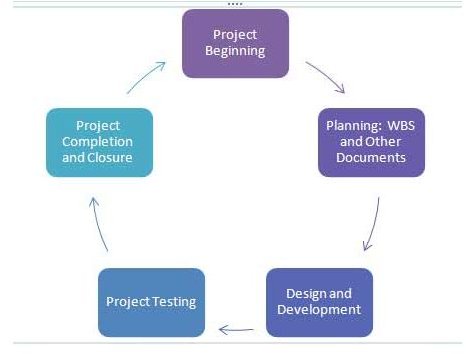 The Project Lifecycle represents the course of action that a project takes. It can easily be compared to the lifecyle of a human being in the sense that in the same way we are born, live our lives, and pass on–a project idea is born, the project is created, and the project is finished. The project lifecycle represents the stages a project must go through in order to be implemented. Because of this, each project can have variations in its lifecycle, depending on the project itself, but they will all follow the same basic course of action.
Fitting It All Together
The WBS is in the Planning Stage of the Project Lifecycle. During this phase of the Project Lifecyle, the project manager works with the project team to make sure that the client's needs are addressed and the project is planned completely and approved by the client prior to any sort of production beginning on the project.
Not only will the WBS help you figure out what you need to do and when you need to do it, but it will move the project lifecycle along great.