Example of a Stakeholder Register and a Stakeholder Register Template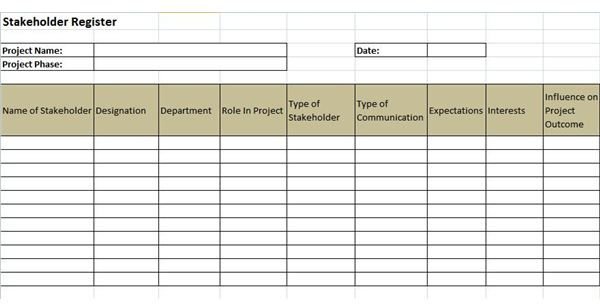 Introduction to the Stakeholder Register
A Stakeholder is any person or entity that can influence the success of a project in a negative or positive manner. A Stakeholder Register is a document that contains a list of external and internal project stakeholders. The register typically addresses the following questions:
What are the stakeholder names, contact information, designation, company name?
What are the stakeholder expectations, interests, impact, and requirements?
Which stakeholders are critical for the entire project and which ones are more active for specific project phases?
How often do stakeholders require communication and what is the preferred communication method?
What type of communication is required?
Is there a reporting relationship between stakeholders?
These are some of the questions that a Stakeholder Register addresses. You can customize this list as per your project communication requirements. The act of getting answers to these questions is called Stakeholder Analysis. In Stakeholder Analysis, you'd typically create a list of all project stakeholders and then determine their expectations, impact, and influence on the project. The Power/Interest grid and the Influence/Impact grid are useful during stakeholder analysis. Note: A stakeholder can also be an entity, such as an organization. Before we explain this form in more detail, you may want to download it from the following link: Template for Basic Stakeholder Register.
Register Template
A Stakeholder Register is only as good as the questions it manages to answer. Therefore, it is fairly important to first have the questions in your mind before creating a Stakeholder Register. The trick is to have enough information to make it useful and not too much that'll render it bulky. The Stakeholder Register is a document that is shared with project stakeholders. Therefore, it should never contain information that is damaging or can be construed in a negative manner. Here is a sample template:
[caption id="" align="aligncenter" width="600"]
Image Credit: Rupen Sharma As you can see, the stakeholder register template has columns that address specific questions. You can add and remove columns as you deem suitable for your project. Take care not to make it into a bulky document.
Register Example
Now, let's see how the Register is populated. After conducting Stakeholder Analysis, you'd get answers to the questions listed above. These answers are then entered into a stakeholder register. An example stakeholder register can be seen below.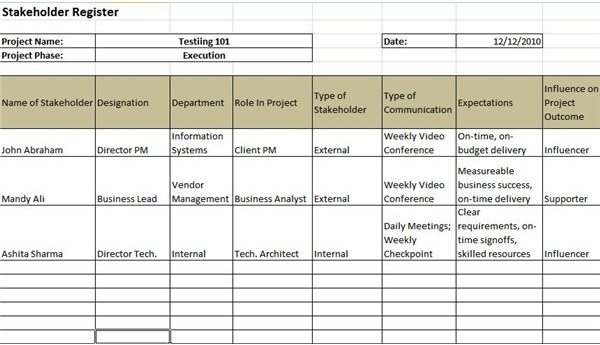 Image Credit: Rupen Sharma As you can see in the picture displayed above, there are two external stakeholders and one internal. The external stakeholders require weekly communication via video conferencing. This is probably because the development team is not located in the same geography as the stakeholder. A stakeholder can influence the project in many ways, there are generally four categories: Positive Influencer, Negative Influencer, Supporter, and Road Block. In this example, Mandy Ali is a supporter. This is probably because the project is part of a larger initiative, which she is responsible for. The value of a Stakeholder Register is dependent on Stakeholder Analysis. Make sure you spend time on this and use appropriate tools, such as the Salience Model for Stakeholder Management. If you're looking for more sample forms and downloadable templates, check out Bright Hub's resource guide: Over 50 Free Project Management Templates and Sample Forms.