Gain a Better Understanding with Critical Path Timeline Examples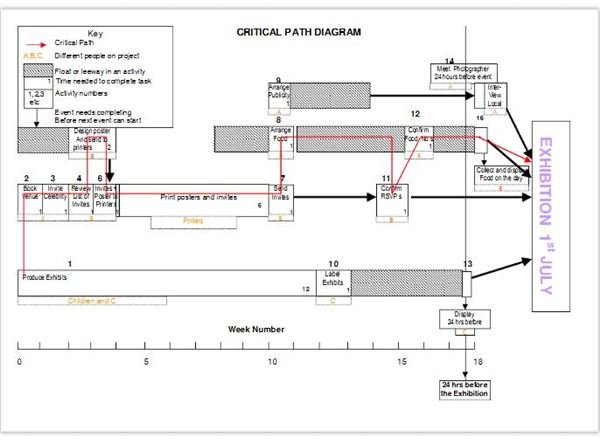 Is That Kind of Like a Historical Timeline?
A critical path timeline is a visual representation of task dependencies in your project schedule. The critical path of your project is the list of all activities that are required to complete a project along with the schedule for those activities and the dependency of one item upon another. A successful critical path has been linked to the work breakdown structure for your project. A work breakdown structure will tell you what tasks are dependant upon which other tasks. The timeline for a critical path demonstrates the relationships of each part of the timeline, that is, each task on the critical path, to one another.
Creating Your Visuals
Your critical path timeline can be completed by using a few easy steps.
First, you will need to make sure that you understand the scope of your project and that the project scope has been stated clearly and succinctly. Remember that your project will not be dealing with anything outside of this scope. Thus, if your project scope is to "construct a pair of pants" anything dealing with shirt construction or sock darning will not go into your critical path.
Second, you will need to decompose your project scope into the component activities. By decomposing your project, you will determine what activities need to be undertaken in order to complete the project. Once decomposition has occurred, you can then arrange your work items into the work breakdown structure.
Now that you've defined your work, you can begin to arrange your work into its critical path. Estimate how many days each work item will take to complete.
Enter each critical path item into a spreadsheet or into Microsoft Project. When you enter your information into your system, you will want to be sure to note how many days you expect the work item to take for completion and you will want to note whether or not that task is dependent upon another task.
Once all of your information has been entered into your data collection program of choice, you can then determine how you will use the information to work with the critical path. For our purposes, you will want to create a critical path timeline - a visual display that shows how the work will spread out over time, and demonstrate task dependencies in a visual manner. Microsoft's Project is an outstanding program to use when working with the critical path.
Examples for Inspiration
If you haven't already understood what a critical path timeline will look like, you may want to view some of the following examples to see how the critical path timeline appears.
In Deanna's Critical Path Example here on Bright Hub, created using MS Project 2007, you will see that each item appears listed on the left, followed by the number of days that are estimated for completion of the project. Arrows designate task dependencies - this means that for some tasks, other tasks must be completed prior to their start.
In the example critical path timeline to the right, you will notice that the critical path does not appear the same as the Gantt Chart critical path timeline in Deanna's example. Instead, here, many more complexities are depicted. Because there are multiple subprojects going on at the same time, the creator of this multiple critical path timeline used this format to depict their timeline.
That brings up a final point - if you need to, get creative. The point of creating a critical path timeline is to give a visual representation of the action items within your project.
References
Project-Speak: Critical Path https://www.luc.edu/pmo/pdfs/Additional%20Reading/Critical_Path_concepts.pdf
Image Courtesy of https://www.scribd.com/doc/35631506/Critical-Path-Diagram-amp-Example