The Key Elements of Creating a Project Team Organizational Chart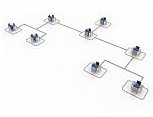 About the Organizational Chart
There are various organization charts used in companies depending on the type of organization. Organizational charts will vary since most organizational structures are always different. For example, a matrix organization will have a different structure and a chart compared to a flat organization. Also, understand the project team organizational chart is designed to explain who is who in a particular project.
Employees sometimes require certain information from the project team but don't know whom to contact or where to turn to. This is where project team organizational charts come in handy. Learn more about building these charts in the following sections.
1. Create a Project Team List
Creating a team list composed of the project manager, project leaders, team leaders and team members is the first step in designing a team organizational chart. At times, a single project might consist of resources from support projects or the functional departments. Remember to include all these members in your team list. Creating a list in an MS Excel spreadsheet is a good idea if you are planning to use a tool like MS Visio to create your chart. You can simply export the data from the Excel sheet and save time and effort. Include the internal as well the external resources added in the project list.
2. Analyze the Existing Data
There are times you may have to pull resources from other projects or search for skills sitting on the bench. There are times when employees search to join a new project after the completion of their previous project. There are also new those happy with sitting on the sidelines after finishing their training period. You can use them if they are not already allocated to any other project. Your HR database should have such vital information. It's a good idea to analyze the existing data when creating an organizational chart. Pull the skilled resources from the existing data to add in your project and include them in your project list. Make sure that you don't miss anyone in your list. Remember, this team list will act like a baseline for creating the chart.
3. Create Teams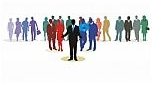 Now it's time to create project teams for managing different activities in the project. Categorize team members in different groups and assign activities to each team and its members. Make sure you have the project deliverables in mind when creating these teams. You should be able to identify the teams that are highly performing and collaborative to handle the competition and the project issues. Creating teams is a vital step in meeting the project deliverables successfully.
4. Stakeholders
Now that you have created the teams, what's the next step? Next, focus on assigning tasks to the respective resources. Aim at identifying all the stakeholders. The stakeholder list should include the internal team members and the external ones such as the clients, the vendors and the third-party resources. Assign roles and responsibilities to all these team members and create a flow chart of who is reporting to whom. Check whether each member is assigned a role, responsibility and a supervisor to report to. Also track whether every supervisor has one or more team members to supervise.
5. Create a Chart
Whichever tool you are going to use, you will find different shapes and structures to utilize in the chart. Use the shapes by moving them as necessary. Form the groups and connect them with dot lines or arrows. You can also use the color codes to differentiate these groups from each other. Make use of the synchronized shapes if your project team is very large. Including a reporting structure (who is reporting to whom) is very important in a chart. This helps to identify who is responsible for each activity within a project. Project team organizational charts are commonly created using Excel spreadsheets, Word documents and MS Visio.
Using an organizational chart template will save time and energy when you want to make changes in the future.
Reports and Presentations
Your organizational chart can be linked to periodic status reports if the chart is created with tools like Visio. In this way, you can keep track of the reports being generated. Analyze the reports periodically to understand where your project stands and identify gaps, if any.
Make the best use of these charts to enhance the style in your presentations.
References