Effective Resource Management in Companies: Using an HRMS (Human Resources Management System)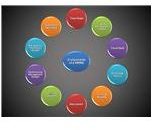 Managing HR Functions
An HRMS (Human Resources Management System) or an HRIS (Human Resources Information System) or an HR Module refers to a software package that usually comes as either a stand-alone package or part of an ERP system and basically constitutes a software system to manage the various HR Functions in an organization.
Various Modules within a HRMS
Various HR Functions can be implemented via an HRMS. Some of the common modules include: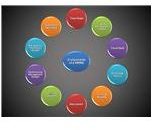 Employee Payroll
Time Sheet
Compensation & Benefits
Recruitment
Training & Development
Performance Appraisal System
Leave Management System
A pictorial representation of the various components of an HRMS is shown to the right. (Click image for a larger view.)
Types of HRMS Packages
HRMS packages are available in various forms as other software.
Paid HRMS Systems as part of ERP Packages
Open Source ERP Systems
Advantages
An HRMS can:
Disadvantages
Although an HRMS is often touted as being the panacea for all HR-related problems, it is not completely error-free. There is a certain amount of risk associated with using HRMS packages, some of which are listed below.
In conclusion, an HRMS can contribute significantly toward effective resource management in companies, but it is up to the employees and the organization to ensure that the HRMS is utilized effectively. It is to be viewed as a software tool to improve the resource management systems and employee productivity, not as a one-stop solution to solve every organization's HR problems.