About a Tollgate Review in Six Sigma Projects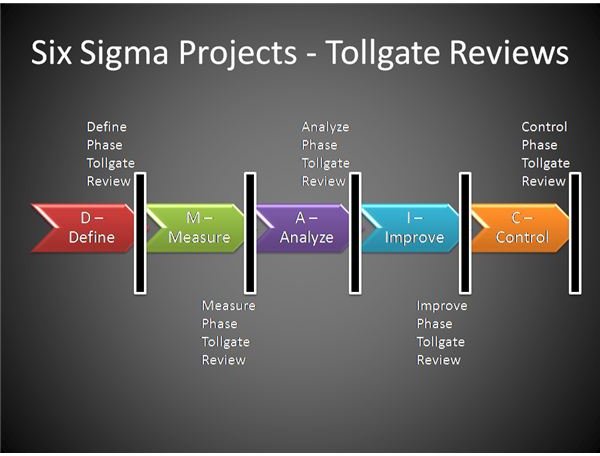 A Tollgate Review, as the name indicates, is like a checkpoint in a Six Sigma project at which the various team members meet and determine whether the work has been performed as indicated in the project plan and whether the objectives mentioned have been achieved.
When Are They Carried Out?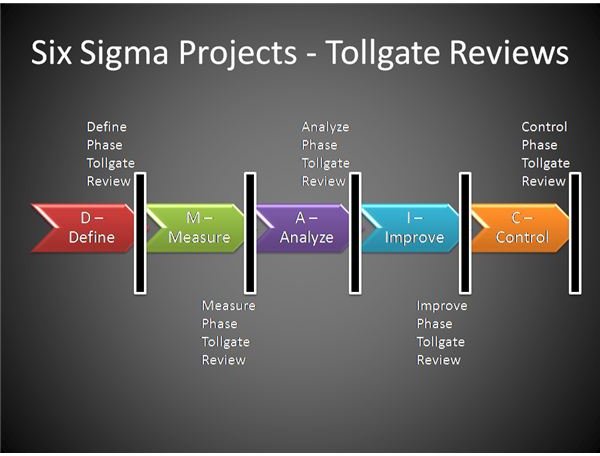 Tollgate Reviews are normally carried out at the end of every step in the DMAIC Process. That is, they will be carried out at the end of each of the Define, Measure, Analyze, Improve and Control stages.
For projects based upon the DMADV methodology, tollgate reviews would be established after each of the 5 phases: Define, Measure, Analyze, Design and Verify.
Tollgate Reviews help determine whether all the goals within each stage have been achieved successfully and whether the project can progress to the next stage.
The diagram on the right indicates how a tollgate review is carried out at the end of each stage. The red arrows indicate when the goals have not been met and the activities within the stage need to be re-visited.
Who Performs Them?
The Tollgate Review in a Six Sigma Project is normally performed by a Master Black Belt or by a Quality Council. However the Tollgate Review should also be attended by Green Belts, Black Belts, the Project Champion or Sponsor and other members as appropriate.
Tools Used
A variety of tools can be utilized in order to perform a Tollgate Review. Some of them are listed below.
Check Sheets
Project Deliverables Document
List of Milestones
Preparation Required
Sometimes, the most conscientious project managers with the best of intentions fail to successfully execute their Six Sigma projects because they are incapable of conducting suitable Tollgate Reviews. This highlights the importance of pre-review groundwork for the success of the project. In order to successfuly prepare for the review make sure you:
Ensure all required attendees are informed of the review.
Block time in everyone's work-day for the duration of the review.
Prepare a suitable presentation consisting of check sheets, milestone lists, etc. for review.
Create a structured agenda for the presentation.
Ensuring Success
Many Six Sigma projects are unsuccessful because the project progresses to the next DMAIC / DMADV stage without ensuring that goals in each stage are met successfully. A Tollgate Review after every stage will ensure this does not happen and will make the project more successful.