Bontq Review - Project Tracking Software to Capture the Bugs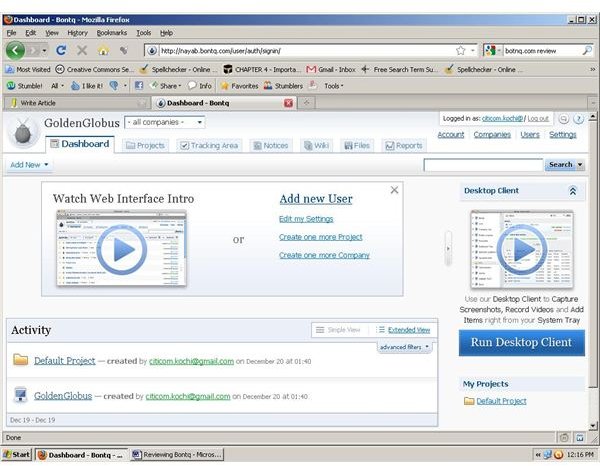 What it Does
Bontq (www.bontq.com) serves to:
Add multiple companies and projects, and keep track of projects
Assign tasks, feature requests, and test cases to users
Report bugs and assign resolving bugs to any user
Create separate "Wiki" documents with custom markup, and with unlimited storage
Capture screenshots, and edit, comment and attach such screenshots directly
Record videos
Registration (3 out of 5)
Registration is easy and fast, and requires only defining the user name, adding an email address and password. This creates a profile name "xxx.bontq.com" Accessing this page requires the email and password.
Bontq allows for three levels of users:
Admin, who registers for the account and can create companies and projects and add new users.
Users, who can create and perform tasks, clear bugs or anything else as assigned by the project manager.
Client, who can only comment and attach files in items assigned by the project manager.
Elements (5 out of 5)
The elements present in Bontq's web interface include:
**
Dashboard: The project manager's dashboard lists the activities, including companies and projects, with the option to filter by users, projects and items. Adding a new user is also through the dashboard.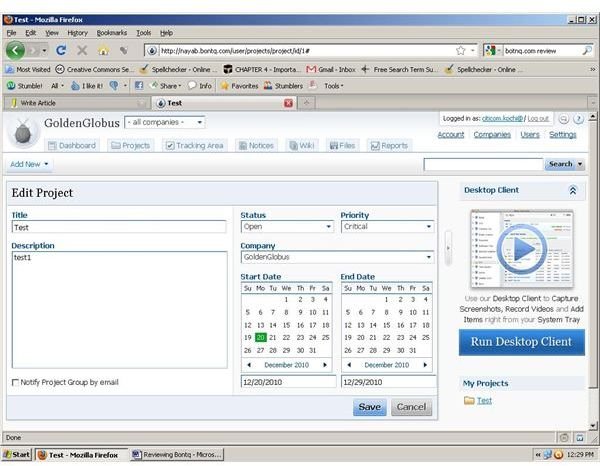 Projects: The project view lists out projects, and allows the project manager to assign or unassign users, edit the project description, set project start and end dates, set priority, define the company to which the project belongs, and delete the project. Each individual project lists activities, files, and comments.
Tracking Area: The tracking area lists tasks, bugs, feature requests, and test cases and enables the project manager to view and edit them.
Tasks: Tasks are any routine activity. The project manager initiating a task opens up a ticket which the assigned user has to complete within the time frame.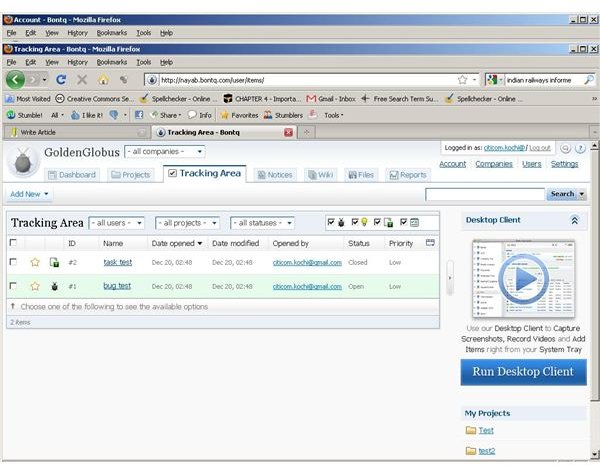 Bugs: Bugs are similar to tasks, only that it concerns a defect that needs early closure.
Feature request: Again similar to tasks, feature request focuses on new features or functionality to be added by the developers.
Test cases: Test cases are "how to" documentation that describes the testing scenario.
Notices: Notices are fast items reported fast and changed to something else.
Wikis: Wikis are separate sections for storing and managing documents related to the projects
Files: Files, like wiki is a separate section to store and manage files related to the projects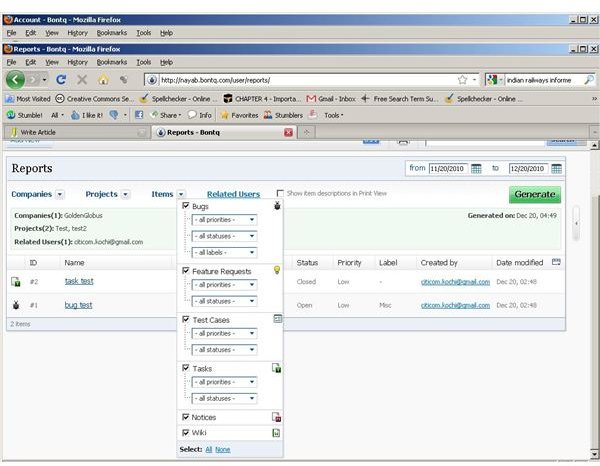 Reports: The report generator allows generating date wise reports with a combination of options from companies, projects, items, and related users.
The Add new button on the top left side allows the addition of a bug, task, feature request, notice, wiki document, test case, and a new project.
Tucked away in the right hand corner is the ability to view lists of all companies, and users, and adjust the display settings and make changes to account profile. The settings section allows one to add priorities and labels, and import data (.xml and .sql)
The Desktop Client captures screenshots and records videos to show the issues clearly.
The Bontq review continues on Page 2 with a look at the costs and then the final verdict.
Costing (2 out of 5)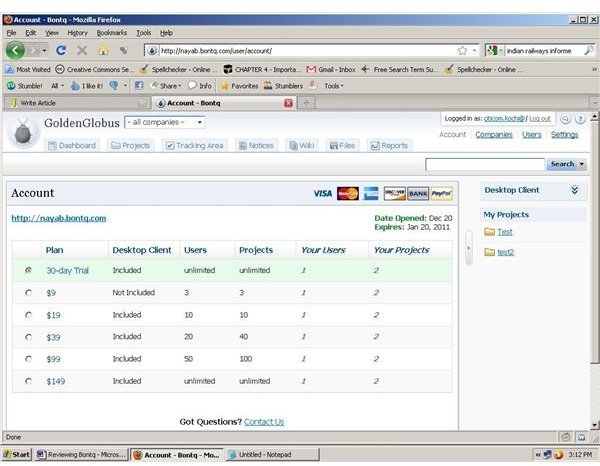 Bontq is a self-hosted service with no set up fee and rather a month-to-month commitment.
Bontq offers a free trial for 30 days without a credit card, for adding unlimited users, unlimited projects, unlimited storage, and with a desktop client.
Beyond the 30 day free trial the rate varies.
Three users, three projects, unlimited storage and no desktop client costs $9 a month.
Ten users, ten clients, unlimited storage, and a desktop client costs $19 a month.
20 users, 40 projects, unlimited storage, and a desktop client costs $39 a month.
50 users, 100 projects, unlimited storage, and a desktop client costs $99 a month.
Unlimited users, unlimited projects, unlimited storage, and a desktop client costs $149 a month.
The pricing can be a major barrier to Bontq's wide acceptance, especially since it is a relatively new and untested product. A limited free version for an extended period might serve to increase acceptance.
Verdict (4 out of 5)
Although this Bontq review seems to indicate that it does not provide anything unique, Bontq still scores on many counts:
A simple and easy to use user friendly interface.
Integration and simplification of the often cumbersome process of making elaborate description, screenshots, and video capture that contributes to fixing bugs.
A Desktop Client that captures the screenshot and opens up the Bontq graphical editor without saving the screenshot on the computer.
Email alerts to relevant users about any changes.
Support of Google Docs attachments, and allowing uploading Google Docs directly without having to save such files in the computer and upload it to Bontq.
A facility to import users, projects, comments, bug, tasks and other elements from other products such as Basecamp and FogBugz.
The desktop application interacting with the online web dashboard allows for fast and seamless performance
Overall the biggest USP of Bontq is that it makes bug reporting much faster and easier.
Bontq is a relatively new application, and as such still has to withstand the test of time, as more users use it to meet their complex project management requirements.