Introducing PaperPort 12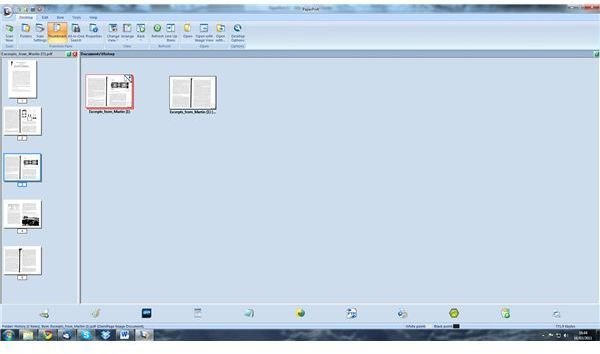 The way offices are organized has changed dramatically over the last few years. With the move towards digital documents stored in a central server location, the prospect of a paperless office is creeping ever closer to reality. PaperPort 12 is a software suite designed to meet the new challenges of the digital age. It allows for visual access to digital files and provides a powerful scanning solution for paper documents and photos. Integration with the Microsoft Office suite and SharePoint makes adoption of PaperPort 12 relatively hassle free for most office setups. It works with your existing Windows folder structure and offers a powerful set of PDF tools.
Adopting software like PaperPort 12 might require some investment and a change in your working practices. The question is – would it improve efficiency and productivity? Depending on your needs, it just might. Let's take a closer look at the features on offer in this PaperPort review.
Features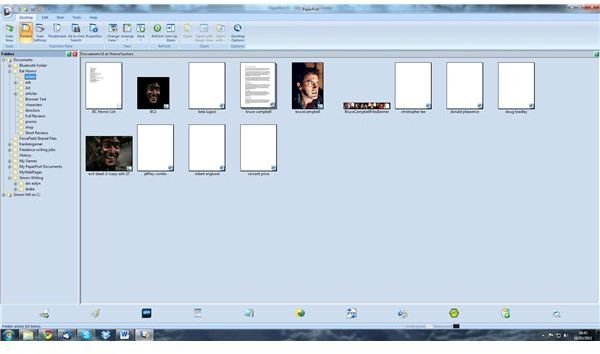 The central core of PaperPort 12 is its ability to scan documents. It is compatible with most scanners and multifunction printers and the setup process is quick and painless. Scanning is fast and can be activated via the Scan Now button with a single click. You can scan directly into Word, Excel or PDF format or you can even route scanned documents into SharePoint or onto a colleague's desktop.
Once you have a scanned document or photo you can use the SET tools in PaperPort 12 to tidy it up. This can include everything from inverting colors or correcting red eye in a photo to straightening or enhancing text in a scanned letter.
PaperPort 12 also integrates well with other software. You can drag documents down to the bottom of the workspace to send them to other applications via the Send To bar which is fully customizable. You can also set up sharing and security rules for individual folders and documents so different employees can be given different access rights.
Not only can you convert almost any document into a PDF you can also use the Form Typer feature to convert PDFs into digital forms which can be filled out on the computer. Thanks to the OCR (optical character recognition) technology searching for documents, and within documents, is easy. It's also very useful to be able convert digital images into usable text.
The PDF tools are excellent and the standalone PDF Viewer Plus is lightning fast at opening PDF files and offers a range of editing options. You can also very quickly and easily compile new PDF documents in the PaperPort workspace by simply dragging pages and dropping them on top of other pages. Each PDF is broken down into a list of thumbnails in the left pane and so reordering and creating new PDFs really couldn't be easier. You can also add sticky notes, annotations and highlights which is ideal for collaborating on a PDF with a colleague.
Usability
There is definitely a learning curve with PaperPort 12 and if you expect to get the most from it then you'll need to take some time integrating it with your office setup. The fact you can automate scanning processes and create a workflow which can be used again is a real potential productivity boost. For example you could scan in a series of documents, automatically enhance them and send them out to a number of recipients via e-mail. If your office already uses SharePoint then you can dictate what each employee can access and employ a check in and out system so that documents can only be updated by one person at a time (this is essential really to avoid duplication of work or problems resolving different versions of a document).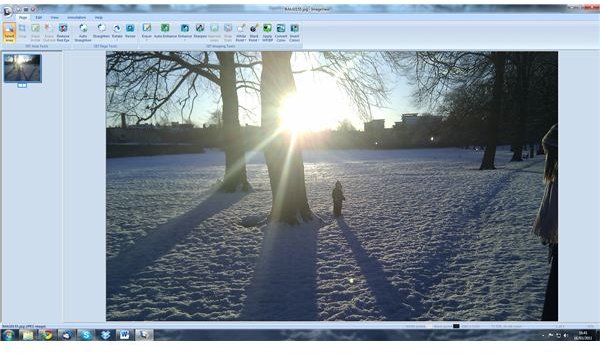 The Desktop Delivery feature can also prove handy because it allows you automatically import specific documents from an e-mail account, local folders or network folders. This is ideal if you are waiting for someone to send something through or deposit it on the network so you can review it.
Realistically if you don't have any scanning requirements PaperPort is probably not worth adopting. However, the powerful search capabilities and the visual layout of thumbnails for documents does make searching your folders fast and easy, so PaperPort could still do a useful job. I'm also a big fan of the easy PDF editing capabilities. If you frequently have to make up new PDF documents and you want a solution that lets you drag and drop pages to compile this is what you've been looking for.
The user interface isn't the most intuitive but because you can create your own customized toolbar, once you learn what features you need on a daily basis, you can make it much more efficient. The Sent To bar at the bottom is also a great idea and being to drag and drop onto another application to instantly open the document in that application is a real time saver.
Room for Improvement?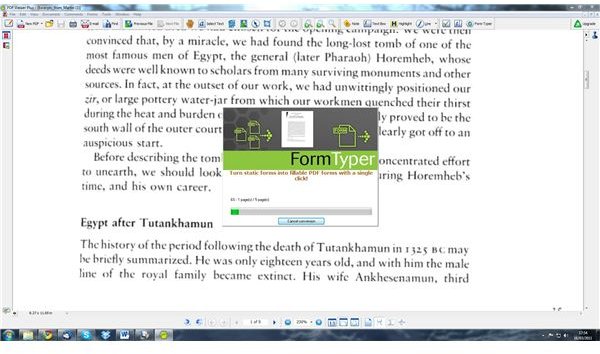 No software is ever perfect and PaperPort 12 doesn't buck that trend. The user interface could be clearer and navigating around it can prove slightly frustrating until you learn what each option actually does. It is worth spending some time with the How-to-guides before you dive in.
The thumbnail generation when you access a folder can take a while, the more you have in there – the longer it will take. I also found that some documents never seemed to generate a thumbnail preview despite being in supported formats.
The Form Typer feature for converting PDFs to fillable forms generally requires a fair bit of editing from you, I guess it depends on the document but don't expect it to be perfect every time.
While I found the software to be stable and had no trouble with my scanner, not everyone has had the same experience. There are a number of negative PaperPort 12 reviews from users on Amazon which complain about instability and lack of support for certain scanners. Running it on my Intel Core i5 3.3GHz, 64 bit Windows 7 with 8GB RAM machine it was fast, responsive and trouble free but I can't vouch for other systems.
Verdict
Approaching the end of our PaperPort review we come to the verdict. The truth is this software is probably overkill for an average home user. While it may be reasonably priced compared to other options with comparable feature sets the price tag of $74.42 on Amazon at the time of writing could prove a bit steep for a casual user. The Pro version is currently $176.88 on Amazon.
For office set ups and project managers I think PaperPort 12 could do a great job. If you have an unwieldy folder structure and struggle to find the documents you want, or you have a troublesome scanning workflow in place, then this software could certainly improve your productivity. In short, for the right people PaperPort 12 is a good solution.
References
Nuance, https://www.nuance.com/for-business/by-product/paperport/professional/index.htm
Amazon PaperPort 12, https://www.amazon.com/Nuance-Communications-Inc-6809A-G00-12-0-PaperPort/dp/B002JB3CUS/ref=sr_1_1?s=software&ie=UTF8&qid=1300299709&sr=1-1
Amazon PaperPort Pro 12, https://www.amazon.com/Nuance-Communications-Inc-F309A-G00-12-0-Professional/dp/B002JW8V5S/ref=sr_1_2?s=software&ie=UTF8&qid=1300299709&sr=1-2
All screenshots taken by author.