Learn About the New Features in Mac Office 2008 that can be utilized for Project Management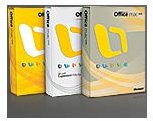 A Great Surpise for Project Managers
Within the latest version of Mac Office 2008 is one of the most powerful organizational tools available for project managers - Entourage 2008. Entourage works with the Microsoft Office Suite of applications to help you efficiently manage your projects, right from your desktop.
Synchronize Entourage WIth Your iPhone or iPod
It is critical for project managers to stay abreast of a project even while away from their desks. Entourage 2008 makes this possible. Within Mac 2008 is the software, Sync Services. Sync Services allows you to synchronize your Entourage contacts and calendar events with an iPod, iPod touch or iPhone.
Sync Services is a central database on your Macintosh computer that keeps track of programs and devices that share information. After synchronizing your Entourage address book and calendar with Sync Services, the information is also synchronized with your Macintosh Address Book and iCal. Then you can use iTunes to synchronize the information with your iPod or iPhone.
If you do not own an iPhone or iPod, you still have the ability to sync it with a device such as a Blackberry. For more information about syncing with a Blackberry, visit the Blackberry for Mac website.
For more information on Entourage read:
A Review of Entourage's Project Center
Organize your Projects with"My Day" Widget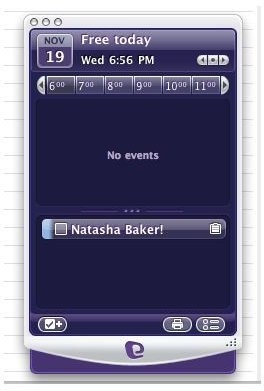 You can show your day's events and To Do List right on your desktop with My Day, a widget-like application that displays Entourage information. Even when Entourage is closed, you can use My Day to conveniently see your schedule, check off completed To Do items and create new tasks. It only take a few simple steps:
Click Mail
Click My Day
Visible all the time, whether you're in Entourage or not, My Day lets you see what's on your plate at all times. It's also live, so if you click the check box next to an item, it marks it as complete.
Project Managers can leave the My Day widget on their desktop for simple task management. With the widget you can create new tasks and check off tasks as team members complete them - all without opening another application.
Audio Notes in Word

For those project managers who do their best thinking aloud, Audio Notes is for you. Within the Notebook View in Word, you can add audio notes to compliment your written notes. In notebook layout view, you can record short audio notes about specific text or record a whole audio report for stakeholders or project team members. Audio notes are saved as part of the notebook document.
It's easy to keep the Audio tool active in the toolbar. Simply hit record whenever genius strikes. Add a quick text label to identify your recording on the page and you can move it around and place it in context with the rest of your notes.
Excel Gantt Charts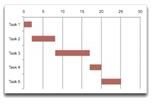 In Excel, It's easy to create compelling charts and graphics to show stakeholders what you mean - in a glance. Gantt charts are an important part of a project manager's arsenal. They are necessary for project success. Many project managers cannot survive without Gantt Charts. With Mac Excel 2008 you can simulate a Gantt chart by customizing the stacked bar chart. By doing so you can depict tasks, task duration and hierarchy. For a step-by-step guide, read How to Make a Gantt Chart in Excel.
Share Data Between Applications
Managing projects require an awful lot of information and data analysis. Creating status reports, charts and presentation with data from different applications for your projects, is relatively easy within Office. When you use Mac Office 2008, you have several ways to share information among applications. Copying and pasting is one way, but suppose you want to maintain a relationship between documents that share information, so that the information is easier to keep up to date? When you share information between applications, you can:
Link to the information so that it is updated automatically.
Embed the information so that it is updated only when you manually update it — by opening the document in the application that was used to create it.
Link to or embed a portion of a document — for example, a few cells in an Excel workbook — by using a linked or embedded object.
For more how-to information on data sharing, visit Mactopia.