Open Source Task Management Programs - Project Management Software on a Budget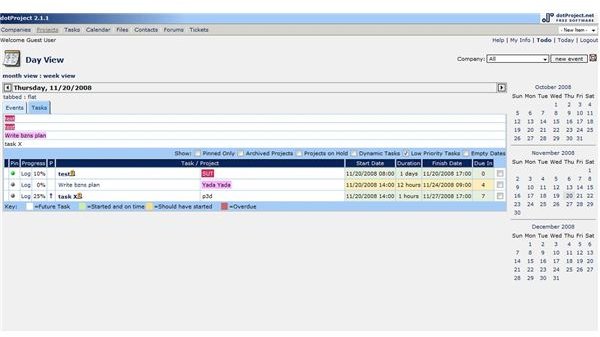 Open Source programs offer users the advantage of being free and it offers users the advantage of being able to change the code associated with the software. For task management, this means that you can utilize the program, customize it, and give it to everyone in your department to use for their task management needs without infringing on copyright laws. This is a great advantage for small businesses or start-ups who wish to utilize task management software in their companies, but don't have the resources to purchase customized software licenses. Below is a list of some of the best open source task management programs available.
dotProject
DotProject allows users to collaboratively manage tasks and projects. In addition to its task management capabilities, it has a calendar and a forum to allow users to discuss tasks, issues, and other important topics with one another. The program offers a detailed task view - giving the project manager the ability to track task details down to the budget for that particular task. For more information, you may wish to read my review of dotProject.
Memoranda
Memoranda is intended for individuals who wish to manage their tasks. This open source task management program allows users an easy way to keep all information governing a project in one place. One of the great features of this program is that the program allows users to utilize a spectrum of languages. Another great feature of Memoranda is that tasks roll over automatically if they are not completed, and users can compile a report of tasks. This program is great for independent contractors and freelancers.
airTODO
AirTODO is a simplified project management tool. This open source task management program is great for those who use the Agile project management methodology. AirTODO allows users to manage resources in addition to tasks. This program is not for beginners, however, as its information page warns newcomers to project management to stick with the more familiar MIcrosoft Project. The benefits of this program, however, include email task delegation and integration with the popular OpenOffice software.
TaskBlocks
TaskBlocks is a very simple application for planning tasks. This program allows users to store task information in project files. Users can create individual "Workers" to which tasks are assigned. The chart will show when tasks are due and who has been assigned the tasks. This is a very basic software, but it can be extremely useful for those who don't need more detailed task management capabilities.
BORG
Finally,BORG is a program that operates like most PIM's. It is a tool that can successfully track tasks and calendar items. My favorite part of this program is the ability to track sub-tasks within a task. BORG allows a very detailed task view you don't find often in PIM's. This makes this program excellent for independent contractors, freelancers, academics, and small businesses. BORG also offers the ability to track all changes to tasks. While this program is the last on this list, it certainly shouldn't be overlooked.