What is ViewPath?
ViewPath is an on-demand program that allows for users to comfortably and easily manage their projects. ViewPath allows project managers to simplify complex schedule demands. This program is visually oriented and makes entering tasks into it's interface simple. On the dashboard, you can view any tasks due for any given team, a calendar with appointments and the "message of the day." Use of ViewPath's express edition is free. A subscription to the standard edition costs $10.95 per month per person. Additional features of the standard edition include cost tracking, search, and time tracking.
What does ViewPath do?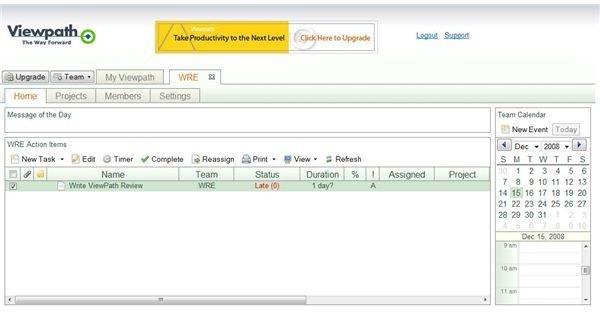 ViewPath works on the Internet – no downloading or software installation is necessary with this program. This comes will all of the benefits (accessibility, security, etc.) of on-demand software. When you open the program up, you are taken to the daily activity dashboard. The daily activity dashboard lists the action items for each team. You can enter tasks and appointments directly from this page. If you are using the standard edition, there will be no advertisements on the right-hand side in this view.
ViewPath offers a Gantt Chart and Timeline view. It automatically will use WBS numbering. It also allows the ability to zoom, archive, copy and paste, track milestones, link dependencies and track costs.
The program also allows users to:
use email notification for assigning tasks
use keyboard shortcuts for frequent tasks
schedule locking
tracking actual vs. projected
assign various levels of access permissions
use and submit time sheets
Assign members to teams
Assign different tasks to different teams
Manage multiple projects
Is ViewPath for You?
ViewPath is for you if you have been looking for a high-functioning project management program at a reasonable price. Because the express edition is available free, and the standard edition is available for under eleven dollars per user, this on-demand software is great for start up businesses, freelancers, small businesses as well as companies looking to save some money. The program is easy to learn, which is great for those of us who are technologically challenged.