A Review of ProofHQ: Web-based Collaboration Application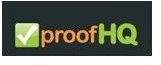 As a writer who collaborates on several different marketing and advertising projects at a single time, I oftentimes dread the back and forth collaboration required for a project. Attaching documents to email, hoping the client is able to open the attachment, and tracking needed changes are a few of the issues I face while working on projects that require client approval. What that being said, I was more than ecstatic to put ProofHQ to the test.
ProofHQ is a web-based application used to manage the collaboration, review, and approval of designs, documents and files. The application is intended for designers, advertising and public relations agencies, print and production companies and anyone who needs to collaborate on a project.
What ProofHQ Claims
According to ProofHQ's website, the application, "streamlines the process of managing document reviews, proofing and approvals. Sending proofs with ProofHQ is as easy as using email, but with much better tracking and follow-up. ProofHQ reduces the time and cost of managing proofing and approvals for everyone involved. ProofHQ can be used by graphic designers, web designers, ad agencies, marketing departments, industrial designers, printers, pre-press companies, public relations, photographers and more."
That's a big claim from an unknown company trying to enter the web-based, application market - I had my doubts.
Account Creation
The first step in the sign up process is to choose a subscription plan. Once you choose a plan, you are ready to create your account. There are several subscription packages available that are priced from $29 up to $99 (See the chart below for a breakdown of the subscription packages). Creating your account is very simple and easy, and if you choose the trial version, a credit card is not required.
After your account is finalized - the process took all of ten minutes - you are then directed to the dashboard. ProofHQ utilizes a dashboard somewhat like a homepage. From the dashboard users can:
Create workspaces
Add proofs
See the status of existing proofs
Manage Users
Get a summary of the recent account activity
Manage all of the workspaces on the account
I created two workspaces: one for a major client and another for my miscellaneous projects. The process took roughly one minute to complete. The simple tabular structure of the application makes it easy to complete a task; simply click on the tab and insert the required information. After creating each workspace and adding reviewers, I was set to upload proofs.
ProofHQ Subscription Options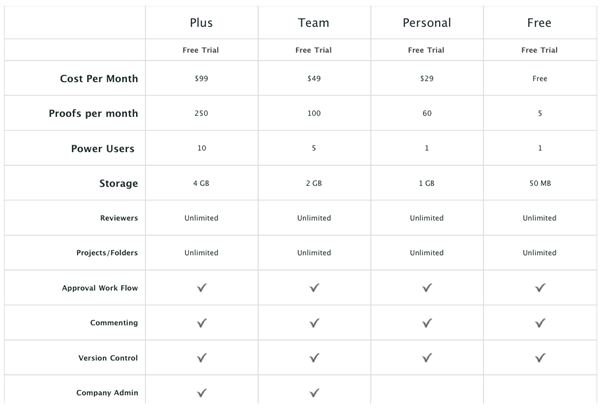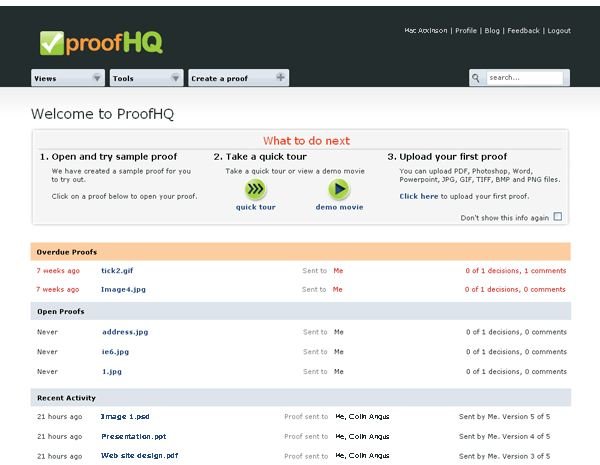 The Proof Upload Process
Uploading a proof look and feels somewhat like sending an email. You simply:
Type in the email address of the users Set a deadline for reviewers to finish the proofing (optional) Choose the file you want to get reviewed and proofed When you add a proof, your reviewers get an email with a link to the proof workspace. After clicking the link, the reviewer is taken to the proof workspace where they can markup, add comments, and even collaborate in real time. Files up to 75 MB are supported by ProofHG, which is ideal for large, visual files.
ProofHQ and Basecamp Integration
The most powerful function in ProofHQ is its ability integrate with Basecamp. For those of you that are unfamiliar with Basecamp, it's a web-based project management application developed by 37 Signals that is widely used by design professionals. Integrating ProofHQ with Basecamp is a functionality that was added after the developers listened to users who wanted an "all in one" application. I recently reviewed Conceptshare a web-based collaboration tool for designers, which is somewhat similar to ProofHQ. Although I was impressed with its usefulness, Conceptshare was unable to meet my need of a "total package" product. The collaboration application I needed would have to work with at least one popular project management application. ProofHQ's developers heard the cry and responded by adding the ability to integrate with Basecamp, which is a great application in and of itself.
To integrate your ProofHQ account with your BaseCamp account, you have to have your Basecamp URL, the administrative user id and password. After supplying those three things I was set and ready to go. I uploaded a PDF file into a workspace, after doing so I was able to designate which BaseCamp project I wanted the proof to appear. All of team members assigned to the project received a message alerting them that a "ProofHQ file had been uploaded to the Basecamp project, and was ready for their review." The beauty of the integration between the two applications is partly in message process. Team members receive a link in the email, which takes them directly to the Basecamp project workspace that contains the ProofHQ file. From there the member can open the proof and begin the markup and approval process. The only drawback is once open the proof in Basecamp you are automatically taken to the ProofHQ workspace that contains the proof, you are no longer in Basecamp. You do not have the ability to toggle between the two applications; you must open a new window or tab in your browser in order to go back to your Basecamp dashboard.
Features and Benefits
After being wowed by ProofHQ's integration with Basecamp, I was able to explore the other great feature which include:
It is 100% web based proofing, so there is no software to download
The application is very user-friendly, it doesn't take a engineering degree You can Create proofs from PDF, PSD, GIF, TIFF, JPG, BMP, Word and even PowerPoint It lets reviewers mark-up, comment, collaborate in discussion threads, refer to old versions and make a decision about each version It notifies you of new comments, replies to comments and new decision You can send proofs to anyone with an email address The application is Mac and PC compatible And a newly added features is the ability to create and track multiple versions for your proofs ProofHQ really does live up to its claims. For design professionals, project managers, and those in the public relations and advertising fields, ProofHQ offers many valuable benefits such as: You will save time collecting feedback by having one single, central proof for all reviewers to mark-up and comment ProofHQ adds value by offering proofing tools as an integral part of your service It will improve collaboration by sharing and discussing comments online It makes it easier for reviewers to give feedback and sign-off designs You have the ability to maintain an audit trail of reviews and approvals The dashboard helps you manage all your current proofs, see at a glance the status of each proof, and each reviewers decision
The Final Grade: Pass or Fail
ProofHQ is my dream come true. I highly recommend ProofHQ to add to your project management arsenal. The application's seamless integration with Basecamp is an awesome functionality that I have already began to tout as a service that I provide to would-be clients. In comparison to Conceptshare, ProofHQ is faster at uploading proofs, regardless of the size of the file. Also, the customer service I received from Mat Atkinson (a co-founder) was unbelievable. I was having problems logging in to my account because of issues with my browser, but Mat, through countless emails and a lot of patience was able to help me get logged in and back on track.
To learn more about Conceptshare, a web-based collaboration application, read my recent review.