Smooth Projects: Review of a Project Management Software With Web-Hosting

Smooth Projects is an easy-to-operate, unique piece project management software that offers the maximum level of collaboration possible for its type. This web-based software hosting service is offered by Remedysoft, Inc. It is compatible with all recent versions of Windows and is affordable for smaller organizations as well. It can handle high-user volumes and offers incomparable levels of personalization.
Project Accessibility & Ownership
The makers of Smooth Projects realize that a single project is handled by many people with different levels of authority and assigned
responsibilities. To ensure smooth workflow without users impinging on each other's work, different log-ins are provided across all project stakeholders including the team members, clients, and project managers.
Key points of this software include:
Every project can be broadly categorized under Public, Private or Participant-based to establish its level of accessibility among the users.
Each user's privileges are clearly defined and each of them can access only specified sections of the entire program.
There is also a provision for providing some limited access in the form of information with the 'Read Write' and 'Read Only' access tags.
Unlimited users can log-in at a single time and use the software.
Every project's creator and the users to which related tasks were assigned are clearly displayed.
Project Categorization
This straightforward application is very effective at systematically dividing and categorizing the entire project into separate assignments or tasks according to the preference that can be defined by the project manager. If there aren't too many instructions loaded then, in accordance with the respective industry norms, it divides the entire project-related activities across eight default categories.
The names of these categories can be altered according to the user's convenience. The default categories are: In Progress, Not Defined, Proposed, In Planning, On Hold, Complete, Archived and All.
Project Collaboration
Any ongoing project can be carried out in partnership with the client or any team member/department. In case of an issue arising in terms of extending or limiting log-in rights to someone, access can be defined and controlled within the software. The interaction level is further enhanced in the form of a project-centric Discussion Forum.
This gives the organization an opportunity to create discussion areas that promote healthy communication across the various users. Any ongoing discussion is also displayed on the Forums tab to keep all the team members updated.
Project Tasking
This feature ensures that the execution of various tasks assigned to different team members is being continuously monitored. There is a provision for creating Task Target dates and tracking the time consumed in the form of hours or days. This helps to keep track of the level of task completion achieved within a given time frame.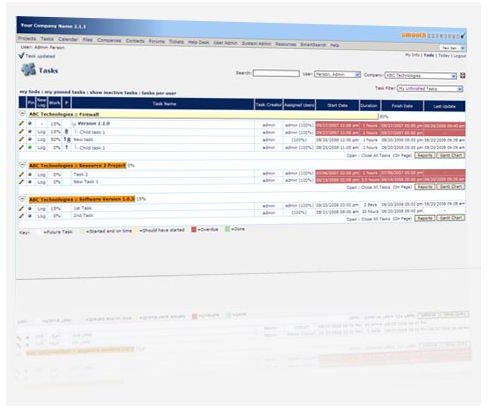 Another feature is the hierarchically-created Task List. This list helps the user to define dependent tasks and the entire hierarchy across which it must pass before being completed. That makes it simpler to observe at which user stage a task has been put on-hold. It also shows if the task was hampered and for how long as well as who was able to deliver the fastest. A Gantt chart shows all the ongoing projects and their level of completion. Interdependencies are displayed along with a critical path and other features you would expect to see on this type of project visual.
User-Friendly Tools
File attachments: Files can be attached to any task undertaken and can be saved on the server. These files can be accessed from the 'Files' tab.
Calendar: All the ongoing projects have a calendar displayed along with them. This is no ordinary date system but an organized graphical interface showing various active projects, and the results can be filtered by day, week, or month.
E-mail Notification: In the case of any software update, all related users are notified via e-mail.
Pricing
All versions, denoted as mild, medium, and hot, are free. The company's webhosting plans start as low as $39 a month. It's well worth your time to give Smooth Projects a try.