Review of PowerPoint Software Program for Use in Six Sigma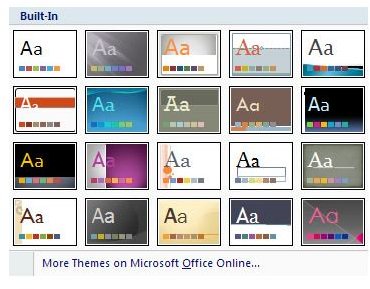 Uses for PowerPoint
One of the key elements of a successful Six Sigma implementation is effective communication. This includes communication among project team members as well as communication between the team and other business leaders and employees.
For providing details of a Six Sigma project, the most popular program hands down is PowerPoint. Black Belts and Green Belts devote quite a bit of time to learning the art of communicating their project's importance, the project's progress and its results using this presentation program. A simple "deck" may include one slide for each phase of a DMAIC project, while a more involved one might incorporate numerous slides per phase showing detailed graphs, tables, control charts and statistical analysis; along with results of fish bone analysis, affinity diagrams and other techniques.
Team leaders typically create a basic deck at the beginning of a project and continually update it throughout the project. The deck is used for updating team members, both in person and by distributing it through email. It is used for providing updates to the project sponsor and other stakeholders.
And it is a very useful tool for helping the project leaders learn how to "tell the story" of their project, in terms of the problem, the approach and the results. Six Sigma team members quickly learn the importance of balancing text and graphics properly on each slide and of gearing each specific presentation to the intended audience and delivery format.
Capability (5 out of 5)
PowerPoint has an extensive feature set which can handle almost any task a user would want for building a presentation. Many users limit themselves to only the basic task of creating a static visual layout on a series of slides. However this program also provides the option to animate elements and slide transitions in a vast array of ways, as well as add narration and automation to the presentation.
Since Six Sigma teams sometimes use PowerPoint presentations as visual aids when members are providing live updates on a project and sometimes send them out as stand alone documents, they may want to create two different versions of a presentation. One can be a basic visual aid with text and graphics that they manually walk an audience through in a meeting. The other can have a built-in soundtrack that walks the viewer through the presentation as if he or she were seeing a live presentation. PowerPoint lets you save versions of the slide show with and without the narration and animation enabled. Another option is to save one version with timing automated, as for standalone presentations, and one with manual slide advancing, as for walking through updates with a project team. Handouts with slides plus additional information are also useful in some situations.
Users can even determine the appropriate timings to set for each slide using the "Rehearse Timing" feature, which records how long each slide is shown during a run-through of the presentation. One can keep notes with each slide and with the use of two monitors, view the notes, along with the slides, in "Presenter View" while the audience sees only the slides.
Animation features include numerous options for sound and visual effect upon transitioning to a new slide, which can be set individually for each slide. Slides can include text, graphics created in other programs, charts, SmartArt graphics and WordArt. The program includes about 20 design themes that can be used or users can customize their own using different colors, background styles, fonts and more.
For advanced users, PowerPoint includes the ability to create Macros.
Usability (4 out of 5)
Users of previous versions of PowerPoint and Office will most likely need some time to adjust to the "ribbon" layout of Office 2007 programs. It does take some getting used to as it is a switch from the long-used menu format. But once this new format becomes familiar, it is generally easy to find options as they are needed. What I did find frustrating was that the ribbon keeps disappearing once a selection is made, rather than staying visible as it does in other Office 2007 programs.
Using most of PowerPoint's features is fairly straightforward. For example, to add a SmartArt object, simply click on "SmartArt" from the "Insert" ribbon and a list of object types appears along with a visual representation of the choices for each type. Click on one of those choices and a sample shows to the right.
Laying out a slide is as simple as putting each element where you want it and then making modifications to position, size, color, and other parameters as needed. The dialogs for setting up animation and narration are straightforward as well. Hovering with the cursor over a specific item in the ribbon shows an informational pop-up that explains what that option does and how it may be used. I found this very useful in exploring features I had not yet used.
Availability (5 out of 5)
Most businesses, large and small, use Microsoft Office, so it is widely available. Nonprofits can purchase the whole Office Suite or just PowerPoint at a very reasonable cost from TechSoup.org and academic licenses are available at reduced cost as well. Even for small business owners and individual consultants, PowerPoint can be purchased for around $100, while Office is available for about $200.
The products can be found at a vast array of stores both locally and online, as well as through resale outlets such as Ebay.