Review of Minitab 15 Software Program for Use in Six Sigma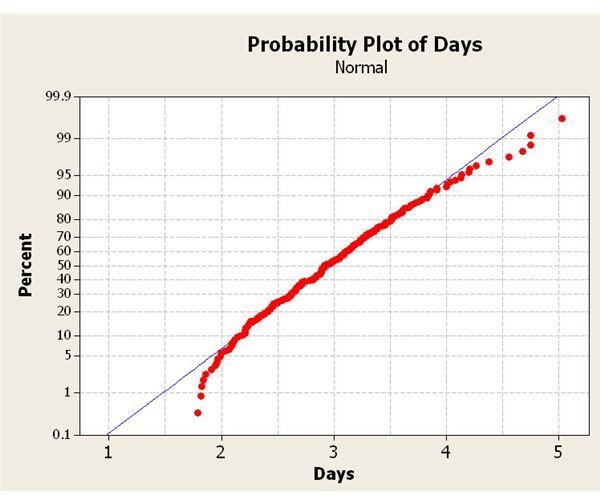 Uses of Minitab
Minitab is popularly used for handling both basic and advanced data analysis and charting tasks for Six Sigma programs. It provides basic tools that business leaders can use and understand, as well as the expert tools required by Black Belts and Master Black Belts for DMAIC and other projects.
From the most common tools, such as Pareto charts and control charts, to more advanced specialized techniques such as the Mann-Whitney test and ordinal logistic regression, Minitab is both versatile and effective.
Capability (5 out of 5)
Minitab can handle a large array of statistical analysis. Options include basic descriptive and nonparametric statistics, correlation, regression and logistic regression, as well as multivariate analysis.
Charting features are also extensive. Minitab can create time series plots, run charts and control charts, as well as scatter plots and box plots. Pareto charts, fish bone (cause-and-effect) diagrams and other standard Six Sigma displays are also simple to create.
In addition, Minitab allows users to create random data sets conforming to specific distribution parameters. It is frequently used to test data for normality, which is a prerequisite for many statistical tools.
Data manipulation capabilities include splitting data sets and creating subsets, as well as merging sets together. Columns can be stacked and unstacked, and rows and columns can be transposed.
Minitab can handle just about any data analysis or display need that a Six Sigma team would have.
Usability (4 out of 5)
Many Green Belts and Black Belts go through extensive Minitab training. The program also includes detailed walk-through tutorials to help new users learn about the interface and features.
While some aspects of the interface take some getting used to, overall, it is straightforward. One of the main challenges in the area of usability is the ability users have to run any number of tests or analysis without necessarily confirming that they are applicable or knowing how to properly interpret them.
The same issue holds for the many graphical display options, which need to be understood in order to be interpreted correctly. And users need to be aware of the difference between a null value, a value of zero, and a missing value in data sets, or results may be incorrect.
The worksheet component does have one feature of which users should be aware, as it differs from the functionality within Excel and other spreadsheet programs to which users are likely accustomed. In Excel, if a user hits the delete key while one cell is selected, the contents of the cell are deleted, and the cell remains but is empty. In Mintab, however, if a user presses the delete key with a cell selected, the whole cell is deleted and the other cells in that column are moved up. Using the backspace key will duplicate the functionality that occurs with the delete key in Excel.
Availability (4 out of 5)
Minitab is available direct from the company for $1195, either as a download or in boxed form. Upgrades from a previous version cost $495. Academic licenses are also available, ranging from about $30 for 6 months of use to about $100 for perpetual use.
Many large companies who have implemented Six Sigma provide Minitab to employees involved in Six Sigma initiatives. For small businesses, the price may prevent the program from being an option. In that case, it may be possible to find previous versions of Minitab or used copies available for sale at a more affordable price.