Comindwork - A Software Review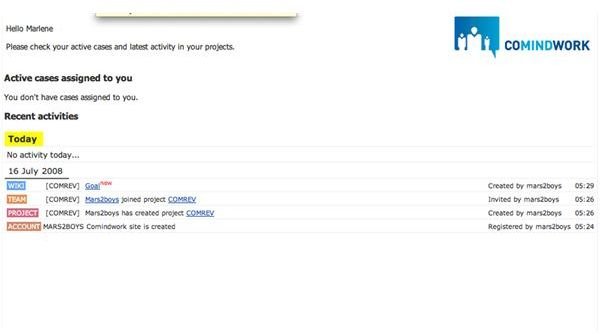 Comindwork (4 out of 5)
Comindwork is a project management application that includes many useful features. The site is designed and organized in a manner that makes it easy-to-use and navigate. It organization makes it easy to see which jobs are in need of your attention and which are most urgent. To get an initial idea of the site and its workings, check out the quick tour on their site.
Comindwork is different from other similar platforms in that it includes wiki, blogs, issue tracking, RSS, and a search feature. These are all hard to find on one system. The sign-up process was easy and it only took about 10 minutes to get my first project up and running. There is a support team, although their availability varies depending upon your account. At the highest level, you have phone and e-mail support, a representative dedicated to your account, and availability 365 days a year. With the free (and standard account), you are limited to e-mail contact.
You receive daily e-mails with information on assigned cases and activity on your projects. It lists what has recently been done within ongoing projects. Color-coded listings help to differentiate between the particular divisions, including Wiki, Team, Project, and Account. This also keeps team members informed of upcoming events and project milestones.
When you initially log into your account, you can immediately view any tasks that are assigned to you, with emphasis on those that are most urgent. When under the Personal Dashboard, you can see milestones posted for the next 14 days, along with daily activity on the project. It will list any milestones that are late above the present calendar. From here you can also view the history of work completed on the task.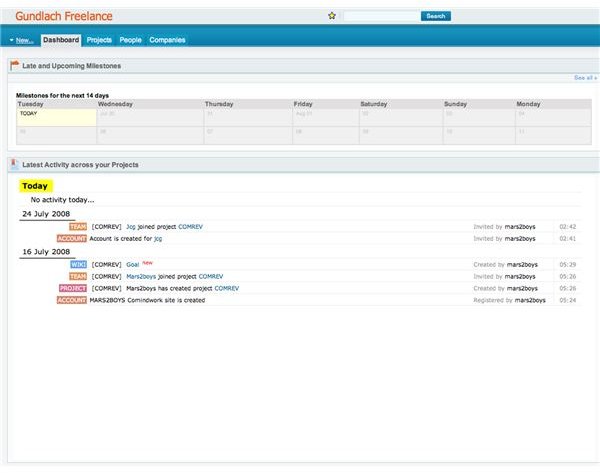 The Project Dashboard gives you a view of work records and what has been accomplished on any given day. Your Team tab allows you to view team members and with a click find contact information and see which projects they have been assigned. With both project and team dashboards available, a project manager can oversee the larger picture while still keeping his personal tasks in check at all times. The right hand side of the page allows you to view active projects, cases within your projects, and people who have been online working within the last 6 hours.
When you need to leave messages for co-workers, the blog section gives you an opportunity to communicate with those on your team. This provides both structured and informal means of communication about projects and milestones. With time tracking capabilities, your team can also input and keep track of the time they spend on any one particular project. This allows the project manager the opportunity to monitor progress and track time spent on each project.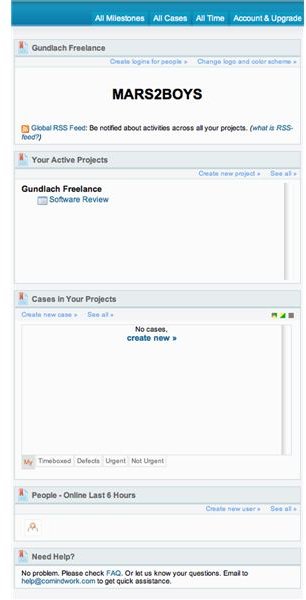 Being able to add your own files to an assigned task allows you to make them available to team members. By attaching it to a particular task, you can be sure that everyone on your team has immediate access to critical information. You can also make projects open to the public in case you want to provide access to someone without login information for the site.
You also have access to a wide range of reports, allowing you to view the project and its progress from different angles. This gives you an idea of how a particular project progressed and how effectively it was managed. The easy to use tools provided with Comindwork allow you to effectively manage both the project and your workers from many different angles.
Comindwork accounts can be opened for free, allowing you to manage up to 5 projects with 5 users. The other plans available start at $29 per month, offering ascending numbers of manageable projects and users. There are also options for a self-hosted plan where the program can be placed on servers within your office. Depending on your needs, there is something to fit your work load and budget.