Team Communication is Key in Project Resource Management

How Teamwork Works
Teamwork requires a planning process in which all team members should be involved and contribute. The entire project team must understand that each and every team member should recognize the importance and impact of effective communication on the overall project. It's also vital to know they each have a role and a responsibility for making it happen. The team must also know the benefits they will reap upon communicating, the methods that will be deployed and how to overcome any potential challenges.
Communication is at the core of project success, which is why the project manager spends an inordinate amount of time communicating with the various project constituents. Think of it like this: Communication represents the links that bind all the project pieces together. Together, everyone involved with the project enjoys its success, or together everyone fails. It's a win-win or lose-lose. There is no in-between. The root word team connotes togetherness, which when combined with communication results in success.That is how "teamwork" works. Software, such as Teamwork Project Management Software, is helpful for effective collaboration and efficient communication among team members.
Benefits of Communicating
The benefits of communicating are innumerable. Effective stakeholder management is crucial in order for the benefits to be experienced. It also helps to build team synergy that results in productive, collaborative efforts which in turn lead to successful completion of projects. Synergy is a key word, here. It simply refers to working together for greater effect.The final outcome of a system is greater than the sum of its parts.
Team members more freely express their ideas, thoughts and opinions, thus presenting additional opportunities for innovation, creativity and unbiased contribution. Messages to be communicated become simplified when there is effective communication. Chances for misunderstandings are minimized, if not altogether eliminated. Focus remains on the project, completing tasks and activities, and whatever effort is necessary in the best interest of the project.
Ways to Communicate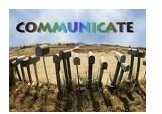 Team communication requires common goals and keeping everyone on the same page. Effective communication can be accomplished in various ways. Some common ways to communicate include:
Employing agreed-upon methods of communicating, such as a Communications Management Matrix;
Keeping the message relevant, concise and simple;
Employing project status and team meetings;
Using project status reports;
Impromptu meetings (especially in order to prevent unnecessary delays);
Fostering an environment that is conducive to communicating;
Allowing some flexibility when needed (and which is not detrimental to the project); and
Encouraging one another to communicate.
Situations in which there is uncertainty about what should be communicated or how it should be communicated call for decisions made in the best interest of the project and thus the project team.
For additional insight pertaining to communications and how to develop a communications plan, read Elements of a Communication Plan: Creating a Communications Plan.