WBS Chart Pro Review - Project Management Software for Creating Work Breakdown Structures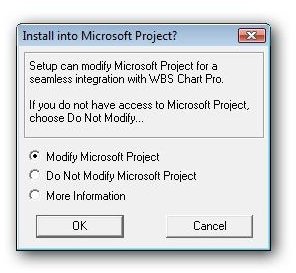 Overview of WBS Chart Pro
WBS Chart Pro is a project management application developed and distributed by Critical Tools. With this software, you can create work breakdown structures that can easily be adjusted to show varying degrees of information about a project plan. In addition to being run as an independent application, it's also possible to set up WBS Chart Pro so that it works seamlessly with Microsoft Project.
WBS Chart Pro is a Windows application that will run on Windows 95, 98, ME, NT, 2000, XP, and Vista (both 32 and 64 bit versions).
Although you do not need MS Project to use the software, it is compatible with Microsoft Project 4.1a, 98, 2000, 2002, 2003, and 2007 as well as Project Server 2002, 2003, and 2007.
In this review, we'll look at how WBS Chart Pro performs as both a standalone application and how well it integrates with MS Project 2007.
Installation and Setup (5 out of 5)
The installation of WBS Chart Pro was straightforward and typical for a Windows application, and no problems were encountered. During the installation process, you'll be asked if you want to integrate WBS Chart Pro with Microsoft Project. If you don't have a copy of MS Project or if you just don't want to use the application in conjunction with Project, make sure to select the Do Not Modify option. Otherwise, you can setup WBS Chart Pro so that it can be used as an MS Project tool in addition to being a standalone application.
Even if you decide to skip the option to install the MS Project components of WBS Chart Pro, you can easily add them at any later date by selecting the Microsoft Project Setup option from the application's Tools menu.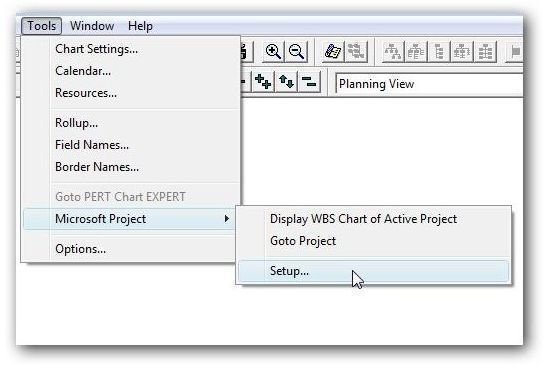 Ease of Use (4 out of 5)
If you're a Vista user, you may have trouble accessing WBS Chart Pro's built-in help system, but complete documentation is available for download as a PDF file from the Critical Tools web site. Even without this manual, the software's user interface is quite logical and easy to figure out.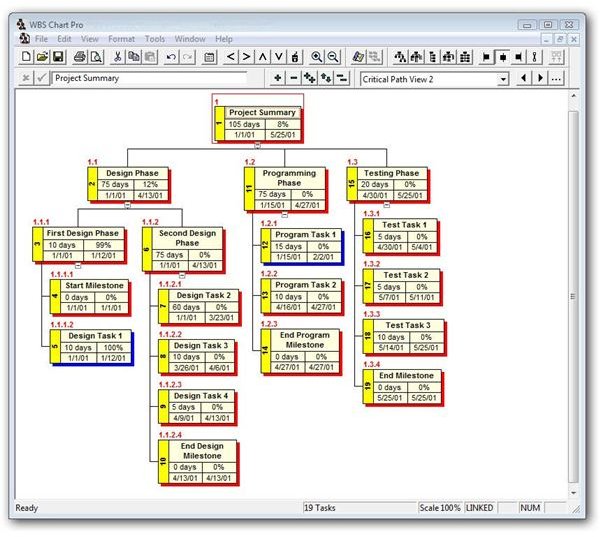 To enter information for a new task, you can either select one of the Insert Task options from the Edit menu or click any of the shortcut icons on WBS Chart Pro's main toolbar. Once a task has been placed in the chart, you can edit it simply by double clicking on the item. In the Task Information dialog box, you can input details about the task – if a predefined field doesn't exist for the data you need, you can easily create a new one by just clicking a couple of buttons.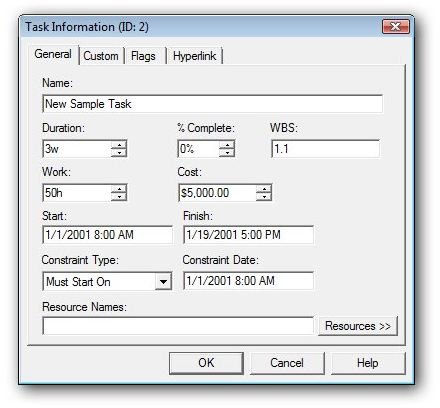 It's also quite easy to pass back and forth between WBS Pro and MS Project, if you plan to use this feature in the application. You can import MS Project data with just a click of a button, or you can create the work breakdown structure in WBS Chart Pro, save it as a Project file, and pass back and forth between the two applications with practically no effort.
Features and Performance (5 out of 5)
Despite its power and sophistication, WBS Chart Pro is a very lightweight application that only takes up about 6 MB of hard drive space even with help files and sample projects installed. It loads fast and processes commands very quickly.
One feature that I particularly like about the application is that you have complete control over what fields will be associated with each task. You even have the ability to create your own custom fields in the Task Information dialog box.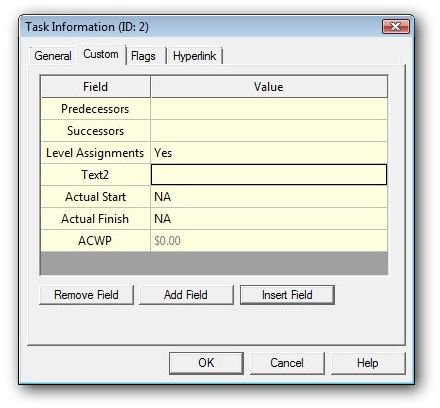 Another convenience is that WBS Chart Pro allows you to export charts as image files and web pages. This makes it easy to share and distribute any exhibits created in the software as well as save them in the proper format for insertion into presentation makers like Microsoft PowerPoint.
Those who plan to use the software in conjunction with Microsoft Project will find a number of other benefits. After creating a work breakdown structure in WBS Chart Pro, you can save the file in the MS Project format and then open the Gantt chart view of the project in that application with just a single click of a button. You can then make modifications in either application and have those changes passed to the other with another click.
Price to Value (3 out of 5)
The base price for WBS Chart Pro is $199 per single license. However, discounts are available for multiple single licenses and the software does have a network license option. The price is the only aspect of this product that makes me pause for thought. The application is certainly at the top of its class when it comes to creating work breakdown structure diagrams with ease and efficiency, but is it worth two hundred dollars?
If your work requires you to make charts such as these on a regular basis, then the answer is definitely yes. The time you save by using WBS Chart Pro will more than make up for the initial investment. On the other hand, if you're just looking for a one-time solution or think you will use the tool infrequently, you might be better off looking for other alternatives such as constructing your WBS diagrams in Excel.
Overall Rating (4 out of 5)
When it comes to ease of use and performance, you won't be disappointed by WPS Chart Pro. It really has no competition when it comes to overall versatility and sophistication, especially since you can create work breakdown structure diagrams with any degree of complexity desired. The price might be a little high for casual or infrequent users, but those who spend a lot of time constructing project diagrams and charts will earn back that initial expenditure quite quickly in the form of time savings.