Creating a Project 2007 Gantt Chart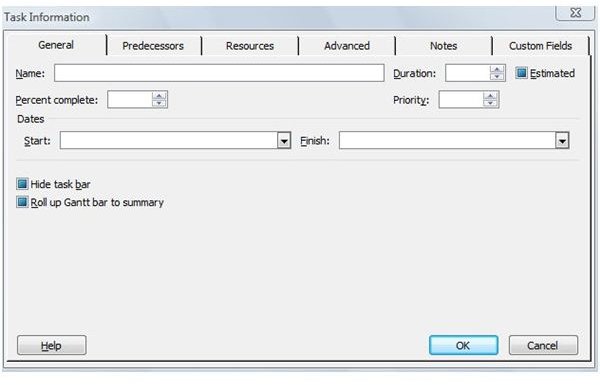 Need a High Level Schedule?
A Gantt chart is basically a bar chart used in project management to show tasks, milestones, and even dependencies between tasks. It's a timeline of a project's progress, and it can be a useful tool for monitoring and managing projects. Project management software that can effectively create and utilize Gantt charts is a nice benefit, and Microsoft Office Project 2007 is one application that performs this task very nicely. Let's take a look at how to create a Gantt chart within Project 2007 and utilize the various functionality it provides.
A Gantt chart is just one of many project management forms. For more general details on Gantt charts and information on how to create them in other software applications, please see Gantt Chart Examples and Tutorials.
Getting Started
When you first launch Project 2007, the initial screen view is of a Gantt chart. But, if you are creating a new project, there won't be much there. Unfortunately, it's a little underwhelming until you begin plugging in your data. Once the tasks are added, things become much clearer, and soon enough the usefulness of a Gantt chart becomes evident.
The project window is split up into two panes. The left side is where your tasks will be listed along with their duration, start and end times. The first column on the left side is for task indicators. Indicators can either be represented by a check, which shows the task is completed; or by two arrows in a revolving circle, showing that the task is recurring. There are over twenty different icons that can appear in this column, which should easily represent any number of task types within your project
The right side of the window is where the bar chart or timeline of the project will appear as data is added. As we begin to build the project, I will mention the different icons or graphics you can expect to see here. Depending on the complexity of your project, the right side of a Gantt chart can be very involved or very simple. Changes in the left side are reflected by changes in the right - and vice versa. You are free to make adjustments to your project plan on either side, as they are sync'd together at all times.
Before we go any further however, it's important to note that a Gantt chart - as well as any project management software tool - is not designed to be used in lieu of a project planning method. By the time you are ready to sit down and create a Gantt chart in Project 2007, you should have completed the project planning process. Project 2007 should be used as tool in the documentation process, after all the planning for the project has already been completed.
Documenting the Project Plan
To begin documenting the project, you can start filling in the various columns on the left side, such as Task Name and Duration. As an alternative, you can right-click on an empty row, choose Task Information from the Shortcut menu and a dialog box appears.The shortcut key combination to open the Task Information Dialog box in Microsoft Project is [SHIFT]+[F2]. For more Project keyboard shortcuts, check out this article.
This is another convenient way to enter task information. The six tabs across the dialog box provide easy access to adding details about the task such as start and end dates, and resources to be allocated. Another method to get the Task dialog box to appear is to double-click on the actual task.
Within the Predecessors tab, you can create dependencies between tasks - such as indicating that a task cannot start until a previous task finishes. To do so, select the predecessor task via a pulldown menu under the Task Name column within the Task Information dialog box. You can also change the type of relationship between the two tasks - like Finish-to-Start or Finish-to-Finish - via the Type column in the Predecessors tab. Changing data in the Lag column to indicate if there should be a delay between the tasks, can also be accomplished in the Predecessors tab.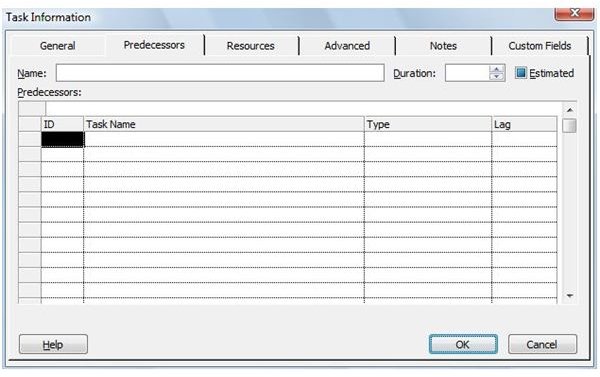 Using the Resources tab, you can document the resources to be used for the various tasks. If you haven't documented the resources previously using the Resource Sheet within Project 2007, you can add them here by simply typing a name in the field under Resources and hitting Enter. You can then adjust the usage of the resource using the Units column. Within the Resources Tab you also have the ability to put in a cost associated with the resource.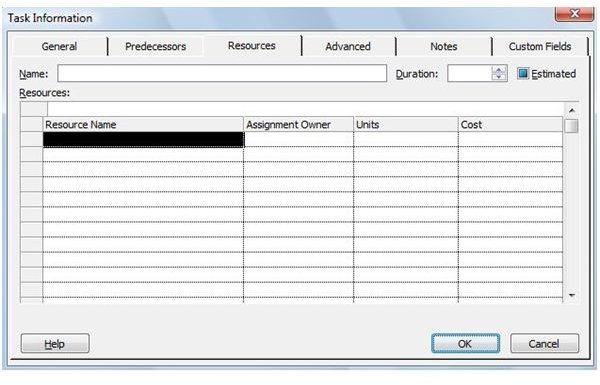 The Task Information pane has numerous other details you can adjust as necessary. In the top righthand corner, you can check a box to show that the duration for a task is an estimate. This can be handy if its too difficult to nail a task down to a specific timeframe for whatever reason. There's also a checkbox on the Advanced tab in the lower left to indicate whether a task is a milestone.
Final Touches
Once you have entered all of your tasks with their particular details, your right pane should show a nice bar chart. Dependencies are indicated by arrows between the tasks, and milestones are indicated by a diamond icon and a date. If resources have been assigned, the resource names will be displayed next to the tasks. Documenting a task as completed will place a check in the Indicators column and the bar in the right pane will be filled with a line. If a task is partially finished, the bar will show a line of the appropriate length inside of it (i.e. the line will fill 50% of the bar to indicate a task halfway completed).
You can fairly easily make adjustments to how the Gantt chart appears. If the default timescale needs to be changed to illustrate a different timescale, you can adjust it. Just right click on the top portion of the right pane where the dates are displayed. Then click on the Timescale link, to get another easy-to-use pane for various options related the timescale of your Gantt chart. You may also specify non-working time, which can be helpful later on for making adjustments to tasks.
The Gantt Chart Wizard is another useful option that appears when you right-click anywhere within the right pane. Walking through this wizard gives you further options and resources to customize what information will appear, and how it will appear within the right pane of your Gantt chart. So if certain irrelevant data is displayed within the right pane this is an easy way to adjust it.
Right-clicking in the right pane also provides you with a options to:
Add gridlines,
Change the layout of the chart
Right-clicking on individual items within the right pane offers you a way to change that particular item's look and feel, and also adjust a task's detailed information.
It's important to note that in Project 2007 - as with all of Microsoft's Office Suite - you can complete a task multiple ways. So, if you're more familiar with using the menus at the top than using that right mouse button, that's fine, too. Not everyone works the same way, so it's nice that Project 2007 is flexible in this regard. Most of the things mentioned here can be accessed from the menus as well as using the mouse buttons.
If you're looking for sample forms and downloadable templates, check out Bright Hub's resource guide Over 50 Free Project Management Templates and Sample Forms.
References & Resources
Microsoft Project Official Site, https://www.microsoft.com/project/en/us/default.aspx
This post is part of the series: Working with Gantt Charts
We have several articles related to creating and working with Gantt Charts. Click each for some helpful information.