Project 2007: Working with Task Relationships (Part 1 of 2)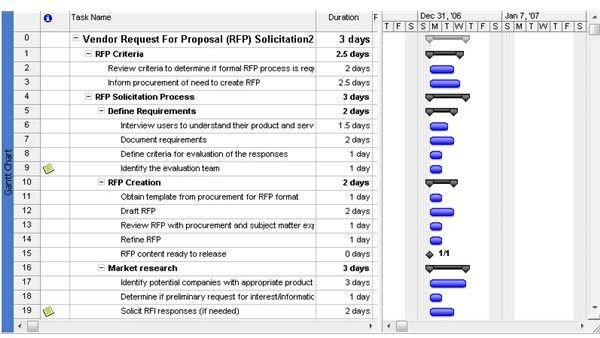 Developing your initial project work packages and determining accurate estimated durations for those tasks can be a time-consuming process, and there is no doubt that time spent in those areas is necessary. Proper project planning will only serve to make sure your projects run smoothly. However, without task relationships, your tasks all start on the same day—that is simply not a realistic project schedule.
Prior to the introduction of project scheduling programs, project managers were forced to hand draw their activity sequencing in the form of flowchart diagrams. Now, with Office Project 2007, you can use task relationships to electronically create similar sequencing. As an added benefit, when you use task dependencies to schedule your project tasks, the software will calculate the amount of float you have and, in turn, keep track of the critical path.
(The terms "task dependencies," "task relationships," and "links" are all used interchangeably within Office Project 2007.)
As you enter tasks, by default no relationship between any tasks exists. This creates a project plan file that looks a little like the example in the previous figure.
As you can see, there really is no project schedule. All tasks begin on the same day and the entire project length is equal to the length of the longest task (three days). However, after you begin defining task relationships, the project takes on a whole new flow. There are four types of relationships in Office Project 2007:
Finish-to-Start
Finish-to-Finish
Start-to-Start
Start-to-Finish
When you create a relationship between two tasks, both a predecessor and a successor are defined. The predecessor task is the task that must begin or reach completion before another task (the successor) can begin or finish. This means that the successor ultimately depends on the start or finish of the predecessor task.
Excerpted from…
With permission from Microsoft Press, this article content was excerpted from the book, Managing Projects with Microsoft Office Project 2007 (Self-Paced Training Kit for Exam 70-632).
This post is part of the series: Project 2007: Working with Task Relationships
With Office Project 2007, you can use task relationships to electronically create task sequencing. In this article, learn how.