Gantt Chart Examples, Tutorials, and Templates – Free Downloads and Resources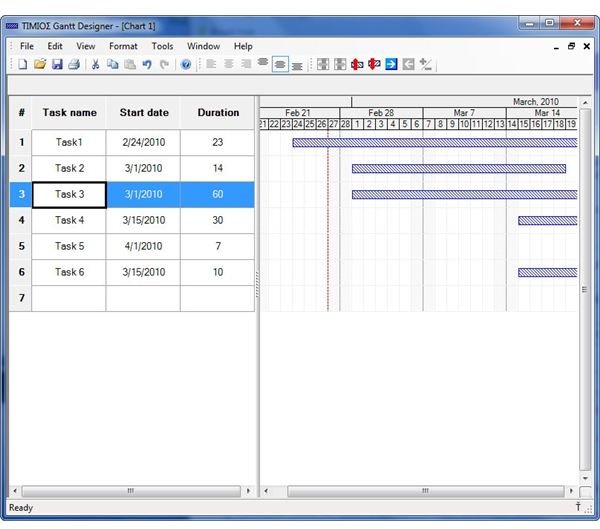 Gantt Chart Overview
Without a doubt, the Gantt chart is one of the most used scheduling tools in project management. First developed by Henry Laurence Gantt in the 1910s, the Gantt chart is a graphical aid that helps viewers quickly see the order and duration of project tasks. Although the basic structure of a Gantt chart has remained the same throughout the years, the advent of project management software has made it much easier to create and customize these scheduling aids.
There are quite a few different ways to setup and format a Gantt chart, depending on the type of software you have at your disposal. On Bright Hub's Project Management channel, we have a variety of Gantt chart examples – ranging from those created in the software powerhouse Microsoft Project 2007 to those created in Excel, Google Docs, and other more common utilities. There are even some excellent free tools that you can download and use for Gantt chart creation. Basically, if a software product is capable of producing any type of graph or chart at all, there is generally some way of using that application to develop a Gantt chart.
Gantt Chart Examples and Tutorials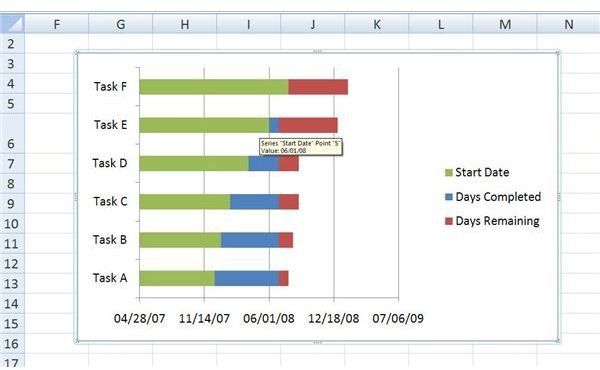 While there are a number of free Gantt chart creators that are available for download, it's also possible to create these project management tools with a number of software products that you may already have on your PC. If you're not sure how to get started, there are quite a few resources on the Project Management channel that can help. Here is just a sampling of the tutorials and Gantt chart examples available at Bright Hub.
Excel Gantt Chart – In general, Excel is probably not the tool you want to use to create complex or multi-project Gantt charts, but it is possible to use the software for scheduling purposes. For small and medium-sized projects, you may even prefer to use Excel rather than dive into a more complicated application like Microsoft Project. This particular tutorial explains, step by step, how to create a Gantt chart in Excel 2007. There is also a link to a free sample Gantt chart template in the Project Management Media Gallery that you can download and modify to fit your own project schedule.
Google Docs Gantt Chart Tool – If you're a Google Docs user, there is a handy gadget developed by Viewpath that makes it a lot easier to create a Gantt chart in a Google spreadsheet. When using this tool, you do need to make sure that you have your data entered in a specific way or your final result may not quite be what you would expect. This tutorial explains the different fields used by the Gantt chart gadget and gives a specific example of how to use the tool to create your own Gantt chart.
Quattro Pro Gantt Chart – Excel may be more widely used than Quattro Pro, but the latter actually has a built-in Gantt chart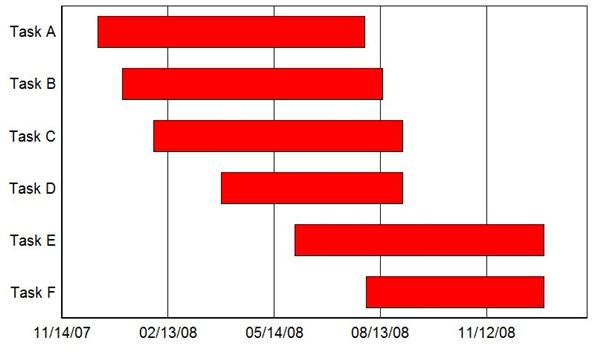 generator. The Quattro Pro Gantt Chart Wizard is also a little sensitive when it comes to how the data for the chart is originally input into the spreadsheet. However, if you've entered the data in a manner that Quattro Pro likes, creating the actual Gantt chart is a quick and easy process. In this tutorial, you'll find a complete example to walk you through along with screenshots and detailed instructions.
Microsoft Project Gantt Chart – Since Microsoft Project is a dedicated project management application, it is capable of producing much more sophisticated Gantt charts than most of the other tools on this list. Eric Stallsworth does a great job of walking you through the various options and features of Project 2007's Gantt chart capabilities in this very detailed tutorial. There also a number of other Microsoft Project tutorials available at Bright Hub.
PowerPoint Gantt Chart – If you want to include a Gantt chart in a PowerPoint presentation, this tutorial will show you how to integrate PowerPoint with either Project or Visio to make the entire process painless. It's also possible to insert a Gantt chart created with Excel into a PowerPoint slide with very little fuss. In addition to explaining the entire procedure, this guide links to an example of a PowerPoint Gantt chart.
Also, be sure to browse through the other examples and templates found in the Project Management Media Gallery for Gantt charts and related project management forms. New items are added on a regular basis, so bookmark us and check back often.
If you're looking for sample forms and downloadable templates, check out Bright Hub's resource guide Over 50 Free Project Management Templates and Sample Forms.
This post is part of the series: Working with Gantt Charts
We have several articles related to creating and working with Gantt Charts. Click each for some helpful information.