Free Gantt Chart Creators - Scheduling Tools That Support Gantt Chart Creation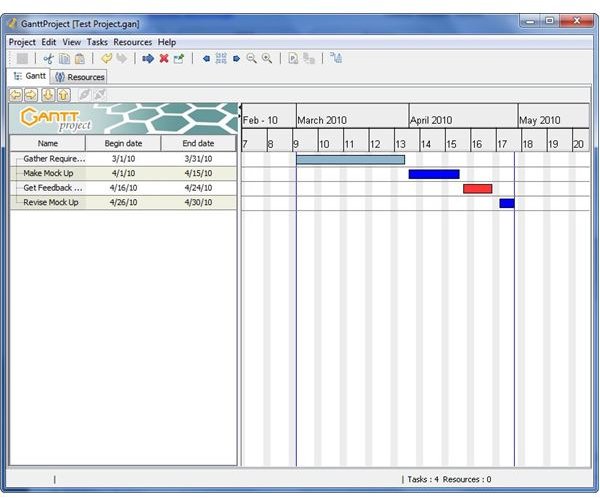 Options for Creating Gantt Charts
Since the Gantt chart is one of the most popular types of exhibits used in project management, there are a number of tools available that make the job of creating them much easier. In addition to dozens of paid software products, there are also a few nice free Gantt chart creators – both of the desktop and web-based varieties.
We'll start off by looking at three tools. GanttProject and Gantt Designer are both desktop applications that you can freely download and use on your own PC. The third option, a Gantt chart gadget for Google Docs, is a web-based utility that requires no download. If you know of other free Gantt chart creators that are safe and perform well, make sure to leave a note in the comments section so that we can add them to our list.
GanttProject
One nice free Gantt chart creator is GanttProject. Although it may take some time to learn how to get the most out of this tool, GanttProject comes with a number of nice built-in features, such as the abilities to color code tasks, define project milestones, and generate a PERT chart from a Gantt chart.
The tool also supports Microsoft Project integration with the ability to import and export files. Other sharing options include exporting to a CSV file, saving as a PNG or JPEG image, or creating a PDF or HTML report.
Gantt Designer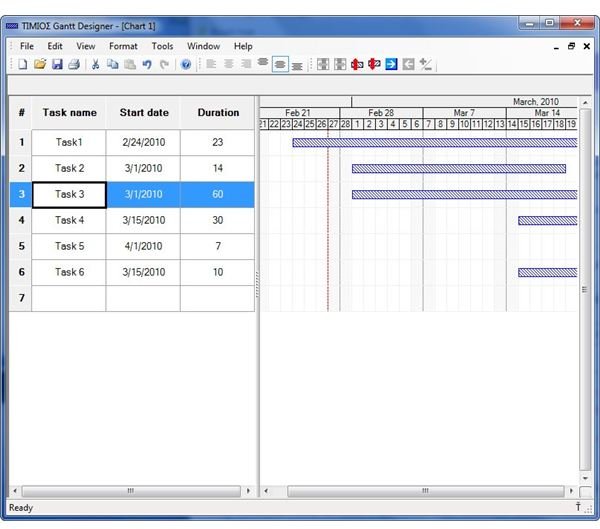 Another free desktop utility for creating Gantt charts is Gantt Designer. Like GanttProject, you may have to play around a little with Gantt Designer to get a better idea of the application's full capabilities, but the interface is intuitive enough that you should be able to start adding and modifying tasks right away.
This program does have more limited export options, but you can print the final Gantt chart as an image or export to a CSV file. There are a few different versions of Gantt Designer that you can download – a standard version that is quite compact and lightweight with only the tool's basic capabilities as well as more robust versions that provide interoperability with Microsoft Project and Outlook Calendar.
Google Docs with Gantt Chart Gadget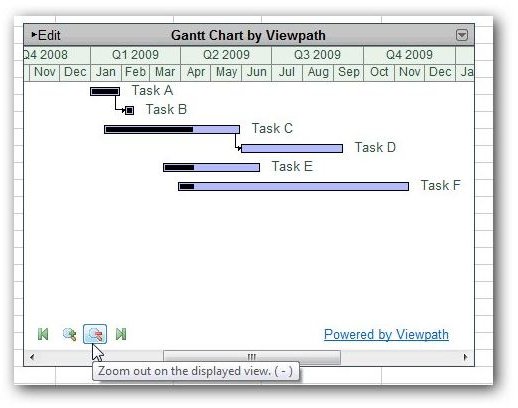 Unlike the other two items on this list, Viewpath's Gantt Chart Gadget works with the online office suite, Google Docs. In order to use this tool, you do have to make sure that you enter your data in a special way and correctly set the gadget's options. See Free Gantt Chart Tool for Google Spreadsheets for a more detailed tutorial on how to access and use this utility.
Although this Gantt chart option does require a little more work than others, it does offer one additional advantage on top of being free – since it's part of Google Docs, it's easy to share the file either for viewing or collaboration purposes.
Other Options
While there are no details on how long this deal will last, you can also currently create a free personal account for Tom's Planner, an online project scheduling tool that lets you create and share Gantt charts. We have a separate independent review of Tom's Planner here at Bright Hub.
If you have a spreadsheet application like Microsoft Excel or Quattro Pro already installed on your PC, you can also use those tools to create a Gantt chart. While this might require a bit more work than you would spend with a program that was designed specifically to be used as a Gantt chart creator, there are some benefits in terms of sharing and export options in addition to having extended capabilities that allow you to easily move the final completed object to other types of files, like a Word document or PowerPoint presentation. If you'd like to try this option, here are links to a couple of tutorials to help get you started:
For more resources and guides in other software applications, please see Gantt Chart Examples and Tutorials.