How to Create a Gantt Chart in a Google Docs Spreadsheet - ARCHIVED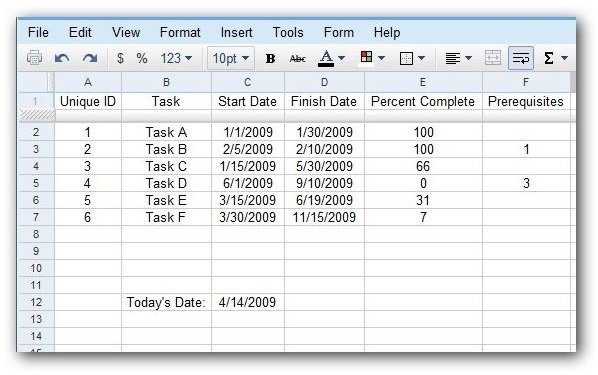 Editor's Note: Google has deprecated all gadgets associated with Google Spreadsheets. As of August 5, 2013, all gadgets will be deleted. This article has consequently been placed in our archive and been left up for informational purposes. Read more about this here: https://support.google.com/drive/answer/2791335?hl=en
Overview of the Google Gantt Chart Tool
More and more people are starting to turn to Google Spreadsheets for their project management software needs because the application makes it easy to share files with others, can be accessed from any computer with an Internet connection and is completely free. Another plus for this software solution is Google has made it easy for third parties to create add-ons (called gadgets) that extend the capabilities of the application. One of these nice little tools is the Google Gantt Chart gadget developed by Viewpath.
You can access Google Spreadsheets from the Google Docs interface. If you already have a Google account, you can get started immediately. If you don't, it only takes a couple moments to create one. After that, you can follow the steps described in the next section to create a Gantt chart.
If you're more interested in other examples and tools that can be used to create this scheduling aid, please see Bright Hub PM's comprehensive guide on Gantt Chart Examples and Tutorials.
Creating the Gantt Chart
Step 1: Begin by creating a new Google spreadsheet and entering your data that will be used to construct the Gantt chart. One example of such is shown below. (Click any image for a larger view.)
In particular, for the Google Gantt chart tool to work correctly, you should include columns with the following data.
Unique ID (optional) – This column will contain a unique number assigned to each row of the table (1, 2, 3, 4, … for example). You only really need to include this column if certain tasks in your list are dependent on the completion of other tasks and you want this information reflected in your Gantt chart. If not, you don't have to worry about this column.

Name – In this column, include the name or a brief description of each task.

Start – Enter the proposed start date for the task in this column.

Finish – This column should contain the proposed or actual completion date of the task.

Percent Complete – The number in this column should indicate what percentage of the task has been completed. Tip: Leave off the percent sign in order for the Gantt chart tool to read this field properly.

Prerequisites (optional) – Like the Unique ID field, this column is only needed if certain tasks are dependent on others. If they are, input the Unique ID of any prerequisite task here.
Note that you can give these columns any title you wish and that you can include additional columns with other project data – just make sure that the above information is included somewhere in the table.
Step 2: Select all of the data in the chart, including the column headers.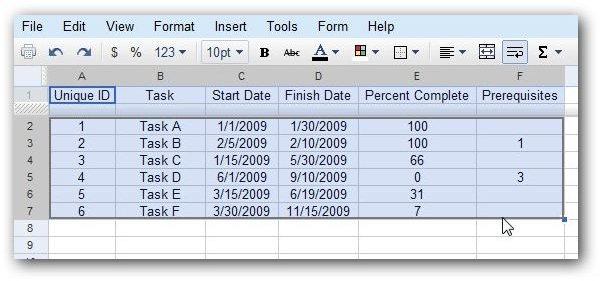 Step 3: From the Insert menu on the Google spreadsheet toolbar, select Gadget.
Step 4: The Add a Gadget window should now appear on your screen. Click on Charts from the list on the left side of window and scroll down until you see Gantt Chart. Then, click on the Add to spreadsheet button.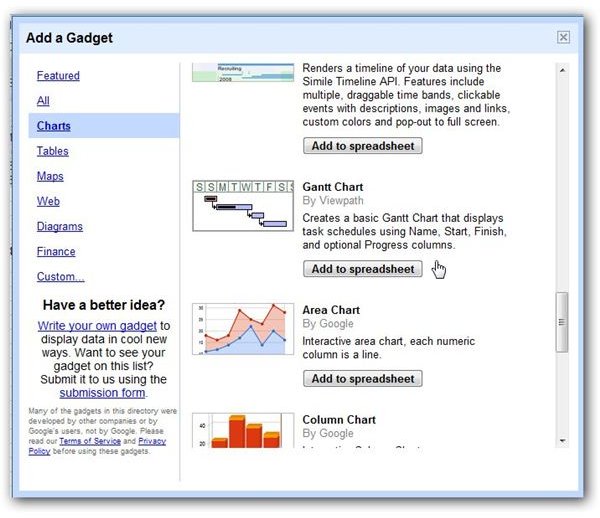 Step 5: Now, a window entitled Gantt Chart by Viewpath should appear on your screen. In this window, input the information to let the Gantt chart tool know where the necessary data is. For instance, in our example, the task name/description is in Column B, so we choose B from the drop down list next to Name. Since we highlighted the table information before creating the chart, we don't have to worry about the Range field – it will already be pre-filled.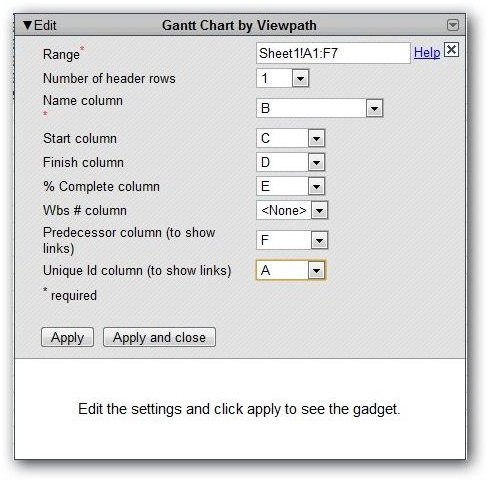 Step 6: When finished, click the Apply and close button. The Gantt chart will be added to your spreadsheet and you can drag it to whatever location suits you. This chart may not look very helpful at first because it shows the "week" view by default. See the screenshot below for an example.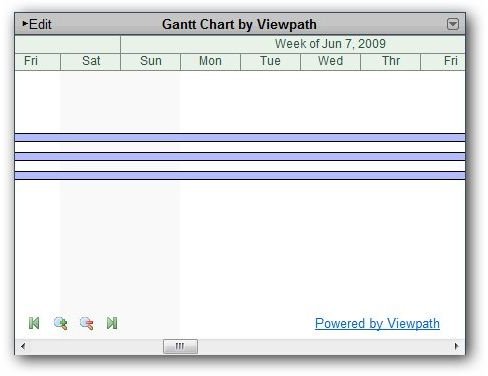 If your projects span over a long time period, the weekly view doesn't give much information at all. However, you can change this view by clicking on one of the magnifying glasses in the lower left corner of the Gantt chart.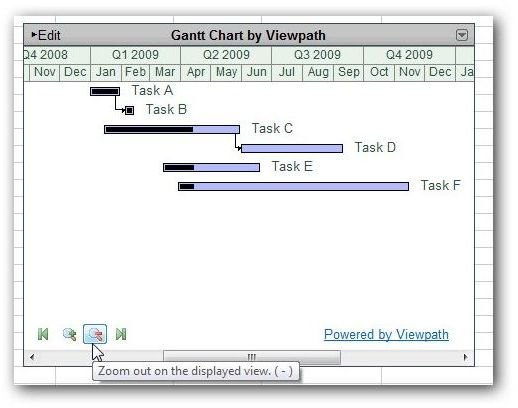 Clicking on the magnifying glass with the red "minus" sign will display a longer dateline. You can click again to zoom further out. You can click on the other magnifying glass with the green "plus" sign to zoom back in again for a closer view that covers a shorter time span.
Google Gantt Chart Tool vs. Other Software
The biggest competitors for Google Spreadsheets are Microsoft Excel and Quattro Pro. Even though it is possible to construct a Gantt chart in Excel, the process is not nearly as clear and simple as it is with the Gantt chart gadget for Google Spreadsheets. Furthermore, it's not quite so easily to share and distribute the final work. Things are a little easier in Quattro Pro since this application actually includes an automated Gantt chart creation tool, but you can still run into some problems with distribution despite the software's goal of delivering files in a universal format.
The problem that I have with using Google Spreadsheets to make a Gantt chart is not with the gadget itself – I think that Viewpath has done a wonderful job. Instead, I have issues with the host program, i.e. Google Spreadsheets, in terms of the limitations it has in other areas. There's rarely a case when creating a Gantt chart is the only thing I want to do with my data. And, to be honest, those other tasks are handled much better by Excel and Quattro Pro. So, rather than enter my data into multiple applications, I tend to pick the one that's going to be easiest to use for all tasks.
With that being said, if you're only interested in developing a Gantt chart and have all of your other project management reports taken care of, it's worth testing out Google Spreadsheets and giving Viewpath's Gantt chart tool a try. Besides, it never hurts to have one more weapon in your arsenal, especially if it's free.
This article has been placed in our archives.