Microsoft Project Tutorials: Learn How to Use Microsoft Project

Learning to Use MS Project
Although there's quite an array of project management software applications on the market, Microsoft Project is one of the most well known as well as one of the most widely used.
If you're new to the software and you're trying to learn how to use Microsoft Project, or if you've been using Project for awhile and want to find out how to access some of the software's more advanced features, there are a number of free tutorials on Bright Hub that can help.
For the most part, if you're fairly familiar with Microsoft's other office products, you should be able to jump into Project and start performing many basic tasks. However, to get full use of the software, it's a good idea to prepare yourself by going through a few Microsoft Project tutorials or investing a few dollars into one of the many Project self-study books. If you need to figure out how to do something in Project as soon as possible, the tutorials described in the next section may help.
Microsoft Project Tutorials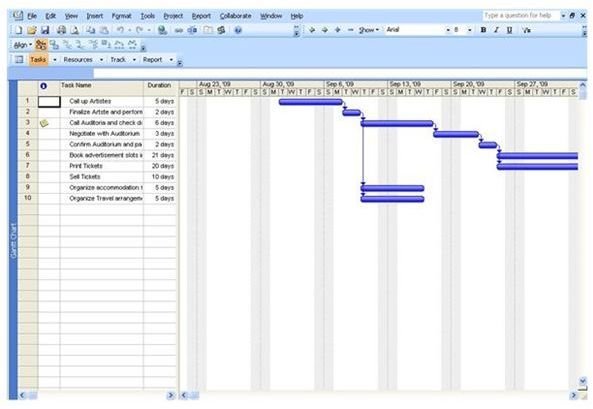 If you're brand new to Microsoft Project, you may want to begin your reading with Step by Step Tutorial on Microsoft Project: Getting Started in Twenty Minutes. This is the first article in a series of lessons designed to get you up and running in Project as fast as possible. To make this set of Microsoft Project tutorials even easier to follow, sample project data is included. This way, you can go through the tutorials with Project open and perform each task along with the author to make sure that your results matches those given in the guide. Detailed explanations and screenshots are provided so you can verify your progress each step of the way.
Another feature that you may want to familiarize yourself with early on is Project's report capabilities. Microsoft Project 2007 has over 25 predefined basic reports that you can create with just a few clicks of the mouse button, and the software allows you to develop custom reports as well.
In the two-part series, Project 2007: Creating Custom Project Reports, the various methods of creating custom parts are described. In particular, you can learn how to create a custom report by editing an existing report, create a brand new custom resource report, design custom calendar reports, and develop a crosstab report.
The project baseline is a very important tool used to monitor a project's progress. In How to Define a Project Baseline, you can learn how to create up to 11 baselines in Project 2007. To get a better idea of how to use this tool, Deanna Reynolds' Project Baselines explains exactly what a baseline is and how baseline data can be analyzed in the Variance Table and the Project Information view in MS Project.
More Advanced Microsoft Project Tips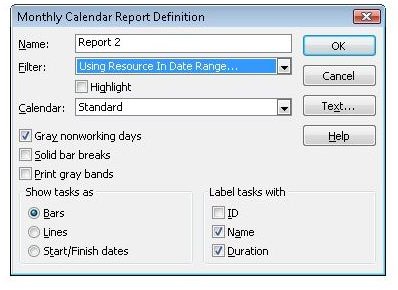 If you're an intermediate to advanced user of Project and you're looking for some new ways to get more out of the software, Deanna Reynolds has a very nice series covering some tips and tricks she has accumulated over the years as a Microsoft Project trainer. In Customize Project with These Tricks, she covers how to customize the Resource Graph to make it easier to navigate and how to color code your tasks so that the Gantt Chart view is easier to follow.
Continuing on in Number Tracking in Project, Deanna explains how to assign budget and cost resources in MS Project in order to expertly utilize resource-driven scheduling. In addition, she discusses the ability to export Project data to Excel and lists a few Project-specific keyboard shortcuts that can save a lot of time – especially when inserting and linking tasks.
Finally, in More Project 2007 Tips & Tricks, Deanna describes how to hide the resource percentage assignment in order to unclutter the Gantt Chart view. She then rounds out the series by taking a look at some of the new features found in Project 2007 that are designed to make the software even more efficient and user-friendly.
Additionally, you may want to check out How to Use Macros in MS Project. While there are many processes that aren't suited for macro usage in Project, there are quite a few benefits that can be had with this handy feature. For instance, if you're performing the same type of calculation multiple times or if you're regularly inputting the same set of parameters, you can create a macro for these processes that will save you time and help relieve the monotony that comes from doing the same task over and over.
Do you regularly print out schedules that were created with Project? If so, then you may want to refer to Linda Richter's tutorial on Adding a Watermark to a MS Project Schedule. While the process may not be quite as straightforward as you'd expect, there are a couple of different ways to accomplish this task.
For more Microsoft Project tutorials, be sure to keep checking back at Bright Hub. New and updated material is being added all the time. With the release of Project 2010, the software is capable of doing more than ever before and our Bright Hub experts keep searching for new tips and tricks to make all of these tasks as simple and efficient as possible.