Microsoft Project 2010 Review: Will It Work for You?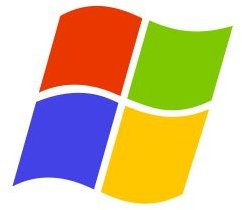 What Can You Plan?
Project 2010 lets you plan much more than the small golf fund-raising event that I've plotted as an example. You can use it for your own
one-man projects, just to help you list and organize the tasks you need to perform in order to meet a specific goal. You can utilize its features to get your project team focused on a quarterly or annual project. Or, if you're leading an enterprise, you can share the project plan you create with stakeholders in far-flung locations via your project server.
Ease of Download (3 out of 5)
This is an honest review, so I'll say that my first attempt at download failed—I don't know why. My computer met all the system requirements—Windows XP with SP 3, Vista with SP1, Windows Server 2003 R2 with MSXML 6.0, Windows Server 2008 with SP2, or Windows 7, or later versions of any of these. I have Vista with SP2, and the file size for the 64-bit is only 271 MB compared with 235 for the 32-bit. My attempts to seek immediate help through TechNet also failed, so I deleted the 64-bit download and went for the 32-bit—with immediate, fluid success. So, I'll give this a 3, mostly because of the TechNet part.
The New Project 2010: The Feel of It (5 out of 5)
Any review of Microsoft Project 2010 new features must begin with the ribbon. The biggest tactile difference between Project 2010 and its predecessors (Project 2003 and 2007) is the ribbon that Microsoft has put into play in place of the standard toolbar. If you haven't worked with the ribbon before it does take some adjusting—but if you're downloading Project 2010, you are most likely already familiar with it.
That being said, while I love Project 2010's marriage of Excel with Gantt charting and other planning features, I had to remember that while it looked like Excel some of the keyboard maneuvers I normally utilize with Excel required a little adjusting. I'd like to take off a half point, but I'd rather give it a 5 than a 4.
Ease of Starting a Project (5 out of 5)
Microsoft Project 2010 lets you plot your project with great ease, including its beginning and end dates, tasks necessary to reach your goal, people (or resources) to perform them, and predicted duration of the tasks. When you open Project 2010, one big change is that you go to File, then Info, and then you select Project Information off to the right-hand side of your screen in order to define your project start date. You can also choose to enter the finish date and let Project 2010 know that you want to work backward from the finish date.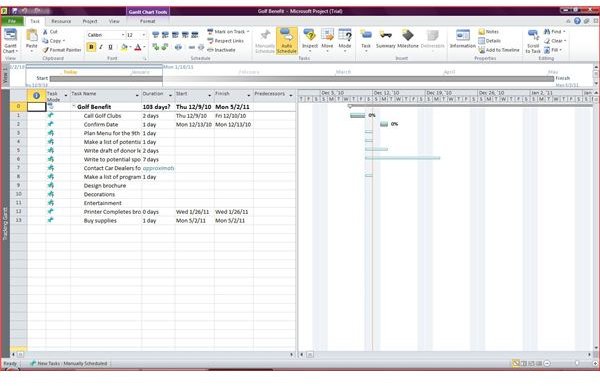 An additional option for tracking requires you to fill in your project name, company name, and so forth on the Advanced Properties tab. Then you go back over to the left, choose Options, and choose Advanced Options. Scroll down to Display Options for This Project, and select Show Project Summary Tasks. Your tracked values will show up on the top line of your project manager sheet. Can I give this entire category 10 rating points?
Scheduling Tasks (5 out of 5)
Another huge change with Microsoft Project 2010 is the way it lets you knock out a rough outline of your project with nonspecific task durations. Project 2010 understands if you don't know all the fine details up front. In the Duration column, just type in vague phrases such as approximately, estimated, or no more than. You can nail it down later with the details of dates and durations; in the meantime, the task shows up on your Gantt chart as a soft, susurrating reminder that it's hovering. It's also easy to link tasks or categorize them by WBS numbers.
You can also enter a milestone by typing a zero into the Duration column. This is great for showing tasks assigned to outside entities, for example—I used this function to show the printer's completion of the brochure.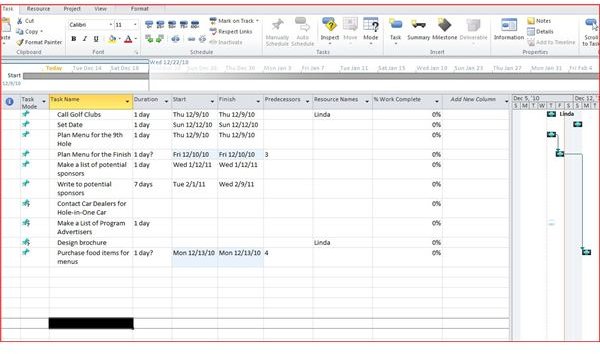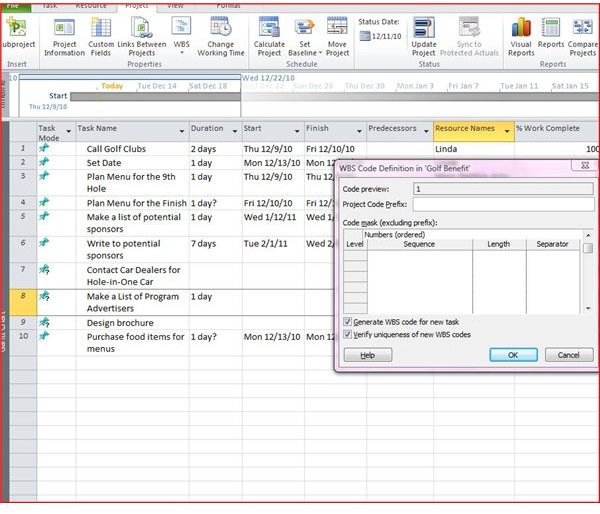 Please continue to Page 2 to continue this Microsoft Project 2010 Review.
Customizing Your Spreadsheet (5 out of 5)
Project 2010 tries to anticipate what other columns you'll need for your project. If you scroll over in either the Gantt Chart or Task Usage views, you'll see Add New Column. Select a column type from the drop-down box, or you can type in your own heading, such as "comments." If you want to rearrange your columns, click on the column and drag it to the right place. I tried the usual right-click-cut-and-paste job, and it doesn't work here!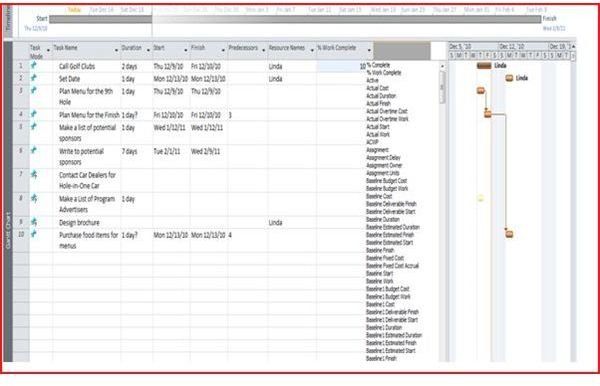 Once you've got the bare bones of your project set up, don't forget to play with your tables options. Go to the View tab and look for Tables. Click on the myriad options—cost, schedule, and more—to see which ones you'd like to save. And if you don't save something as a table, you can just copy and paste various columns (select non-adjacent multiple columns if you hold down the control button) and insert them into your Word report. Or go to Network Diagram for another view of your tasks.
Tracking Your Project (5 out of 5)
In the View tab, you can go to the Zoom group and click on Entire Project, for a full look at your developing Gantt chart. You can also go to the Resource Views tab (immediately under View); choose Team Planner. If you look at Resource Usage, you can easily see which of your staff has been over-allocated with too much of the work. This view lets you see the hours assigned to each team member, and then it's simple to reassign tasks to other resource staff. It will even show this as a graph.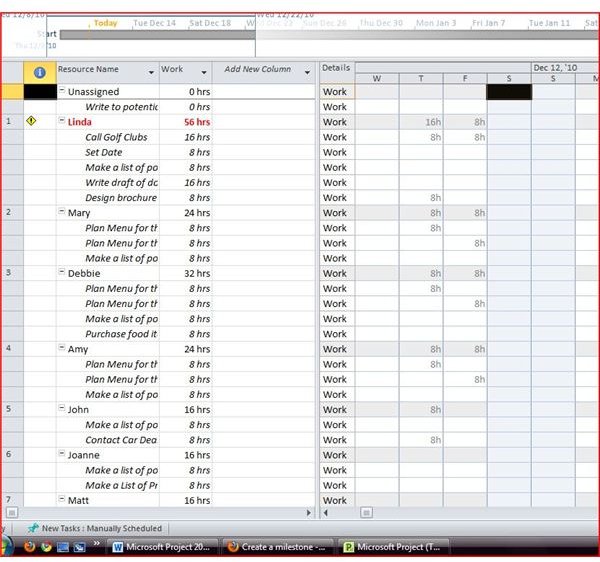 Project 2010 lets you customize the calendar. Go to the Project tab and in the Properties group select Change Working Time. If your company or agency observes days off during the project duration, then marking them off here will keep Project 2010 from calculating holiday or vacation time as time wasted. Plus, you won't accidentally schedule something for a nonworking or otherwise conflicting date. Once you set up this calendar for your department or company, you can copy it for other projects.
Besides creating its own report imagery and letting you view your entire project at once, Project 2010 synchronizes with SharePoint Foundation 2010 (WSS), and it will also export data to Visio. I didn't try those features.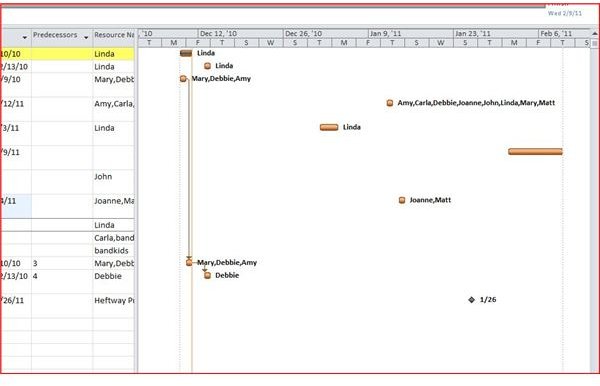 Conclusion
The recurring theme of this review of Microsoft Project 2010 new changes is that Project 2010 works for you, and it learns your personality. It plays into your hands so you must remember that you, not Project 2010, are heading the project. It's true that once you become comfortable with it, your personal choices will make your project files all look alike. But what's wrong with that? The living, breathing thing is the project, not the software that gets you there—although with this wonderful updated version it's difficult to remember that!
Image Credits:
Page 1 logo, Wikimedia Commons, ZyMos
Screenshots created by the writer