Review of the Top 5 Microsoft Project Books and Learning Resources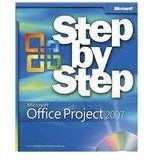 Learning Resources for MS Project 2007
In today's world, project management software is almost always necessary to handle the complexities associated with managing large
projects. Even for smaller projects, software can streamline and integrate your workflow, saving you both time and money. One of the premier software tools for project management professionals is Microsoft Project 2007.
Managers with a background using Microsoft Office products should not have much trouble in quickly grasping the basics of Microsoft Project. However, in order to maximize the full potential of the benefits that this software has to offer, it is a good idea to explore additional training resources. Self-study guides and books provide an excellent means to do just that. In addition, there are a number of excellent Microsoft Project tutorials available here at Bright Hub PM.
There are numerous books written on MS Project 2007, but they are definitely not all the same. It is hard to say which one is the "best" book or learning resource since each one targets a different set of needs and goals. Here are some reviews of the five top bestsellers in this category to help you choose the one that is right for you.
Microsoft Office Project 2007 Step By Step
Authors: Carl Chatfield, Timothy Johnson
Although this book is written at a level that even a beginner can understand, it includes some tips and tricks for the advanced user as well. Microsoft Office Project 2007 Step by Step offers a series of structured lessons that you can traverse from beginning to end, or you can pick and choose from those that are most meaningful to you. The book is accompanied by a CD which contains numerous practice files that will allow you to gain hands-on experience and practice the lessons as you learn them. If you're just embarking on a course of self study, this resource provides an excellent place to start.
Recommended Audience:
Beginning and intermediate users
Users who prefer more structured learning
Microsoft Office Project 2007 For Dummies
Author: Nancy C. Muir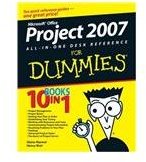 Microsoft Office Project 2007 for Dummies may be the best book out there for the true beginner in the project management field. In addition to explaining the software fundamentals of Microsoft Office Project, it includes a general overview of project management. This book also offers a quick glimpse of some of the features that are new to the 2007 version of Project. Although this book is a great resource for beginning and intermediate users, those with more experience might want to consider other titles. A companion CD includes tools and add-ons that work in conjunction with Project.
Recommended Audience:
Beginning and intermediate users
Microsoft Office Project 2007 Inside Out
Author: Teresa S. Stover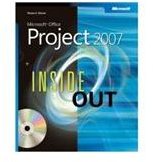 This 1104-page book includes excellent information for all users of Project, from beginner to most advanced. A companion CD includes additional tools that users may find helpful in their project management endeavors. Microsoft Office Project 2007 Inside Out can be used as a text to learn the inner workings of this robust software, or it can be a great reference manual to those who are already well-versed in the software's abilities.
Recommended Audience:
Beginning, intermediate, and advanced users
Users looking for a general reference guide
MCTS Self-Paced Training Kit (Exam 70-632)
Authors: Joli Ballew, Deanna Reynolds, Bonnie Biafore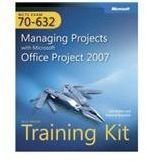 More than just a book, this kit contains a complete study guide and a companion CD with practice exams for the Microsoft Certified Technology Specialist (MCTS): Managing Projects with Microsoft Office Project 2007 certification. If you plan on taking the certification exam, this is definitely an investment to consider. Even if you have no plans on taking the exam, this kit is an excellent resource for anyone who wants to have a complete and thorough understanding of the software.
The customizable practice exams allow you to focus on particular areas of interest and provide you with detailed feedback on question responses. The CD also includes a searchable version of the study guide in electronic form so that you can easily navigate to the topic of your interest. Beginners should probably choose another book to start their educational journey, but both intermediate and advanced users will find a wealth of information in this kit.
Recommended Audience:
Intermediate and advanced users
Users planning on taking MCTS 70-632 exam
Microsoft Project 2007 Bible
Author: Elaine Marmel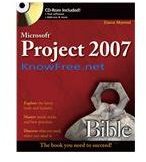 Along with its wealth of information on Microsoft Office Project 2007, this book has great introductory chapters on the topic of general project management. Extremely readable, it would make a great reference book for the advanced user. It is also accessible to the beginner in this field. The companion CD contains various sample projects and software demos. Additionally, the book has an entire section dedicated to Project Server for those who plan to take Project 2007 to a higher level.
Recommended Audience:
Beginning, intermediate, and advanced users
Users interested in Project Server