Top Microsoft Project Tips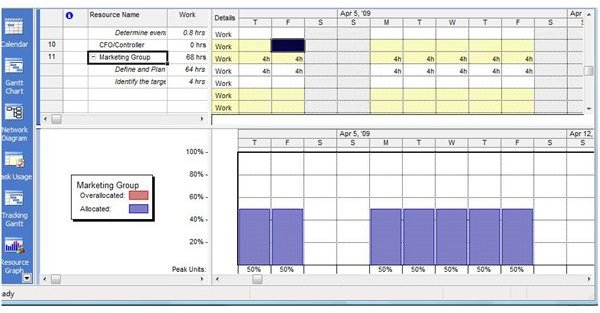 Welcome to this series on the best Microsoft Project 2007 Tips & Tricks. The techniques offered here and in subsequent series' articles are based on my experience with Project, both as an instructor, a project manager and an author.
Customize the Resource Graph
I've often found Microsoft Project's Resource Graph to be slightly cumbersome to navigate. Not because it doesn't display meaningful information – it does. I simply don't like that it takes up so much of my screen real estate in order to show me one, whopping red bar.
That one red bar doesn't do me any amount of good unless I can see the entire project at a glance or even multiple resources. But, I have found a "work-around." It's a few steps, but it's worth it.
Choose Window: Split from the Menu bar
Click once on the top pane to select it, and then choose View: Resource Usage (or another resource-based view)
Click once on the bottom pane to select it, and then choose View: Resource Graph
As you select different resources on the top pane, the graph on the bottom pane updates. And, if you select all resources, you'll be able to scroll through the graph view at the bottom.
Color Code Your Tasks
As you probably well know, tasks are not always performed in chronological order based on their placement in the Task Sheet in Project. So, how do you know which tasks need to get done this week?
There is the "Who Does What When" report, but I've always found it easier to color code my tasks right there in Gantt Chart view. Here's how you get to such a display:
Choose View: More Views from the Menu bar
Select Gantt Chart in the Views list and click Copy. . .
Enter a Name (i.e., Date Color Code View)
Next to Filter, click the drop-down arrow and choose "Date Range"
Click the checkbox next to "Highlight filter" to enable it
Click OK
All that's left to do is to apply your new view. When you do, you'll be asked to select a start and finish date for your task range. When the Gantt Chart displays, you'll see the tasks that fall within your selected range highlighted in blue.
These steps helps you create a custom project view which is not to be confused with Project 2007's new Change Highlighting feature that highlights the domino effect one seemingly small change can have on your entire project.
This post is part of the series: Microsoft Project Tips & Tricks
Project 2007 trainer and author Deanna Reynolds presents the best Microsoft Project 2007 tips along with a few tricks she's learned over the past 15 years of working with and teaching Project.