Project 2007: Using Change Highlighting for Task and Schedule Analysis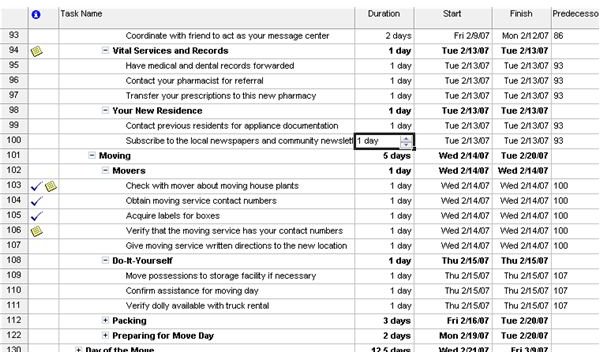 As you work with Office Project 2007, you might wonder why you occasionally see the background color behind your table cells change color (typically, to a light blue). This is a brand new feature called Change Highlighting.
When this new feature is enabled, you can visually see how any change you make in the project plan affects other project tasks. For example, in the project plan shown in the following figure, you can see that the project currently has a duration of 49.5 days. Also, Tasks 103-107 are all linked to Task 100 in a Finish-to-Start relationship. Next, we will change this data so you can compare the results.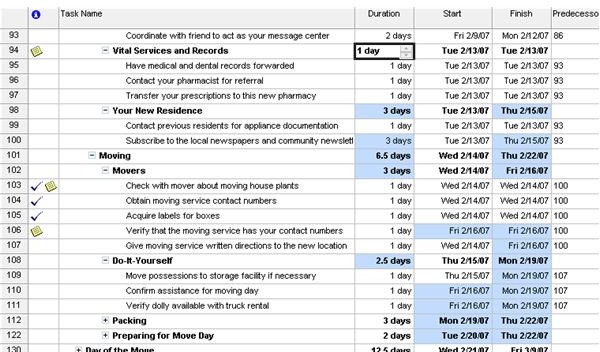 When the task duration for Task 100 is modified, dates related to Tasks 103-107 could be affected. When changes to a project plan are highlighted, there is no guessing on your part. Office Project 2007 will tell you through highlighted cells exactly which tasks are affected by any changes you implement. In the next figure, the task duration for Task 100 was modified from one day to three days. Notice the domino effect of changes that occurs in the project plan from this one seemingly insignificant modification.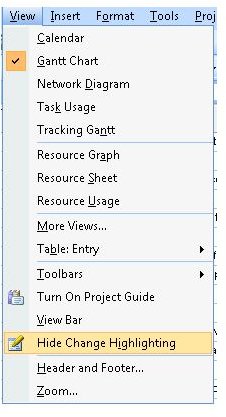 As you can see, not only are tasks that are linked to Task 100 affected, but also many other changes can be seen, including summary task durations and the start and finish dates of many tasks.
Being able to see your changes as they occur without having to continuously scan the project file can be a real time-saver as you analyze your project plan and implement changes.
Even though the Change Highlighting feature presents a nice reminder of the interrelatedness of many tasks in your project, it is only a temporary visual clue. As soon as you save the project file or make another change, the original change highlighting is removed and often replaced with a new set of change data.
If you don't want to see changes appear in blue, you can turn off Change Highlighting altogether. To do that, follow these steps:
Choose View.
Choose Hide Change Highlighting.
And, just as easy as it is to disable, you can bring Change Highlighting back by simply choosing View: Show Change Highlighting from the Menu bar. You can check out other new Project 2007 features here.
Excerpted from…
With permission from Microsoft Press, this article content was excerpted from the book, Managing Projects with Microsoft Office Project 2007 (Self-Paced Training Kit for Exam 70-632).