Project 2007: Rescheduling Tasks & Incomplete Work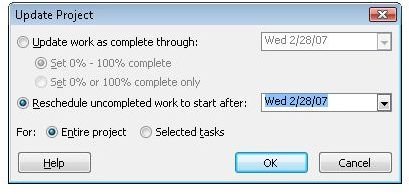 Rescheduling a task is often a necessary step when things are delayed.
During this (and other instances), Office Project 2007 can reschedule any remaining work (based on tasks you select) after a specific date. To have Office Project 2007 reschedule incomplete work, follow these steps:
Select a task to update in the Gantt Chart.
Choose Tools, choose Tracking, and choose Update Project.
In the Update Project dialog box, select the Reschedule Uncompleted Work To Start After option and then select a date from the drop-down list. See the above figure.
Click OK.
You can also reschedule work for multiple tasks at the same time. To do this, use the CTRL key to select noncontiguous tasks or use the Shift key to select contiguous ones. Then, select the Update Work As Complete Through option and choose a date from the drop-down list.
After this is done, the tasks are split
Rescheduling Incomplete Work
Reschedule Work Button
If your project plan includes a custom status date (a date other than the current date set in the Project Information dialog box), you can use the Reschedule Work button located on the Tracking toolbar. This action reschedules the project's remaining work for the selected task(s) to continue from the project plan's status date.
Real World
The reasons for rescheduling a task certainly vary beyond the obvious one of preventing project plan slip. For instance, rescheduling a task might enable the most qualified resources to complete the rescheduled task without working unreasonable hours. And this is just one of many scenarios in which the project manager might find it useful to reschedule tasks and incomplete work. However, using the Update Tasks command is not the way to reschedule a task to use a different resource. In this scenario you would assign that resource and use the resource's calendar to figure out when the task would occur.
Excerpted from…
With permission from Microsoft Press, this article content was excerpted from the book, Managing Projects with Microsoft Office Project 2007 (Self-Paced Training Kit for Exam 70-632).