Add Watermark: Microsoft Project Schedule Tips & Tricks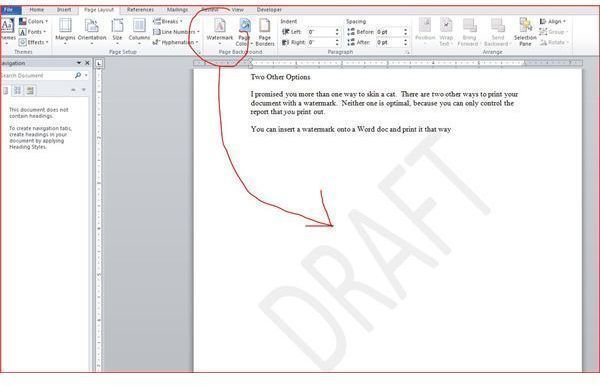 When Do You Need a Watermark?
A watermark is just a way of marking your project so that if anyone prints it out, no matter how many pages are involved, every page will be identified. In most cases it's just something simple like the word "draft" or "confidential." Sometimes you want to insert a corporate logo on
each page. It's easy to do this on Word 2007 or 2010 by going to the Page Layout tab on your Microsoft Word ribbon. It's especially important to utilize this option when multiple members of your project team are viewing and possibly working on any Project 2010 document you've created.
This writer recently reviewed Microsoft Project 2010, and to be honest I never considered adding a watermark to the worksheets I created for my sample project. With all the bells and whistles that this software has, shame on Bill Gates and his crew for not including an easier way to create a watermark! But it can be done.
Add Watermark: Project 2010 Schedules
First, I went to my Excel 2010 program and typed "watermark" into the help box. This opened a Microsoft help topic called Mimic a Watermark in Excel. If you click here, you'll be there.
Next, you want to choose Technique 1, Use a Picture in a Header to Mimic a Watermark. As you read the instructions, you'll be told to right-click on the word "Draft" or "Confidential." This will open a picture of the word, and you can save it in your photos as a .png file. (Once done, you can close this topic.)
Now go to Project 2010, and open the document that needs to be watermarked. Then go to what they call the "backstage"—go to File; then choose Print. Look carefully to the right until you see, in tiny underlined letters, Page Setup. Click to open it.
Choose the Header tab. The center cell will open automatically. As you look at the little icons, the one on the right-hand side (it looks like a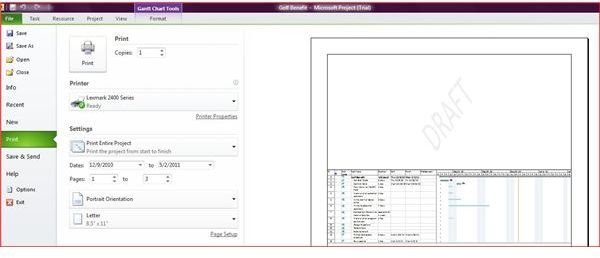 yellow mountain) will let you insert a photo. Click on that and then browse for the watermark you just saved as a .png file and insert it. Choose OK and your watermark is in.
It won't sprawl across the whole page the way it does in Word. It will just appear at the top of your page. Depending on the size of the photo that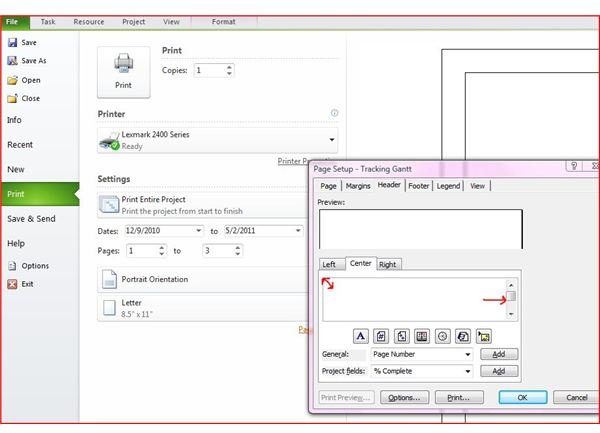 you inserted, it might take up just a small part of the top page or it might go halfway down. You can adjust the size if you return to the Header cell. Move the scroll bar up and you'll see the corner of the picture; hover your mouse over it until you see the little diagonal arrows that let you downsize the picture. Click OK. Take another look at it in the Print View and keep adjusting until it's the size you want. You can also adjust the photo size before you insert it if you're better with your photo editing program than I am.
In this step to add a watermark to a Microsoft Project schedule, you'll want to go back to the Print View so you can see if your watermark is there. Initially, I could not see any Print View of my document at all; so I followed the instructions that appeared where the Print View should have been. They told me to go back into Page Setup and chose the Page tab and just decrease the scale of the view to 50% of normal size. When I clicked OK, I could see my page view.
You can use any photo; it doesn't have to be the photo of a word. It could be your corporate logo, which is extremely useful if your client has access to your Microsoft Project schedule. In this view I deleted the "Draft" watermark and

replaced it with a photo of Robert Redford. And I did it entirely without his permission.
Two Other Options
I promised you more than one way to skin a cat. There are two other possibilities for printing your document with a watermark. Neither one is optimal, because you can only control the report that you print out. If Joe in Kalamazoo prints the document, it won't have the protection of a watermark.
Nevertheless, the first way is by inserting a watermark onto a Word doc and printing pages with just the watermark; use them to print your project.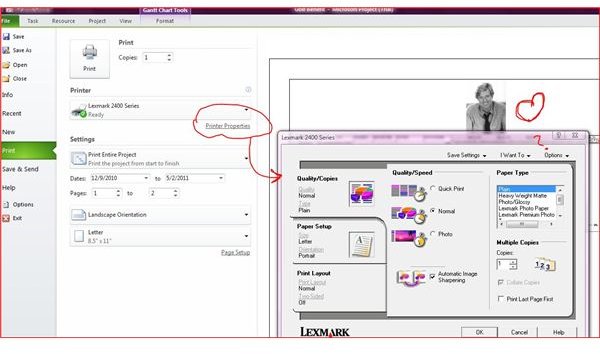 The last possibility is your printer. Once you go to the backstage and choose Print, check your Printer Settings. Many new models allow you to apply a watermark. Once you've opened Printer Settings, look at your Options to see if your printer will do the trick. My printer doesn't have that option, but this screenshot shows you where to look.
Don't forget to check out the other Microsoft Project tutorials available here at Bright Hub.
All screenshots taken by the author.