iTeamwork - A Review of Project Management Web-Based Software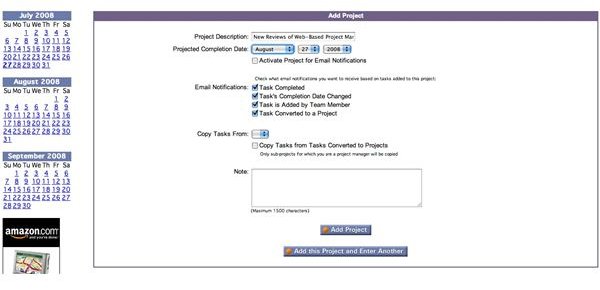 iTeamwork is one of the older team project management tools on the block, dating back to 2000. Although this web-based project management software hasn't been updated in a few years, word of mouth from loyal users keeps it going in a variety of corporate offices.
Robust Team Project Management Tools
Based on classic team project management principles, iTeamwork offers team leaders the ability to break down complex projects into tasks and steps that also contain deadlines and team assignments. Sophisticated reporting tools allow project managers to review the completion status by team member, milestone, and overall project status. Although the software's task lists and reports can seem intimidating at first, the details available on each page allow project managers to make strong decisions without spending much time in the system. The "notes since last login" is an especially effective feature for busy leaders.
Interface Works, But Lacks Modern Touches
Like a functional kitchen that could be updated with cabinet refacing, the iTeamwork interface shows signs of aging. Released from beta in 2000, the team project management tool makes use of complex forms and tables to input data and to generate reports. Although the database keeping all of a project's milestones in line is fast and accurate, some users will grow tired of waiting for entire web pages to refresh in order to review simple changes.
Private Hosting for Enterprise Security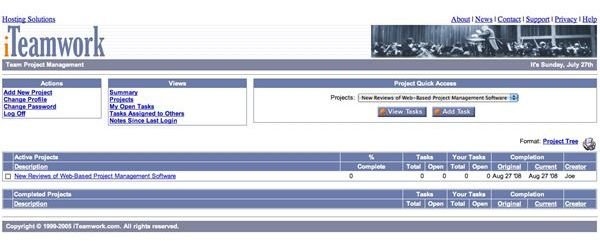 One of the biggest challenges for web-based project management software in the enterprise market is the fear that company secrets can be leeched from a third-party data server. iTeamwork's developers have made it easy to bring their system in-house by offering a "private label" version of their tool. The server version of iTeamwork can be licensed for fees ranging from $480 to $2,500. Hosting can be handled in-house or provided at no additional cost on a dedicated server at the same data center used by the free version of iTeamwork. While the pricing is a little more expensive than comparable products, IT managers will enjoy the software's simple, time-tested code.
Solid Team Project Management, Just Don't Expect Innovation
Overall, iTeamwork tends to work more effectively for project managers who rely on team members to handle a lot of their own data entry. Clearly, it's been at least five years since a developer at iTeamwork has touched a single line of code. Their news blog is even dustier, with its most recent entry dating to 2004.
However, in a world that's full of buggy, "beta" services, iTeamwork offers a throwback to the stability and functionality of pre-Web 2.0 enterprise software. Organizations starting from scratch and looking for bulletproof (if basic) team project management can accomplish a lot with a privately hosted installation of iTeamwork. Solo professionals and teams that require import/export functionality will still have to look elsewhere.