Meet the Pro (4 out of 5)
Service Desktop Pro, scheduling software manufactured by Webtech Software & Services Inc., is imaginatively designed software that combines business and personal information to help businesses handle a range of day-to-day management functions including billing, documentation, expenses, contacts, and customer relationship. Self-employed professionals, software developers, service providers, and small business owners will find Service Desktop Pro a useful tool.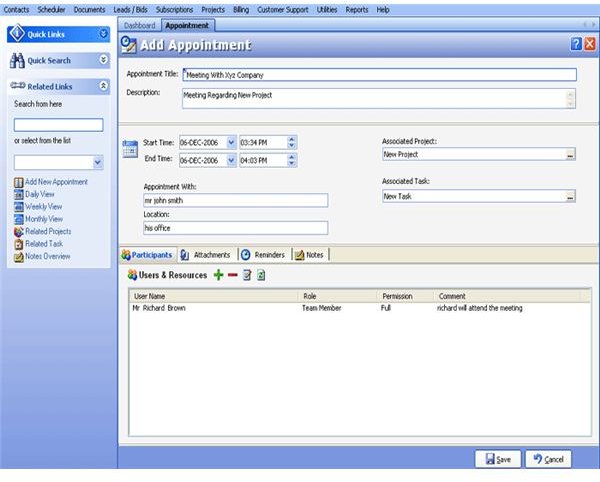 Service Desktop Pro Features (5 out of 5)
Capable of managing individual as well as organizational contact details. Can exhaustively search contacts and also restructure pictures to add to contacts.

Provision to schedule, remind and monitor appointments.
Management of leads by documenting all bids and quotations to facilitate project conversion.
Plan, manage, and implement projects including creating Gantt charts.
Invoice and comprehensively manage expenses.
Keep close watch on subscription of websites and Internet resources.
Create notes and manage all digital documents.
Manage customer relationships.
Software Utilities (4 out of 5)
Billing functions: Provides great relief as manually generating bills and tracking payments is bothersome. The software automates all of these processes and also computes taxes, discounts. It also notates phased payments against invoices.
Expense tracking: Expense accounts can be maintained effortlessly.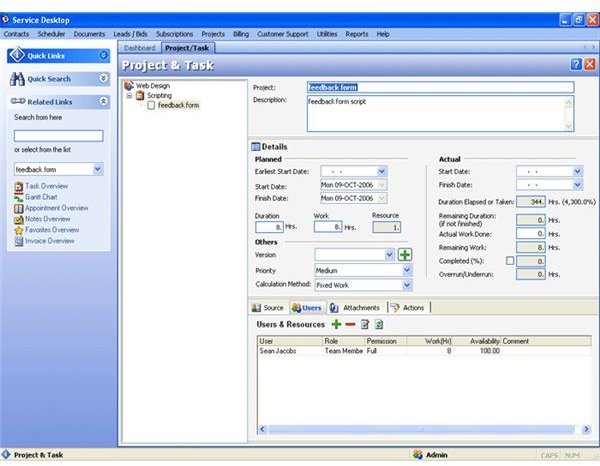 Password management: An important function as it helps to store and monitor critical subscription information for both paid and fee websites. Added to this, there is also the provision for shooting out reminders for subscription renewals.
Customer relations: Helps maintain regular customer contacts, fulfilling client requests for additional information and maintaining updated records of customer status.
Service management: Facilitates creation of projects, tasks, sources, connected documents, and notes. Facility to chalk out project plans and measure them with actually achieved results. Possible to set up planned project details and track them with the preplanned time schedule resources.
Leads management functions: The software is very user-friendly in that it tracks all leads arising from both online and offline resources. The user can also program reminders for timely action. Active search function to instantly reveal updated leads and bids
Contact management: This is one of the key functions of the software. Provides a single window for all sensitive contact and customer information and simplifies the procedure for all communication with contacts – including sending email and fax messages, making phone calls, and opening contact web pages.
Document management: Enables adding documents to projects, tasks, and appointments and storing all digital documents in a central place to facilitate easy retrieval. There is a provision to sort out documents based upon the entities to which they are attached.
Market Reviews (4 out of 5)
Market analysts hail this software as extremely useful to freelancers and a certain category of service providers who generally place bids and regularly obtain online projects from freelance websites. It quite often becomes messy to keep track of all the bids and Service Desktop Pro helps to systematically organize all bids for ready viewing and timely action.
The manufacturers claim that "As a productivity tool, Service Desktop will add value to existing businesses by streamlining and integrating the various aspects of effective business management."
But there is also some adverse criticism as some users consider Service Desktop Pro as matter-of-fact software that does no more than provide the basic options and functions to manage projects and nothing much beyond. The software does not provide advanced features to handle more complicated projects.
There is also the complaint that this project management software does not provide features like time, statistical information, and resource work load. Templates, though strictly not necessary, could certainly help implementing projects with greater ease.
Visit the website of Service Desktop Pro for more information.