Microsoft Project 2007: Milestones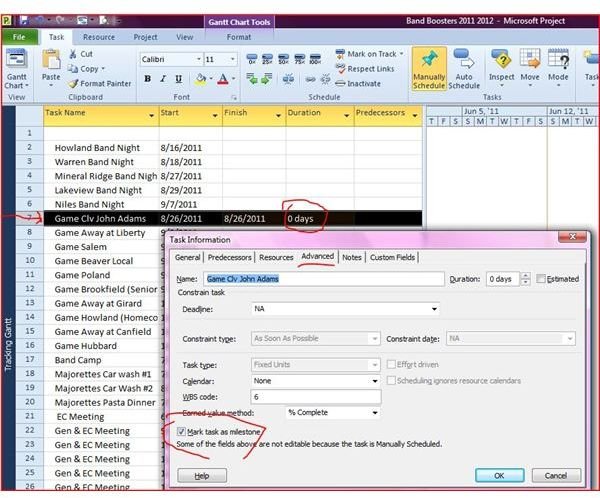 Why Use Milestones?
Throughout a project's life cycle, you'll most likely have built-in checkpoints. These checkpoints can define different areas, such as the end of phases, the passing of a set amount of time, or any other criteria that you, as the project manager, define. Project managers utilizing a stage-gate process often set milestones. A milestone can be set for a specific task, or you can just enter a task on your task list to stop and take the project's pulse.
Deciding on milestones, their dates, and what happens if milestones are missed is part of your job as a project manager, and it is a difficult task. However, creating a milestone in Microsoft Office Project 2007 is easy–and the process is the same for those who are using MS Project 2010.
Create a Milestone with a New Task
Milestones can be marked as such within the Task Information box. Or, perhaps an easier method is to set a zero (0) duration on any task
you'd like to designate as a milestone.
To create a milestone in Project 2007 or 2010, follow these steps:
Type a new task into the Task List. You can make this entry in any view that has the Task List.
Some people like to give it a descriptive name. Whether or not you do so, Project will identify it as a checkpoint_,_ or milestone.
Set the duration of the task to zero days in the Duration column.
Note: If you are accessing the Task Information Box, you can do so through any view that shows you the list of tasks. All you must do is double-click the task and the Task Information Box will open. You can also select the Task tab and look in the Properties group; you'll see the Notes icon there and you can simply select the Advanced tab.
The image to the right is a simple list of tasks relating to a local high school band–their band nights, games, concerts, and more are listed. Initially I just entered the games and dates. However, I wanted to set Cleveland John Adams as a milestone because it is the first actual football game of the season, so I tabbed over to the Duration column and entered a zero. I have opened the Task Information Box and checked off Mark Task as Milestone. Either method works equally well.
Milestones are displayed visually on the Gantt Chart as diamonds. This makes milestones easily recognizable as a project checkpoint and easy to locate in any Gantt Chart.
Create a Milestone from an Existing Task
Although modifying a task's duration to zero days automatically denotes that task as a milestone in Office Project 2007, you can mark a task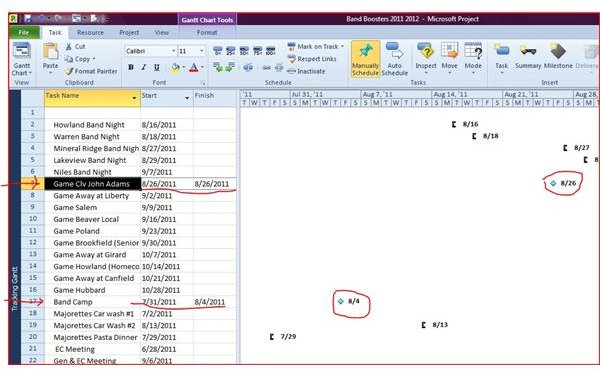 of any duration as a milestone. The Gantt Chart will then display the same diamond shape on the last day of the task so that you can easily recognize it among the other tasks as a milestone.
To mark a task of any duration as a milestone, follow these steps:
Select a task in the Task List.
Double-click the task to open the Task Information dialog box. Or, select the Notes box for that task to open the dialogue box.
In the Task Information dialog box, click the Advanced tab.
Select the Mark Task As Milestone check box.
Click OK.
You were able to see in the image above what to check in the dialogue box. If you click on the image immediately to the right, you will see how a task looks in the Gantt Chart. If it's a one-day task, it looks like a diamond. If it's a multiple-day task, instead of a blue line showing the duration of the task, you see a diamond only task's finished schedule date.
Network Diagram View
It's worth noting that milestones are also identifiable in the Network Diagram view. You can select this view from the drop-down list of views in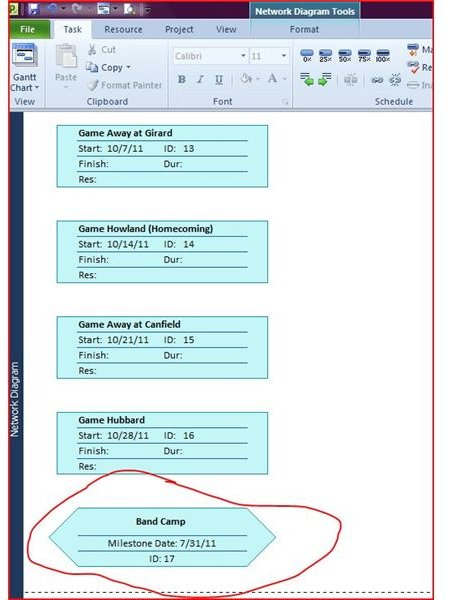 the View section, to the very far left on the Task tab. Many project managers like to check out the Network Diagram View because tasks that depend upon other tasks are linked; it's a very visual view. None of the football games are linked, but you can still see that the information box for Band Camp, which was designated as a milestone, has a unique shape.
As before, these directions for Microsoft Project 2007 milestone creation also apply to Microsoft Project 2010.
Resources
Sections of this article pertaining to Microsoft 2007 were excerpted with permission from Microsoft Press, from the book, Managing Projects with Microsoft Office Project 2007 (Self-Paced Training Kit for Exam 70-632).
However, the updates for Microsoft 2010 are based on the writer's own use of this software.
All screenshots created by the writer.