Top 10 Online Task Management Software Applications: Project Management and Monitoring Tools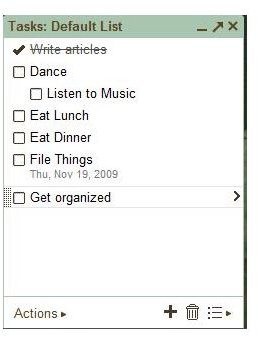 Need Help Managing Tasks?
Whether working on multiple projects, or trying to achieve in all areas of your life, some productivity management is necessary. While Microsoft Outlook allows you to perform some task management in the program, you might need a program that allows you to view your tasks across multiple computers. This is especially helpful when you use a computer at work, a laptop while traveling, and a computer at home. Another reason to use an online task management software tool is because computers can - and often do - crash. By having task information stored safely online, you can prevent tragedy in the case of a computer crash. There are many software options available to help you get your to-dos in order. Here is a list of the top ten.
Google Tasks
Google Tasks is a fine option for those using Gmail. This program allows users to access their tasks in their Gmail accounts, Google Calendar, iGoogle, and through mobile phones and PDAs. The best part about the program is that is free to all who use Google's email program. The program allows you to use the list as a "brain dump" to get all of your to-dos down on paper. Once they have been listed you can organize them, indent tasks dependent on one another, put tasks on sorted lists (i.e. grocery list, home list, work list, etc.), make notes, and set due-dates. Google Tasks is very simple, so for users looking for something more involved, it isn't a great option.
HiTask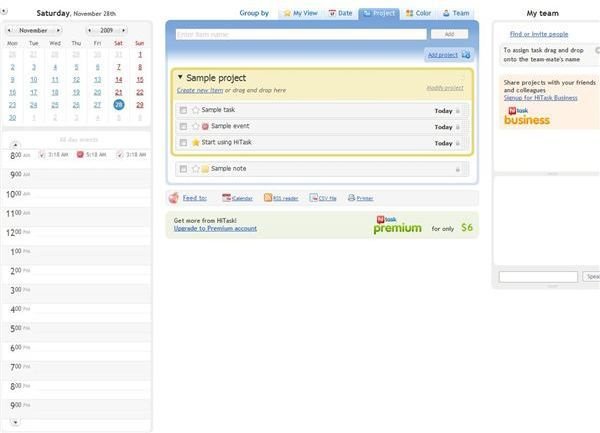 HiTask is a second option for your task management needs. This program is more detailed than Google Tasks. First, this program offers three levels of use - Free (allowing a team of up to three people and the ability to share tasks), Premium ($6/month for individuals with an unlimited team size), and Business ($15/month for each five users with an unlimited team size). This program allows you to track tasks by project, track team members, and track appointments. The program also features the ability to sort tasks by color for easy organization. Finally, like Google Tasks, you can access this program in iGoogle, through your cell phone and through an RSS reader.
Nozbe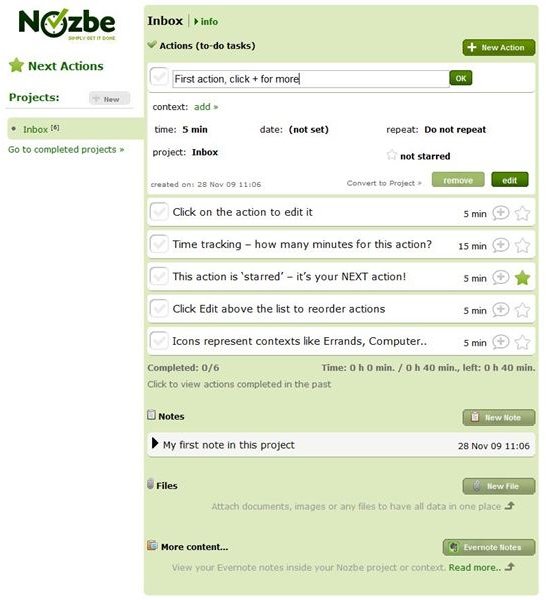 Nozbe is a Getting Things Done task management program. This program also offers both Personal and Team Accounts. Three options exist for personal accounts: A free plan offering only five projects at a time, a solo plan allowing 100 projects for $7/month, and a Plus plan for those with up to 1,000 projects for $14/month. There are two options for team accounts: Family (up to six users, 1400 projects) $24/month and Team (up to 15 users and 4,000 projects) $49/month. All accounts offer a discount for pre-payment.
Nozbe allows you to create "Next Actions" in each project, so you can focus on only one action item at a time. This makes it a great program for team projects containing lots of task dependencies. You can also upload files related to tasks - so that you will have whatever you need in order to complete your to-do list.
Todoist
Todoist can be viewed on any website and as a side-bar in Mozilla Firefox. Todoist resembles Google Tasks. You can have multiple task lists, each with multiple tasks. This program can be useful for the person who only needs a to-do list and who doesn't need to integrate tasks with a calendar interface. You can add priorities to each of the tasks, but for the most part, Todoist is a simple, free task list, more useful for things like grocery lists and home tasks.
Remember the Milk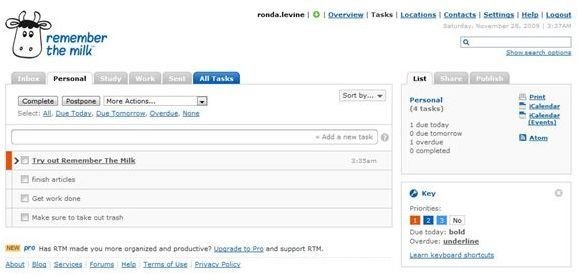 Remember the Milk is an amusing little program, available for free, that does more than Todoist and Google Tasks. First, you can email yourself given the address assigned to your inbox - and have these messages show up as tasks. Second, you can organize your tasks into lists. You can prioritize tasks, assign tasks, give due dates to tasks, add notes to tasks, tag tasks, and create recurring tasks among the many possibilities. This program is great for someone who wants a more detailed program for personal project management, but doesn't need anything as detailed as Nozbe or HiTask.
Rough Underbelly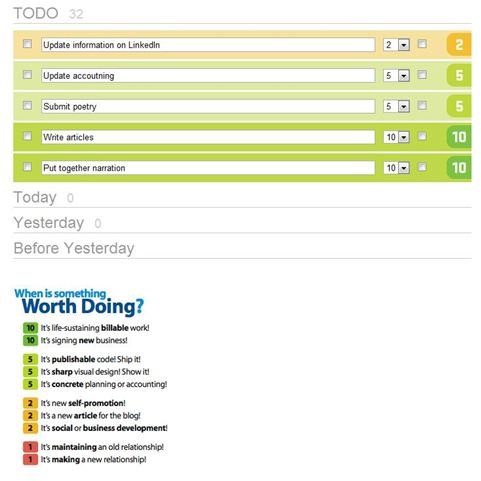 Rough Underbelly is a neat little program that does three things: It keeps track of your tasks, it keeps track of your time spent on tasks, and it keeps track of your performance and productivity over time. As of the publishing of this article, Rough Underbelly is offered for free. Enter each task in and score the number of points that task is worth. At the bottom of the screen, a sample ranking system is given. As you complete each task, the program tracks the amount of time you spent. When you check the task off, then the points it was worth are added to a graph that tracks your productivity over time. This is a great program for those wanting more motivation for getting things done (it makes task accomplishment into a game). It is not so great for those wanting to have interactive or team-based tasks or task delegation capabilities.
Ta-da Lists
Ta-da Lists are simple to-do lists. There are no bells and whistles on these. The upshot of this is that you can share lists with friends, create multiple lists, or re-arrange the lists. The downside of Ta-da lists is that there is no feature to add due-dates, priorities, notes, etc. It is the perfect tool for the true fan of minimalism.
Toodledo
Toodledo is one of the more advanced task management programs available. Upon trying the program out, I immediately noticed a "Goals" section and said to myself, "Oh that's cool!" Not only can you manage tasks, projects, and contacts in Toodledo, but you can also list your goals by Lifelong, Long-Term, and Short-Term. You can share tasks, and you can upload files in the pro plus version, Toodledo is free for a basic account, $14.95/year for a professional account and $29.95 for the pro plus account. This program comes highly recommended.
Voo2do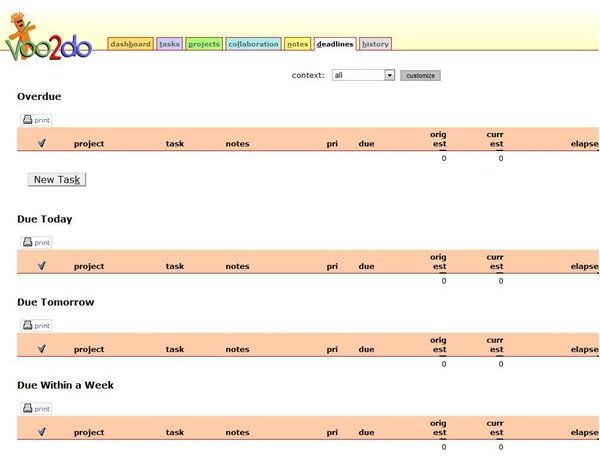 Voo2do is another advanced task management program. This program allows collaboration, project tracking, and individual tasks. You can create public task lists and view tasks by deadline. Voo2do is a great option for project management because of all the collaborative features. Currently, this program is available free.
Vitalist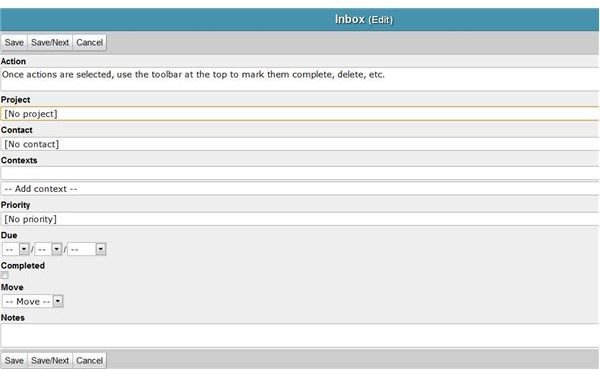 Rounding out this top ten list of task management software is Vitalist. If you like Robert Allen's Getting Things Done, this might be the program for you. This program keeps categories resembling GTD recommendations (i.e. @work, @home, @errands, etc.). It also allows you to create ticklers and some-day maybe tasks. Like many of the online task management software tools on this list, Vitalist is available free, or with subscription options at $5/month for basic and $10/month for premium.