VersionOne Launches V1: Agile Team, project management, software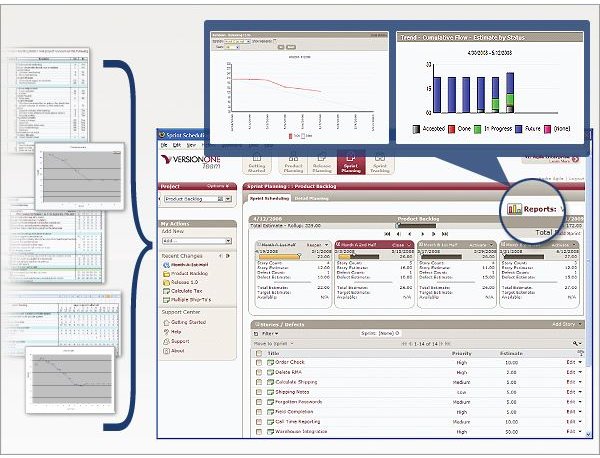 Earlier this year, VersionOne released its answer to Agile practitioners' software needs, V1: Agile Team. Agile is a project management methodology that places focus of the project on the team rather than on a manager. Agile is also known for quick delivery methods and is especially useful in conjunction with Scrum methodologies. For more information on the Agile methodology, see Misty Faucheux's article here.
What does V1: Agile Team do?
VersionOne announces that Agile Team is more neat, comprehensive, and powerful without the complexities of that come with using a spreadsheet. It is a "lightweight" program that is ideal for teams beginning with Agile development process. V1:Agile Team is also Scrum-based, which means that it utilizes features such as the product backlog and sprint for action item management. Agile Teams features include:
Users can import stories and defects from spreadsheets to build the product backlog
Allows for team use of the story planner
Ease of product backlog management
Planning of releases and sprints through electronic whiteboard
An interactive taskboard allowing users to track their work
An Interactive Testboard
Stand-up Dashboard for use during the daily Scrum
Reporting functions including: Burndown, Velocity, and Cumulative Flow
In addition, V1: Agile Team allows PDF views, ease of notifications between subscribers, and for integration between many different programs including:
Bugzilla
Cruise Control
Eclipse
FitNesse
HP QuickTest pro
Jira
Microsoft Project
Microsoft Team Foundation Build
Microsoft Team Foundation Server
Microsoft Visual Studio
Subversion
Consumers who wish to test the system can try the program free for thirty days. When signing up, the setup process comes with technical support to help you get started. The website provides training through classes and consultation.
Who is VersionOne?
VersionOne is a software company that produces Agile project management tools located in Georgia. Companies utilizing VersionOne's software include Adobe, BBC, Disney, Sony and more. VersionOne is committed to making ease-of use software that increases the productivity of teams utilizing the VersionOne Programs. VersionOne also products V1: Agile Enterprise, a more intricate project management program. For further information about VersionOne software, see their website.
V1: Agile Team screenshot