Review of ProjectManager.Com: Will This Program Meet Your Project Management Needs?

What is ProjectManager.Com?
ProjectManager.Com is an online software program that was created by three individuals wanting to create a project management tool in 2008 that would make it easier and more intuitive for project managers to monitor their projects. Jason Westland, Craig Nicholson, and Pamela Good got together to create what for them is the ultimate project management software program.
ProjectManager.Com is used by teams in more than 100 countries, and is one of the faster-growing project management tools. To use ProjectManager.Com's program, you will need to have a computer system with an internet connection. Because this program is delivered to you online, it doesn't matter if you use your office computer one day and then you use your laptop, or home computer the next. Wherever you are, you will be able to access your project information.
Price to Value (3 out of 5)
There are four different levels of pricing for ProjectManager.Com: Starter ($25/month), Team ($45/month), Business ($115/month), and Enterprise (Pricing based upon your need depending on the number of users of the software). Like any on-demand service the difference between two levels of pricing is dependent upon the number of users and the amount of storage space.
The starter level allows you 1 user and 10GB of storage, the team package allows for 3 users for up to 30GB of storage, and the business package allows 10 users with up to 100GB of storage. What makes this a better value than comparable programs is that for one price, you receive unlimited projects and free logins for your clients, as well as a personalized dashboard. As you read, you will find that this program includes many features for your benefit.
Installation and Setup (5 out of 5)
You will find that installing ProjectManager.Com on your computer is a breeze - why? ProjectManager.Com offers the software online. This means that as soon as you sign up, you will have access to your dashboard. It also means that you don't have to have yet another software program clogging up your computer's memory. Does it sound too good to be true? It's not!
Setup of your projects can also be easily undertaken. You can even import Microsoft Project plans and export Microsoft Project formats using ProjectManager.Com.
Ease of Use (3 out of 5)
Like any fully-loaded project management software, there is a learning curve with ProjectManager.Com. You will find that your projects are easily managed once you learn the system. The dashboard is very visual and is easy to navigate. If you are visually oriented, you will find that you and ProjectManager.Com work well together.
Features (5 out of 5)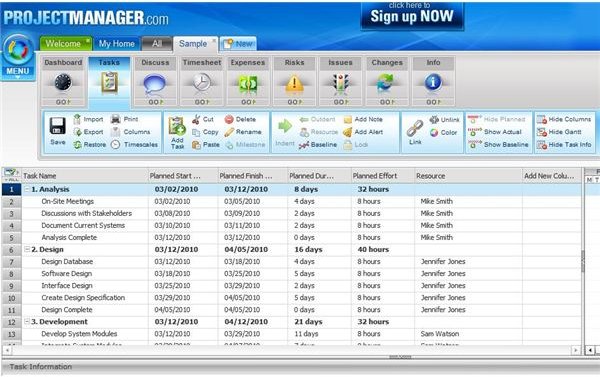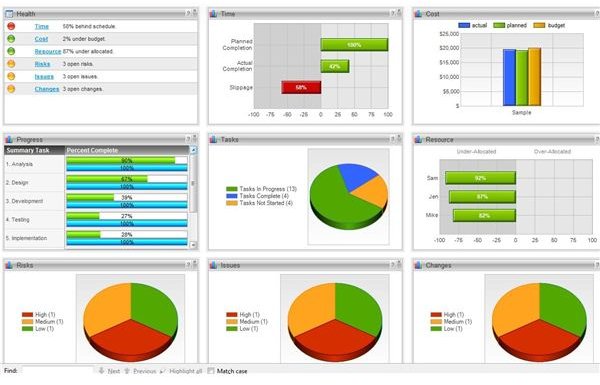 This is where ProjectManager.Com truly shines. For an online program delivered to you through the internet, on-demand, the program really is filled with outstanding features. In addition to the already-mentioned dashboard, ProjectManger.Com has many features you will want to use when planning your next project including:
The ability to create a customized dashboard, and to create multiple dashboards
Project planning made easy by using guided database forms
The ability to easily monitor your progress with mutiple-view Gantt Charts
Project Planning compatible with Microsoft Project
Simple scheduling and work schedule reporting elements
Project team building, resource scheduling, and resource planning tools
Task lists, work breakdown structure creation, and task management at your fingertips
Time tracking and simple timesheet creation tools
The ability to resolve risks and track project issues
Change management capabilities
Expense tracking and reporting
The ability to produce a wide-range of project reports
Online file storage that allows you to easily share and backup important project documents
Collaboration capabilities
Fully secure project management features along with the ability to assign levels of security to different employees
User Support (4 out of 5)
ProjectManager.Com provides many support options. The website provides a host of tutorials to get you started, updates, and FAQs to help you with any problem you might encounter while using the product. Additionally, should you find a bug while working with ProjectManager.Com, you can submit a work ticket. The program creators also provide support videos. Of course, if you cannot find an answer to your problems through these venues, you can also shoot off an email or call for phone support.
Is ProjectManager.Com for You?
ProjectManager.Com is a great software option both for enterprises and high-volume consultants. Because of special pricing bonuses for high-volume users, the program makes an outstanding option for large companies needing project management capabilities. For individuals requiring project management support in their consulting work, the program also makes a nice addition to the toolbox.