Download a Microsoft Excel Project Planning Form & Learn How to Use It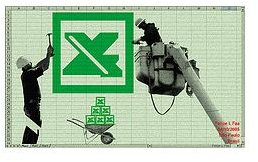 Why Use Excel?
Many project managers favor using Excel because it is a familiar, comfortable tool. The manager maintains focus on the parameters of the job or jobs at hand without the distraction of new software. Or, the company simply does not have the budget to purchase the latest project management software. Nevertheless, Excel provides excellent organization whether you are orchestrating a variety of tasks for a project or directing the completion of several projects simultaneously.
To manage a project, your top priority is to identify the work necessary to complete the project, establish a budget for each step along the way, identify key personnel, and set the dates to begin and complete the project. With Excel, you can accomplish all of this utilizing the Excel Project Management Chart (click link to download).
Work Breakdown Structure (WBS)
With this basic chart, first you choose a starting date. When will your assembled team begin? Once you enter the starting date, the Excel Project Management Chart automatically fills in the dates of all Mondays for the next thirteen weeks–one quarter of a year. Then you break down your project into tasks.
Some people prefer to assign a work breakdown structure (WBS) number to each step. Others believe this is superfluous and prefer to identify the tasks ordered by priority or chronology. Once you've identified the tasks, the name of each task will appear on charts in related worksheets. Next, you enter a starting date for each task and determine how many days are allotted for its completion. The completion dates will be filled in automatically.
The Tasks heading will take you to a linked worksheet with a Gantt chart that will become populated as you fill in the names of tasks and their dates.
Staffing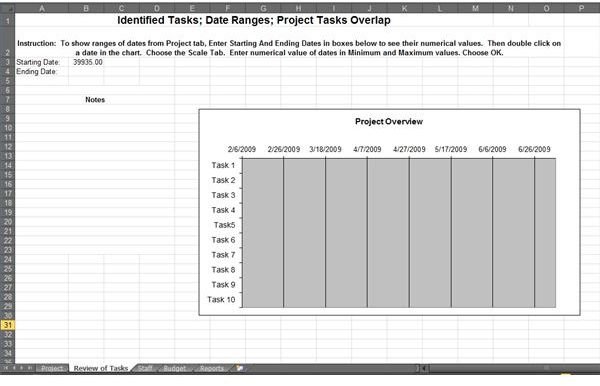 For each task, assign personnel to complete it. The Staff heading links you to a worksheet with columns to record staff names, contact information, and notes about their particular skills. It is also necessary to track staff hours spent on the project. Based on the time allotment chosen for each task, estimate the number of hours allocated.
Throughout the project, you will enter the amounts of time actually spent on various tasks. Excel will calculate whether you are over or under your staffing budget. The chart on the linked staffing worksheet will illustrate your progress.
Follow the Money…
No project plan is complete without an estimated budget. For each task, determine how much money is allocated to complete it. Again, you want to track whether you are over or under budget on your fiscal allocations. A link at this header takes you to a worksheet that charts your budget progress and a place to document relevant expenditures.
There are columns identifying which task the expenditure serves, the date of the expenditure, purchase or service order number, fund source or ledger note, and amount. The amounts will automatically add up.
Related Reports
During the course of many projects, you might need to access related reports. Examples could include regulatory guidelines, histories of previous projects related to the current one, or position papers. As long as they are within your computer's network, you can insert links to them on the Reports worksheet.
Little Extras Add Big Impact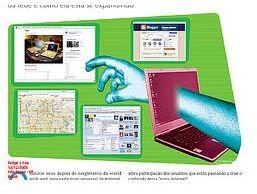 The more you work with Excel, the more you will discover all the extras it offers. For example, it's easy to copy the charts from your worksheets and insert them into a Word document for your monthly board report. You simply have the Word document open, and then you open the Excel worksheet. You right-click on the chart and choose Copy. Then you move back to your Word document, right-click again, and choose Paste.
Excel can also insert comments on your worksheets. For instance, if you get an email that one of the assigned staff will be on vacation during the project, you can right-click on the Task description and choose Insert Comment.
If you need to email your Excel workbook to an associate, it is not well suited for embedding it into an email. Instead, send it as a workbook attachment.
Why Use Excel?
By saving this Excel Project Management Chart as a template, you can access it for any new project. Download the chart, and then choose Save As, and where it says Save As Type, you choose Template. When you begin a new project, open Excel and choose New. Depending on your version of Excel you will either see your template selection or you will choose Templates On My Computer. Save it with the name of your project.
You can password protect your workbook by choosing Save As, selecting Tools on the Save As box, and then choosing General Options.
If you're looking for more sample forms and downloadable templates, check out Bright Hub PM's resource guide Over 50 Free Project Management Templates and Sample Forms.