Protect Your Bottom Line with Free Project Planning Templates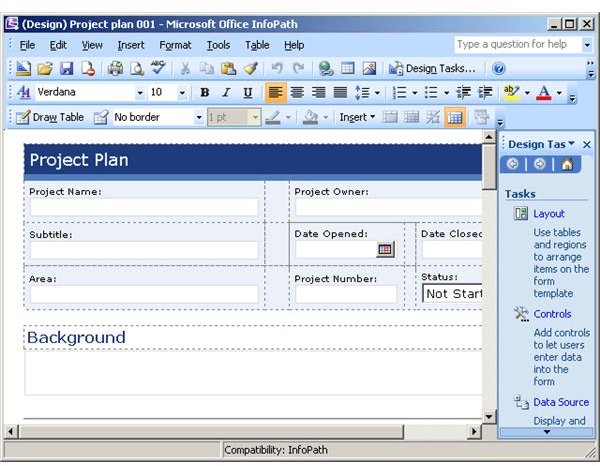 Microsoft InfoPath Template
A project planning template is available for free from the Microsoft Office Online Web site. This is a free download that works with the Microsoft InfoPath application to facilitate project management. The power of InfoPath is its ability to use electronic forms to gather and store data either on its own, or in tandem with SharePoint Server. The InfoPath template lets you define a project plan publish it, and store it. It offers the means to track expenses, resources, project status, contacts, related resources, and more. This template is a great starting point that can be customized for your specific needs.
Microsoft Excel Project Planning Tools
Free project planning templates are also available that work with Microsoft Excel. One of these can be downloaded from Bright Hub (see A Microsoft Excel Project Planning Form). It is pre-formatted for time calculations and resource utilization. As you enter your data, charts are updated in the reports tab and users are prompted to enter certain types of information. This Excel template also features tabs for tasks, budgets, and staffing.
Excel-based project plan templates are also available from Project Smart, a Web site that specializes in project management. Although this company has templates for sale, it has some free templates available, including a project planner spreadsheet that can be used to build a great foundation for your own project planning.
Microsoft Project Templates
Microsoft Project is a natural choice for project management. Getting your project started can be challenging so a template can be a good starting point. Project Kickstart has a lot of free templates that can give you a running start with project planning.
Microsoft Word Project Planning
A very robust and in-depth, twenty three page project planning template is available for Microsoft Word. This document guides you through an overview of the project, including the scope of the project; the organization of the project, including roles and responsibilities; the initiation of the project, including schedules and budgets; and project monitoring and control. Other sections of the template guide the user through quality management, communications and configuration management as well as performance and risk management for the project. Finally, the template steps the planner through project wrap up.
Other Free Templates
Other project planning templates available include a template in PDF format that guides planners through methodology and even includes sample data. In addition to the free templates already listed, a variety of project planning templates available at PMlinks, a Web site dedicated to project management. You will find templates in Microsoft Access, Word, Visio, Excel, Powerpoint, and Microsoft Project. these templates will help you develop a plan for a variety of projects from construction to Web site development.
Project planning templates can save you time and money through efficient work flow and effective management. Best of all, with so many free tools out there, project planning won't cost you an arm and a leg.