Project Scope Management PMBOK Versions 3, 4 & 5: PM Certification Guide

Comparison of Third, Fourth, and Fifth Editions
The diagram to the right compares the third and fourth editions. As you can see, not a lot has changed in terms of processes. T
he erstwhile Scope Planning process has been replaced with Collect Requirements. Notice that all processes now start with a verb. For the CAPM and PMP exams, it is important for you to recall the names of the processes as specified in the PMBOK. In other words, Scope Definition is not the same as Define Scope.
For a review of the Define Scope, Create WBS, Verify Scope and Control Scope processes, read A Summary of PMBOK Practices - Scope Management.
In the next section, we'll dive deeper into the new process Collect Requirements.
Collect Requirements
Collect Requirements is the new process in the Project Scope Management process group. This process includes gathering and documenting stakeholder needs and expectations. In addition, the process involves documenting project and product features and functions. To be successful in collecting stakeholder requirements, you must have tremendous facilitation skills to extract precise information.
Vague requirements is a common reason for project failure. Therefore, it is critical for you to implement the Collect Requirements process accurately. The output of this process sets the foundation for cost, schedule, and quality planning. Since this is one of the most crucial processes, in many organizations the role of collecting requirements is called Business Analyst or Business Consultant. It is a highly specialized role. In an Agile team, the Product Owner is usually responsible for collecting requirements. However, the ScrumMaster is expected to participate. In such a setup, the person responsible for collecting requirements will usually not participate actively in other processes, such as scheduling.
New Scope Management Inputs, Tools and Techniques, and Outputs (ITTOs)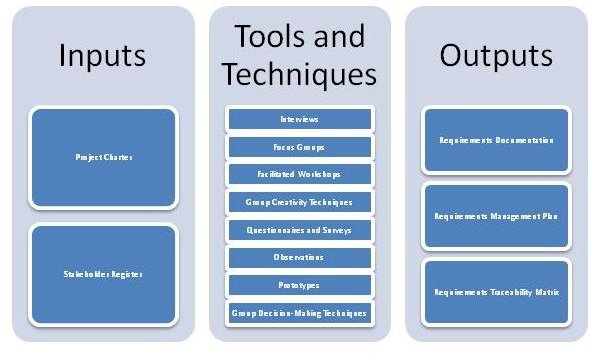 The diagram displays the ITTOs related to Collect Requirements. Follows is a brief overview of each new ITTO:
Input
Stakeh****older Register: Is an input that relates to collating details, such as expectations, influence, and constraints, about each project stakeholder. Stakeholder Analysis helps you create the Stakeholder Register. If the wrong stakeholders are identified, the requirements gathered will be inaccurate. This is another common reason for project failure.
Tools and Techniques
Group Creativity Techniques: Can include a litany of techniques, such as Delphi technique (Leverages experts), brainstorming, and nominal group technique (brainstorming with voting).
Group Decision Making Techniques: Can include techniques, such as unanimity and dictatorship.
Outputs
Requirements Documentation: Contains all the requirements of the stakeholders as per the defined business needs.
Requirements Traceability Matrix: Helps in tracing back to the original requirements. For example, you may have created a set of features. Through the Requirements Traceability Matrix, you can trace the features back to the original requirements. It is very rare to have a one-to-one mapping of features to requirements. Usually several features will map to one requirement.The Requirements Traceability Matrix is useful to show stakeholders that what you will deliver is directly linked to addressing the requirements and hence the business needs.
Requirements Management Plan: This is created instead of the erstwhile Scope Management plan (a PMBOK version 3 artifact). This plan shows how the requirements will be gathered, analyzed, and managed during the project.
Changes in the Fifth Edition
A bit of content has been moved around, but the big news with the fifth edition is that a tenth Knowledge Area has been created: "Project Stakeholder Management." This reflects PMBOK's position that projects cannot move forward successfully if all stakeholders are not effectively identified and engaged.
The Knowledge Area planning processes have also been revamped with four planning process identified for continuity in mastering each Knowledge Area.
PMI updates the PMBOK every five years, so we can expect the next update in 2018.
This post is part of the series: Keeping Control of Project Scope
In order for a project to be successful, the scope must be clearly defined and understood by all stakeholders. In this series, find tips on how to write a scope statement, how to process scope change requests, and more.