The Six Processes of Time Management
The Project Time Management knowledge area has six processes:
PMBOK, Versions 3, 4 and 5
The diagram shows a comparison of versions 3 and 4 of the PMBOK. (Click the image for a larger view.) As you can see, not a lot has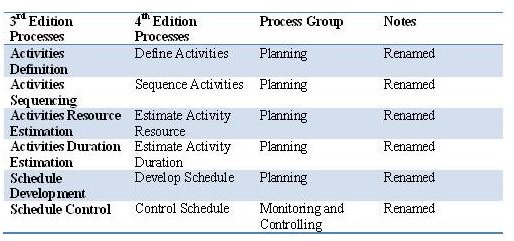 changed in terms of processes. The processes have simply been renamed to start with a verb. For the CAPM and PMP exams, it is important for you to recall the names of the processes as specified in the PMBOK. In other words, Activity Definition is not the same as Define Activities.
Version 5 has been published in January 2013, with the following major revisions:
See also A Summary of PMBOK Practices – Time Management.
Tools and Techniques Updates
The key tools and techniques within Project Time Management are:
Key tools and techniques that are no longer listed are: