Project Management Certification and Time Management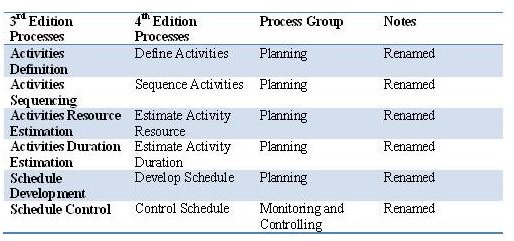 The Six Processes of Time Management
The Project Time Management knowledge area has six processes:
Define Activities: Create a list of activities that the project involves.
Sequence Activities: Create a Precedence Diagram to view the project activity flow.
Estimate Activity Resources: Estimate the resources required for each activity.
Estimate Activity Duration: Estimate the duration of each activity and identify the Critical Path.
Develop Schedule: Create a project schedule. You may need to use scheduling techniques, such as compression.
Control Schedule: Update the project schedule as required.
PMBOK, Versions 3, 4 and 5
The diagram shows a comparison of versions 3 and 4 of the PMBOK. (Click the image for a larger view.) As you can see, not a lot has
changed in terms of processes. The processes have simply been renamed to start with a verb. For the CAPM and PMP exams, it is important for you to recall the names of the processes as specified in the PMBOK. In other words, Activity Definition is not the same as Define Activities.
Version 5 has been published in January 2013, with the following major revisions:
Plan schedule management through the planning, execution, control, and closure of the project or phase.
Activity costs and the risk register are now inputted as possible risk and cost factors. The risk register is now used to estimate activity durations, even though risk inputs can contribute uncertainty to estimates.
Resource Smoothing is incorporated—the same as Resource Leveling, except within the constraints of a Float.
Forecasts are now part of the control schedule.
See also A Summary of PMBOK Practices - Time Management.
Tools and Techniques Updates
The key tools and techniques within Project Time Management are:
Three-point estimates: Two techniques that use three variables to calculate a range for an activity's duration. The first one is called PERT (Program Evaluation and Review Technique), while the second one is simply averaging the three numbers. PERT was earlier removed from the 3rd edition PMBOK Guide, but has made a comeback in the 4th edition.
Key tools and techniques that are no longer listed are:
Arrow Diagramming Method (ADM): This method is similar to the Precedence Diagram Method (PDM). The key difference being that PDM has activities on nodes, while ADM has activities on arrows. Both can be used to identify the Critical Path.
Schedule model: This is refers to the schedule data and calculations. In the PMBOK, the Schedule Model is a part of the Schedule. Hence, the term is redundant. In this industry, Schedule Model is rarely used.