SWOT Analysis Example: How to Conduct a Full Scale SWOT Analysis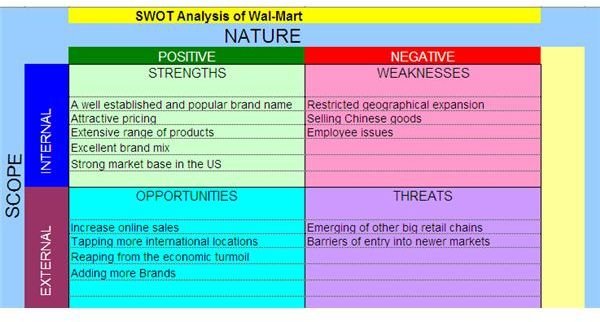 Most management concepts and tools are difficult to understand and use unless substantiated with examples from the real world. In order to help you understand how to carry out a SWOT analysis, we have here a SWOT analysis example along with procedural details about how this analysis has been conducted to make a SWOT matrix. We've chosen Wal-Mart as the example for it is one of the most popular international brands that most people are familiar with.
Here's how Wal-Mart measures in terms of strengths, weaknesses, opportunities and threats.
SWOT Analysis of Wal-Mart
Strengths
To find out the strengths the core structure of this business along with its core competencies that give it an edge over its competitors were taken into account. Here are the things that can be accounted as the strengths in the SWOT analysis example of Wal-Mart.
A well established and popular brand name: With its wide network of around 3000 stores spread across 14 countries Wal-Mart is a popular brand name. It's well known as a chain of convenience stores that offer a range of products with true value for money.

Attractive pricing: Wal-Mart is a favorite with the masses because of its cheap and bargain pricing policies. Its attractive pricing, which results from economies of scale, attracts customers from all economic classes. Wal-Mart buys in bulk and the discounts thus earned are passed on to the consumers as well.

Extensive range of products: Wal-Mart offers its customers an extensive range of products – clothes, appliances, electronics, home utilities, groceries, beverages and generic goods etc.

Excellent brand mix: Wal-Mart offers a wide range of brands including prominent brands like GE, Disney's, Mary-Kate to private labels like Puritan, George, Durabrand and Ol' Roy. This mix of brands offers the customers a greater degree of choice.

Strong market base in the U.S.: Wal-Mart enjoys a strong market position in the U.S. with more than three fourths of its

business located there.
Weaknesses
Despite being an immensely successful business, Wal-Mart has its weaknesses too. The core structure of the business, its business policies and how it compares against its competitors was analyzed to form a list of its weaknesses. Here are some of the findings:
Restricted geographical expansion: Despite being an international business, Wal-Mart has still restricted its operations to 14 countries. While on the other hand most of its competitors have made their way into a larger number of countries.
Selling Chinese goods: The Chinese goods sold by Wal-Mart over the past few years have marred its brand image and have left it with legal cases concerning health and safety.
Employee issues: Over the past few years the company has experienced a lot of employee and labor issues, which has weakened the integrity of its workforce.
Opportunities
To scan for the opportunities the operating environment of Wal-Mart was analyzed, and here are some of the prominent findings:
Increase online sales: One of the best ways to boost sales and to reach out to those places where Wal-Mart does not have its stores is through online sales. If the company focuses more on online sales it can add some significant figures to its revenue.
Tapping more international locations: To increase its customer base, Wal-Mart should consider tapping those international markets that it hasn't entered as yet. There are many companies which can offer tremendous opportunities to Wal-Mart.
Adding more Brands: Even though Wal-Mart sells a large number of brands there are many more brands that it can consider adding to its brand portfolio.
Reaping from the economic turmoil: The recent economic upheaval has left most families will lesser disposable income and many struggling as a result of the cyclical unemployment. In such a scenario Wal-Mart can intensify its promotional campaign to attract customers with its bargain and cheap pricing policies.
Threats
To trace out the threats for Wal-Mart, the social, political and environmental factors affecting its business were taken into consideration and here's the outcome:
Emerging of other big retail chains: There are several other big retail chains that have come up with attractive pricing, excellent promotion and equally extensive range of products and brands which have cause Wal-Mart to lose some of its market share.
Barriers of entry into newer markets: Despite being a well-recognized brand Wal-Mart faces a lot of social, political, legal and communal barriers when trying into new markets. There have been a couple of instances in the recent past where Wal-Mart faced a lot of opposition from the locals when it decided to foray into some new markets.
This detailed SWOT analysis of Wal-Mart will serve as a lovely SWOT analysis example for all those who need help in carrying out and reporting the results of a SWOT analysis of their business or project.
Image Taken by: Sidharth Thakur
This post is part of the series: SWOT Analysis
Here is a series of articles on the immensely popular SWOT analysis strategic planning tool. These articles will help you in getting a deeper understanding for practical use of the concept of SWOT analysis.