How to Categorize SWOT Data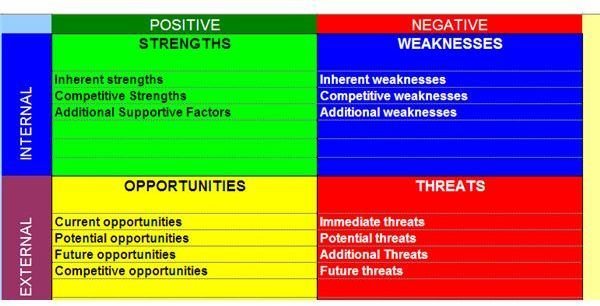 SWOT is indeed a fabulous and a relatively simple tool that you can use to analyze and study the external and internal environmental situation of your business at the time of making strategic plans. While on the surface SWOT may just mean identifying the strengths, weaknesses, opportunities and threats for your business, the tougher job is to categorize the findings under these four main categories. Also, SWOT seems more plausible when the data is categorized further, within each of these four categories. Here are some tips on how to make a SWOT analysis more yielding.
The Ground Rules for Categorizing SWOT Data
There are two basic rules to categorizing SWOT data under the four main categories:
Rule 1: All data that is positive will fall either under strengths or under opportunities; and whatever data has a negative effect on the business must be classified either as weaknesses or as threats.
Rule 2: Strengths and weaknesses take into account only those factors which are internal to the business, while all external factors which work on the business from outside must be put under the opportunities and threats.
How to Categorize SWOT Data within Each Category?
Strengths: That's where all positive internal factors, irrespective of whether they are tangible or intangible need to go on your SWOT matrix. This data can further be categorized as:
Inherent strengths: the strengths a business enjoys because of its internal structure, resources. etc.
Competitive Strengths: the factors which give the business an edge over its competitors.
Additional Supportive Factors: any additional internal factors that can add strength to the business.
Weaknesses: Every factor that retards, hinders or nullifies the efforts or success of the business, but which are within the control of the business can be categorized as weaknesses at the time of conducting a SWOT analysis. The weaknesses can be further categorized as:
Inherent weaknesses: All internal weaknesses that hamper the achievement of goals, such as unskilled manpower, lack of

financial reserves etc.

Competitive weaknesses: factors which make a business fall short when compared with its competitors. In other words the competitive strengths of the competing businesses that give them an edge over your business.

Additional weaknesses: any other weaknesses that hinder the achievement of business goals.
Opportunities: External environmental factors which provide support for the existence and the development of the business should be listed as the opportunities for a business. These opportunities can be:
Current opportunities: the opportunities that the business is already cashing in on.
Potential opportunities: the opportunities that have not already been explored and can be utilized for its expansion.
Future opportunities: Opportunities that may emerge in the near future.
Competitive opportunities: the external opportunities that will help the business to fight competition.
Threats: Threats are those uncontrollable external factors that put the business or its objectives at risk. The threats can be further categorized as:
Immediate threats: these are the threats that are standing head-on and must be addressed on high priority.
Potential threats: threats that have not attacked as yet but can cause problems when they turn active from their current dormant state.
Future threats: threats that may arise in future.
Additional threats: any other threats arising out of the social, political, legal or technological reasons.
Learning how to categorize SWOT data properly makes the SWOT analysis more presentable, more convincing and certainly more convenient for the end users.
Image by: Sidharth Thakur
This post is part of the series: SWOT Analysis
Here is a series of articles on the immensely popular SWOT analysis strategic planning tool. These articles will help you in getting a deeper understanding for practical use of the concept of SWOT analysis.