Understanding PDCA Cycle and Teams: Assembling Your PDCA

Understanding the PDCA Cycle
The PDCA cycle is a primary tool and a real agent of change that works for all types of businesses. Developed by statistical engineering experts who taught us that achievement comes from the synergy of efficiency and customer service methodologies, the PDCA cycle and teams are not strategies in themselves, but they will focus your attention on whether your strategies are successful.
write an effective Plan, then you Do whatever it takes to accomplish it, Check how the plan works, and Act (or react) to improve it. You also see this mnemonic identified as the PDSA cycle, or Plan-Do-Study-Act, especially in the health care field. You implement it when you ask what you want to improve about a process. Your answer to that question forms the basis for the plan.
The next step focuses on resources—people and things—you need in order to achieve the plan. Next, how will you know whether the plan is successful? You must identify a standard to measure your success, and if the plan fails, make adjustments and roll into a revised phase. Those are the basic steps of the PDCA cycle.
Image Credit: Wikimedia Commons, PDCA Diagram by BludgerPlan
Putting Your PDCA Team Together
To implement it, you've got to assemble a team. How many people should be on the team? How do you choose them? Your team should be neither too large nor too small, and diversity is important. For a company or department of about a hundred people, choose six to nine people who will meet regularly and drive the PDCA cycle forward. If you have too few, the team will lack vision. If you have too many, it won't be possible to assemble everyone regularly and the team meetings will become non-collaborative social occasions.
Your team members must include:
Administration. Someone at a top level of management must buy into the plan, or you will never have any corporate support for it. Your PDCA cycle and the team ultimately will fail. Get someone who works just below the CEO to attend your meetings, even if he can't make every one.

Technical Manager. Your team needs someone who is savvy about the ins and outs of your business, including industry standards. If you're an advertising firm, you might need someone who heads up the graphic arts division. If you're a social service agency, you need a licensed counselor or social worker's input.

Technical Staff. Input from two or three mid-level staff within affected departments keeps it real. They are good at brainstorming scenarios because they have their hands involved in providing the product or service. These are the people who will supply the creative sparks on the team.

Front-Line Users. Incorporate viewpoints of people who have direct, initial contact with clients, such as receptionists, case managers, or other people who experience reactions from those who matter most—the customers.

Business Analyst. On the one hand, your team members can generate creative ideas if you give them free reign. On that unavoidable other hand, you need someone to keep them grounded—someone who can say whether ideas are fiscally and logistically possible or compliant with corporate policies. This can also be project management staff. Include one or two of these people.
Making It All Work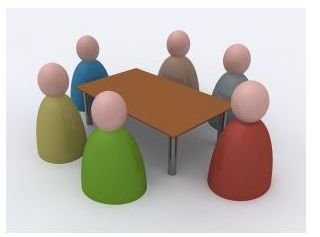 As you put your team to work, remember that the highest-ranking person present is not intended to chair the team. Maintain a roundtable format. However, a leader must be chosen, and that person should be a creative mover and shaker who interacts well with all departments affected by the project you'll be evaluating. Choose a name for your team. It unites everyone.
The team should meet regularly and keep minutes. If there is a clerical person on the team, do not automatically expect that person to be the team secretary. Everyone should agree on a minutes-keeper, right after they choose a leader.
Remember that the purpose of a PDCA team is rapid-cycle change. At the end of each meeting, set the next meeting date. Don't allow more than one or two weeks between meetings. If someone misses more than two meetings without good reason, the team chairman should investigate whether he can help that person make the meetings, or just replace him if he's got higher priorities. Your PDCA team should complete a cycle within 60 to 90 days.
Image Credit: [sxc.hu, Meeting, by Cobrasoft](/tools/SXC.hu, Meeting, by Cobrasoft)