6 Tips for Leading Successful Collaboration Efforts

What's Wrong with the Team?
Project collaboration succeeds when all members of the team feel connected and supportive of one another. Your chances of leading successful collaboration efforts diminish if team members feel separated by distance and technology. They never develop a sense of being "in touch" with one another, which detracts from their personal investment in a given project.
Today's corporations encompass locations in various time zones or unite multiple home-based offices. The pace is set by emails, voicemails, and text messages. Blackberries and Outlook are great tools, but they diminish cohesion in a way that's very different from a decade or so ago when only face-to-face contact moved projects forward. You need to ignite that spark of personal collaboration among team members to maximize their productivity and creativity.
Lack of Collaboration Has Consequences…
Are you asking why this people connectivity really matters? Studies have shown that most of us work much better when we experience a touch of unity or even solidarity. When there's a lack of real connection among coworkers, expect the following problems:
Workers fail to develop confidence in one another's abilities and perspectives.
Possibly more damaging, they lack trust in one another.
They lose a realistic perspective of the project on which they're collaborating.
They lack accountability, as individuals and as a team.
Projects stagnate, because the people who are collaborating never develop any dynamic initiative.
They make assumptions about the project's progress and other people's roles.
Six Positive Actions You Can Take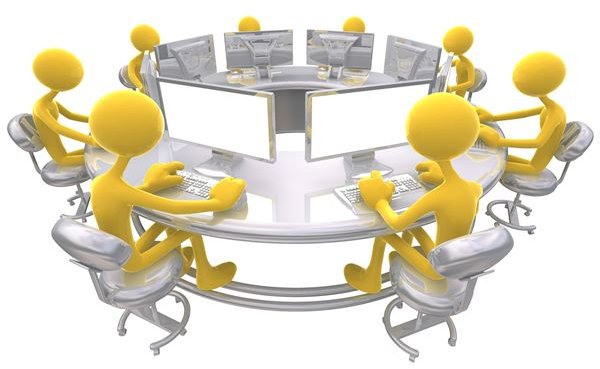 There are effective collaboration strategies that will catalyze your team's efforts—or just get their engines revved up in the first place.
If everyone works under one roof or even within a ten-mile radius, hold a mandatory staffing every week or so. These meetings will give everyone a break from the emails and serve as a reminder that each person on the team brings his own personal touch to the job. For a company where that's just not possible, have a video conference at regular intervals.
During these meetings, ask each person what part of the project he feels confident about and where he has doubts. Team members can assure one another about project progress or form mini-collaborations where extra help is needed. People will develop a sense of empathy with one another for tougher parts of the project. This exercise will also erase people's assumptions or misconceptions about what's actually going on.
Get your people thinking about their co-workers' capabilities. Start this by making a list of your team members' skill sets. You'll surprise yourself with the talents you've forgotten. And then circulate the list! When people share a sense of creative harmony, there are real opportunities for brainstorming.
Identify the work flow process. Everyone should have the same knowledge about the organized steps or guidelines that control each phase of the project. You can integrate timelines into these guidelines and designate checkpoint personnel.
Develop a blog on your company's website. If you're not set up for this, you can easily create one on a social networking site—just designate it as private. People can check in to see what their collaborators' comments and thoughts are at any point during a project's life cycle. Expect to see unexpected creativities emerge, which you can use for the benefit of this project or put to work on the next one.
If you notice that specific members are not contributing to the blog, make one-on-one contact with them to find out why not. Maybe they're just shy, or maybe there are other, more serious issues responsible. Either way you have a prime opportunity to draw them out.
Nothing Succeeds Like Success

Developing and leading successful collaboration puts your staff back in touch with one another and boosts morale, initiative, productivity, and creativity. Don't forget to reward innovation and success. Let the team choose several possible incentives that they will work toward, but you get to pick the actual final prize.