Discover the EFQM Excellence Model and Use It Today in Your Organization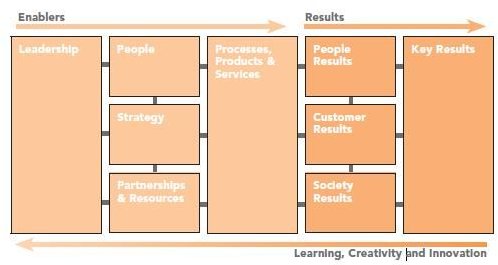 What is the EFQM Excellence Model?
The European Foundation for Quality Management (EFQM) excellence model was constructed by the EFQM to help organizations to improve the way that they took care of business. Total Quality Management (TQM) systems seek to improve overall quality in both products and services. The EFQM excellence model also can be used to improve the quality of services and products in organization. By implementing a quality management model into your organization, you can become more clear about your company's strategic objectives, better define where your company fits in amongst other companies, and determine what the current level of quality is in your organizaiton.
The EFQM excellence model also offers the EFQM excellence award - an outstanding achievement for a company that signifies a commitment to delivering excellent service and excellent products.
The EFQM Excellence Model consists of nine key areas against which excellence in quality is judged. In the image to the right, you will see that the enablers lead to the results. The enablers for excellence are:
leadership
people
strategy
partnerships and resources
processes, products, and services
The results derived from these enablers are:
people results
customer results
society results
and key results.
Each area interrelates to the others.
1. Leadership
Quality leadership is absolutely vital in providing quality results. There cannot be too much delegation when it comes to leadership in the EFQM Excellence Model. Instead, the largest a leadership team should be is 3-4 individuals. This keeps management efforts from becoming spread too thin. Leadership needs to be committed to quality, and leadership must be actively involved in quality improvement efforts.
2. People
The way that an organization develops its human resources, its people, has an effect on the output of the company. Excellent organizations plan resources effectively, develop those resources through empowering them and providing training, encourage open communication among the people working in the organization, and reward or recognize individuals who deliver results.
3. Strategy
Excellent organizations focus on customers and stakeholders, and suport this focus by ensuring that all policies focus upon the needs of not only its current stakeholders but its future stakeholders. EFQM organizations also consistently review their strategies to ensure that they meet stakeholder demands.
4. Partnerships and Resources
Organizational directives with regards to partnerships and resoucres also affect the outcomes of any project. When it comes to excellence, organizations that achieve manage external partnerships, finances, tangible resources, technology, and knowledge to the best of its abilities in keeping with the overarching directives of that organization.
5. Processes, Products, and Services
In an EFQM company, processes, products, and services are constantly under evaluation and are consistently improved. Not only is quality inspected ath the product or service level, but it is also inspected in the means for delivering the product or service and customer service quality at the end-user level is scrutinized for excellence.
6. Customer Results
When EFQM refers to customer results, it is referring to what your organization has achieved when it comes to customers external to the organization. Customer results can either be based upon customer perceptions or on performance, or both.
7. People Results
What are the people within the organization doing? Are individuals finding fulfillment? Is each employee achieving to his or her fullest capactiy? Looking at people results can often give indicators of areas where more strength in leadership is needed or where clearer strategies need to be defined.
8. Society Results
Society results are those results that can be seen in what your organization brings to the society at large. This can relate to both local society or national society. Excellent organziations benefit the society they are located in.
9. Key Performance Results
Your key performance results are those which may be most important to your company's goals, as organizational key performance results relate to the plans the organization has for its performance. Is your organization living up to your hopes? If not, why not?
EFQM Excellence Model Doesn't Prescribe?
Finally, there are no prescriptions from the EFQM Excellence Model for achieving excellence within your own organization. Instead, you need to review your enablers and your results to ensure that you are taking the actions that lead to the desired reactions.
Image courtesy of EFQM.org/en