Best Practices of Project Management - Part 1 - The Project Cycle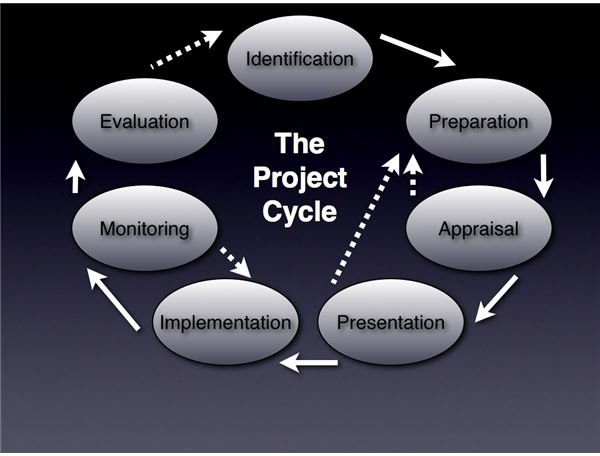 The Project Cycle as a Best Practice
According to successful project managers, best practices within innovative organizations always include staying true to the idea of the project cycle. While highly creative colleagues may feel the model of the project cycle to be constraining, it serves to set the foundation for a team's success. Strong project managers can keep teams on track with three specific actions:
Coaching Colleagues to Stay in the Project Cycle
For many project managers, keeping co-workers on track is their top priority. However, this best practice of project management can be difficult to achieve during the first four stages of the project cycle. Initiatives that leap right into the implementation stage often lack the structure to be truly effective. In fact, by skipping right to the final three stages of the project cycle, participants have no way to even measure their success.
Effective project managers and stakeholders work together during the first four stages of the project cycle – when there isn't yet a formal implementation timetable. Sometimes, this means creating a more formal timeline for the preparatory phases themselves. Strong project managers hold their entire organizations accountable for staying true to the project cycle. For young teams or for teams who are unaccustomed to formality, offering training on the benefits of the project cycle can help justify what might seem like a lengthening of the creative process.
Bringing Gut Instinct to Project Management
One of the best practices in project management involves calling out potential trouble spots as early as possible. Project managers who were not involved during the first four stages of the project cycle can use their authority to slow the process down in order to set boundaries. Backing up a project into a sub-cycle of appraisal and presentation can formalize benchmarks and timetables.
Adding Value at the Finish Line
It's easy for project managers to lose themselves in implementation timelines, especially as a project nears completion. Shifting between implementation and monitoring is considered a best practice of project management because it allows team leaders to give less formal feedback before reaching the evaluation phase. Honoring this feedback loop as a project nears completion can help team members reconnect with the overall importance of an initiative. Better still, it can give a project some last minute momentum that underscores its impact on customers or colleagues.
This post is part of the series: Best Practices of Project Management
Business leaders have identified five critical areas where project management professionals can help their teams excel. These best practices of project management apply to teams in any kind of industry, under any conditions. All five best practices require tactical skills and organizational courage.