Using An Excel Action Items Template to Track Action Items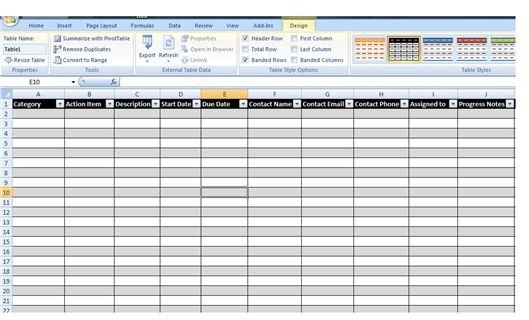 Capturing Action Items
While many action items arise naturally from the needs of a project during the project-planning phase, many action items arise later, during completion of other action items. Perhaps while researching the market for a new product, your team finds out that it also must research markets x, y, and z. You've assigned x to Joe, y to Mary, and completely forgotten about z. This document will show you how to track action items using Excel and will provide a free downloadable action items template at the end of this article. [caption id="attachment_132745" align="aligncenter" width="640"]
Tracking actions are an important part of project management[/caption] There are many things you need to do in order to get an effective system up and running. The first thing you need to do is figure out exactly what the action items are, and develop a system for capturing those that are discovered during the project execution phase. To do this, you must develop a system where your team communicates with you regarding important issues that surface and then use this system as a farm for action items. One such system would be to have team members email issues as they come up. A second system for communicating discovered tasks that need to be taken care of involves holding a daily meeting in which issues were discussed and prioritized. The method you will use will depend upon the size of your team. If you have a large team, it may be inefficient time wise to ask your employees to bring up what they've discovered in terms of action items that need to be completed. Don't forget to capture items you come across too. If you think you'll remember it later, don't count on it. It's better to write down what you believe needs to be done so that you can keep track of it. Otherwise, three hours from now, after two employees have come to you with concerns, three phone calls, and a large lunch, you might not remember it at all and it will be lost forever - or at least until it presents itself as a problem again.
Organizing the Items
Once you've captured the things that need to be done, you'll need to organize them. When you're organizing them, to avoid scope creep on your project you need to ask yourself "Is this something that really is part of the project scope, or is it something else?" If it's something else, you'll need to track that item separately from project items. If it's part of the project, then you'll need to do the following to get it ready to go into your tracking system:
Determine what the action requires be done for completion.
Determine who the best person to complete that action item is.
Assign the action item a number for tracking purposes.
Determine the status of the item (sometimes people email you telling that they're going to jump on something).
Once you've done this, you're now ready to begin entering your items into the Excel spreadsheet for tracking.
Create a Spreadsheet in Excel
[caption id="" align="alignnone" width="600"]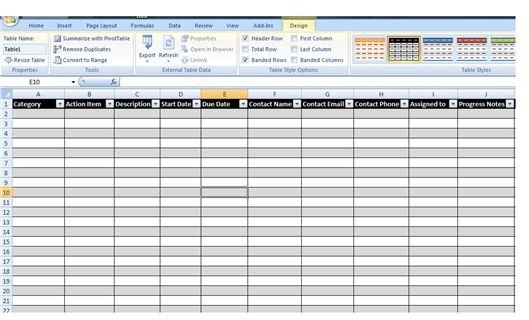 Tracking action items in Excel can make life much easier[/caption]
In order to enter items on an Excel spreadsheet, you'll first have to make one! You can either use the action items template I have provided here (click the link to download), or you can create your own.The basic data entry points you will want in Excel include:
Action item number
Date created
Information about the action Item
Who the item has been assigned to
Status of the action item
Status date
You can also group actions by type if you like. Some people find it helpful to group action items by context (calls, emails, programming, etc.) or you can group items by deadlines or dependencies. Make sure you're consistent in how you organize your items.
Enter in Spreadsheet Data to Track Action Items
[caption id="" align="alignnone" width="600"]

Use the free action items template to help track your tasks[/caption]
Once you have gathered your list of action items and you have created the framework for your Excel register system, you are ready to enter this list into the spreadsheet for tracking. Start at the top of your list. Enter the action item number onto your spreadsheet, and the date created. (Click any image for a larger view.) Now, you'll need to enter in information about the action item – give it a title, and record a brief description. If there are any further comments you can enter them here, or in a separate "comments" column. You may find it helpful to have another column, "priority." If you would like to do that, go ahead and right click and select "insert column" then give it a title. It will help you to sort by priority if you wish if you use a number system 1-5 with 1 being the highest priority or an alphabet system with A-E with A being highest priority. Again, you'll want to be consistent. You will want to know who you have assigned the action item to, once it has been assigned. Enter the name of the responsible party into the appropriate column. You can sort by this column to see at a glance who is responsible for which action items, and how many items have been assigned to a particular person before assigning further work. If you wish, you can also include a deadline for completion of that action item. If there's no specific deadline, you may wish to record "ASAP" and follow up with the item owner a week after you assigned it. Finally, you will want to track the status of the action item – is it in progress, completed or canceled – and the date this status was last guaranteed. Make sure when you've assigned items to individuals that you also send an email confirming that the action item has been assigned and confirming the deadline should there be one. If you're looking for more sample forms and downloadable templates, check out our resource guide Over 50 Free Project Management Templates and Sample Forms.
References:
Ronda Roberts has used Excel to track action items for many different client and personal projects. Screenshots courtesy of Ronda Roberts. Image by Gerd Altmann from Pixabay Action item template for MS Excel 97-2003 users can be found here.